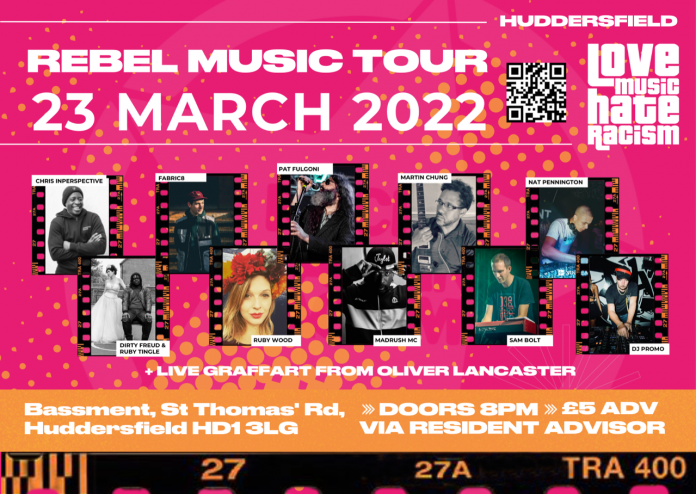 The 'Rebel Music Tour' – which is touring around the UK including in London, Manchester, Glasgow, Bristol and Swansea – lands in Huddersfield, making its mark on West Yorkshire with local musical talent.
Launched by Love Music Hate Racism (LMHR), the series of gigs aim "to give a platform to aspiring musicians at a time of huge difficulties for artists looking to find paid live music events," according to organisers.
Huddersfield's upcoming event, showcasing emerging artists from the Town, will be held at Bassment Studios, St Thomas' Rd, Huddersfield 23rd March from 8 pm.
Dance genres, live blues and jazz are on the menu. Among the performers hoping to spread a message of unity through music and song are:
Dirty Freud
Ruby Wood (Submotion Orchestra)
Nat Pennington (Norzea Events)
Ruby Tingle
Martin Chung (Jah Wobble band)
Fabric8 (Formation Records)
DJ Promo (Future Formation)
Pat Fulgoni & Sam Bolt (Pat Fulgoni Blues Experience)
Live Graffart will be supplied by Oliver Lancaster (Fresh Kids Club). Drum n bass legend Chris Inperspective (of Black Junglist Alliance / Inperspective Records, Clashmouth + R&S Records) will be coming up from London and Madrush MC from Manchester.
"Love Music Hate Racism has always sought to use music as a platform to bring people together against bigotry and hatred"
The Rebel Music Tour has been produced in partnership with fashion company ASOS, who have created a collection of new garments to support the campaign. Donations from the snazzy tees will help develop Love Music Hate Racism develop local talent and host their fortnightly #SpeakUpThursday radio show on Soho Radio, London.
"Love Music Hate Racism uses the energy and vibrancy of the music scene to promote unity and celebrate diversity through education and events. Our message is simple, there is more that unites us than divides us; and nothing demonstrates this more than music"
"Whatever the genre, music is living testimony to the fact that cultures can and do mix. Music has the power to unite, to give strength and to effect positive social change.
"Racism, on the other hand, weakens us; it creates barriers and turns friends and neighbours against one another. Sadly, racism is on the rise in the UK and internationally. We believe that if we work together we can harness the power of music to stop this destructive force in its tracks.
"Our aim is to use the power of music to bring together individuals and communities in a beautiful resistance against bigotry and hatred. Join the movement!"
Love Music Hate Racism's 'Rebel Music Tour' is on at Bassment Studios, St Thomas' Rd, Huddersfield 23rd March from 8 pm. Tickets can be purchased here in advance -> https://ra.co/events/1501550 or on the door
PANEL
Also on the 23rd March, a special Love Music Hate Racism panel will be run before hand from 6 pm in collaboration with Kirklees Year of Music 2023. The tickets for this are FREE and features Zak Cochrane (LoveMusic HateRacism), Rick Blackman (Author of "Babylon's Burning") and Chris Inperspective (of Black Junglist Alliance and R&S Records)
The panel will be discussing and addressing the issues of racism still present in the music industry and the role that music plays in the stand against racism. This seminar is part of the Kirklees Year of Music 2023 music industry programme.
Tickets / infos -> https://www.eventbrite.co.uk/e/love-music-hate-racism-panel-zak-cochrane-chris-walton-rick-blackman-tickets-292106427187
UN ANTI RACISM DAY
LMHR's campaign to fight bigotry will also be joining a national demonstration against racism being held in London on UN international anti-racism day. Held annually, the United Nations' International Day for the Elimination of Racial Discrimination aims "to foster a global culture of tolerance, equality and anti-discrimination and calls on people to stand up against racial prejudice and intolerant attitudes."
Co-organised by Stand Up To Racism (SUTR), students groups and trade unions, the national UK demonstration to mark this day will take place on Saturday 19 March in central London. Several Yorkshire organisations are expected to join this demonstration.

Tweets by HuddsLMHR
https://www.instagram.com/lmhrhuddersfield
https://www.facebook.com/HuddersfieldLMHR