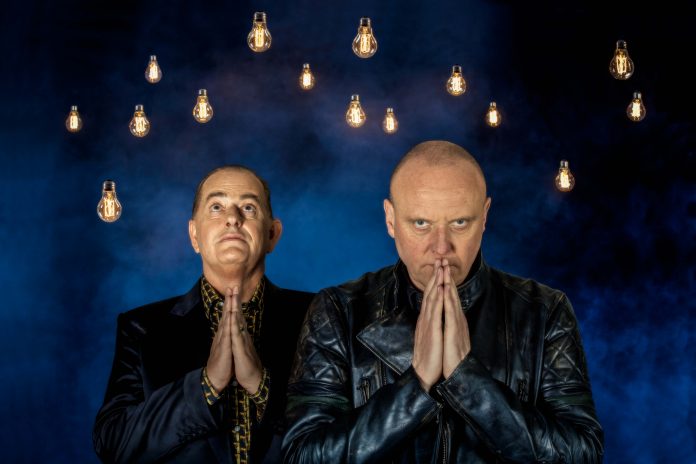 A production company founded in 1980 and masterminded by Martyn Ware (founding member of both The Human League and Heaven 17), over the last four decades B.E.F. have gained a reputation for their innovative studio collaborations with some of pop music's brightest stars.
And now, in what will be their first ever UK tour, B.E.F. will be enlisting the talents of a star studded cast including Mari Wilson, Glen Matlock (Sex Pistols), Peter Hooton (The Farm), and of course Glenn Gregory (Heaven 17). The show will see B.E.F. perform a special set featuring brand new arrangements of songs familiar and unexpected from the back catalogue, plus a few surprises to be exclusively unveiled at the shows.
And before B.E.F. take to the stage, the evening will be kicked-off in style with a set from synth-pop legends Heaven 17. The band who are celebrating their recent crowning as Sheffield's Greatest Band of All Time will be out to provide a just reminder of their glittering achievements as they revisit their magnum opus: 'Penthouse & Pavement' at the shows.
Thirty-five years since the release of their landmark debut album, Messrs Glenn Gregory and Martyn Ware will be commemorating the record that launched their sensational career by performing a brand new electronic version of 'Penthouse And Pavement' live and in full.
Taking place throughout October, the tour will see Heaven 17 and B.E.F. take to the stage to deliver consecutive sets at a run of dates that begin at Liverpool's O2 Academy (20th) and conclude up at London's Shepherd's Bush Empire (30th).
Expressing his delight at being a part of the B.E.F. shows for the first time, Heaven 17's – Glenn Gregory said:
"Having worked with Martyn for so many wonderful years as Heaven 17, performing with BEF is like finally getting the golden key to the executive toilet."
Outlining his expectations and anticipations of the forthcoming tour, B.E.F founder Martyn Ware said:
"What an honour it is to have such talented and iconic artists performing on our first-ever live BEF tour. Over the last 35 years, BEF has worked with some of the most famous singers on earth, and for our fantastic shows this October, Glen Matlock, Peter Hooton and Mari Wilson will each be performing one of their most famous songs, together with surprising cover versions done in the unique BEF electronic style. Add to that the inimitable Glenn Gregory (I'm sure I've heard that name somewhere), and the 35th anniversary performance of new electronic arrangements of 'Penthouse And Pavement' and you have our greatest live show ever'".
Formed in 1980 as Martyn Ware departed Sheffield synth icons The Human League only to find a kindred musical mind in Glenn Gregory, together as Heaven 17 the pair set about writing and recording the songs that would become their debut album 'Penthouse and Pavement' released only a year later. In letting the BBC-banned debut single "(We Don't Need This) Fascist Groove Thang" lead their anti-establishment charge, the band made clear their intentions to break away from their synth-pop contemporaries on their first outing. Follow-up singles "I'm Your Money", "Play To Win", "Penthouse and Pavement" and "The Height of the Fighting (He-La-Hu)" would propel the long-player to No. 14 in the UK charts and a Gold Disc Certification after a 77-week residency inside the Top 100. Now recognised universally as one of the most vital albums to emerge from the New Wave movement in British electronica, 'Penthouse and Pavement' has since been included in the book 1001 Albums You Must Hear Before You Die.
In 1982, Martyn Ware released the first studio album under the B.E.F. moniker: 'Music of Quality and Distinction Volume 1'. an album of covers that he and partner Ian Craig Marsh had grown up listening to, the album featured an all-star cast of guest appearances including Paula Yates, Billy MacKenzie, Glenn Gregory, Sandie Shaw and most notably Top 10 Hit "Ball of Confusion" a cover of the infamous track by The Temptations, as sung with powerhouse vocals from Tina Turner.
Dates
Thursday 20th October – Liverpool O2 Academy
http://www.ticketweb.co.uk/event/BEH2010X?
Friday 21st October – Birmingham Town Hall
http://www.thsh.co.uk/event/heaven-17-and-special-guests-british-electric-foundation/
Sunday 23rd October – Glasgow O2 ABC
http://www.ticketweb.co.uk/event/heaven-17-british-electric-foundation-tickets/227435
Monday 24th October – Gateshead Sage
http://www.sagegateshead.com/event/heaven-1739978/
Tuesday 25th October – Sheffield City Hall
http://www.sheffieldcityhall.co.uk/events/Heaven-17-British-Electric-Foundation
Wednesday 26th October – Manchester O2 Ritz
http://www.ticketweb.co.uk/event/bse2610z
Friday 28th October – Bury St Edmunds Apex
https://www.theapex.co.uk/whats-on/event/3008/heaven-17–british-electric-foundation
Saturday 29th October – Basingstoke Anvil
http://www.anvilarts.org.uk/whats-on/heaven-17-and-special-guests-british-electric-foundation
Sunday 30th October – London Shepherd's Bush Empire
http://www.ticketweb.co.uk/event/IEH3010Z?brand=o2sbe&camefrom=AMG_SBE
[* NB also available are special VIP packages limited to 30 per venue including best seats, meet and greet with photo opportunity and a signed poster.]
Website – http://www.heaven17.com/
Twitter – https://twitter.com/heaven17bef
Facebook – https://www.facebook.com/heaven17bef