Eliana will be playing six dates across the country with her band this November and more dates will be added soon for the start of the New Year. Her first show is at Studio 5 Live @ Jam On Top in Keighley, West Yorkshire on Friday 8th November.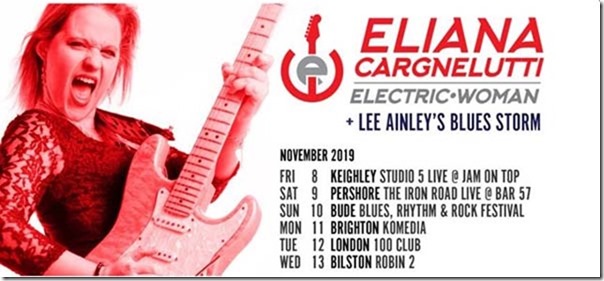 Said to be the new hope of rock blues, Eliana is one of the rare real front women of the European live music scene. She plays a flavour of rock blues with a bit of everything in between: electric funk, mixed with pop and jazzy instrumentals, raw rock, tight blues grooves, illuminated by her skills as a guitarist. Her band features well known musicians from the Italian blues scene: Simone Serafini (Bass), Carmine Bloisi (Drums).
Eliana was the winner of the Blues Contest in Pordenone, Italy, in 2010. She won the blues award as the "best new young artist" at "Oscar del Blues" in Modena, Italy. In 2015 she was named one of the five "best female guitarists" in the rock blues scene at the American "Jimi Awards" and was nominated the 5th best female guitar player of the rock blues world by Blues E-news magazine. In the same year, she was also part of the international Tour with Blues Caravan project "Girls With Guitars" of Ruf Record label. Fast forward three years when Eliana toured the UK as part of the Ladies of the Blues.
Lee Ainley's Blues Storm a band with a unique vocal pairing of mother and daughter Lee and Tori Ainley will be supporting Eliana on the November tour.
Studio 5 Live, Jam On Top, Melbourne House, 17 Chesham Street, Keighley, West Yorkshire BD21 4LB
Advance Tickets are £10.00 + bf and can be purchased online at http://www.solidentertainments.com/presents.htm#ELIANA-TOUR
Face Value Ticket (no booking fee) Tel: 01472 349 222 – Mon to Fri 9.00 a.m to 5.00 p.m
Don't be late, doors open at 7.30 p.m
You can see, hear and find out more about Eliana at
http://www.elianacargnelutti.com/
https://www.facebook.com/MissElianaCargnelutti/