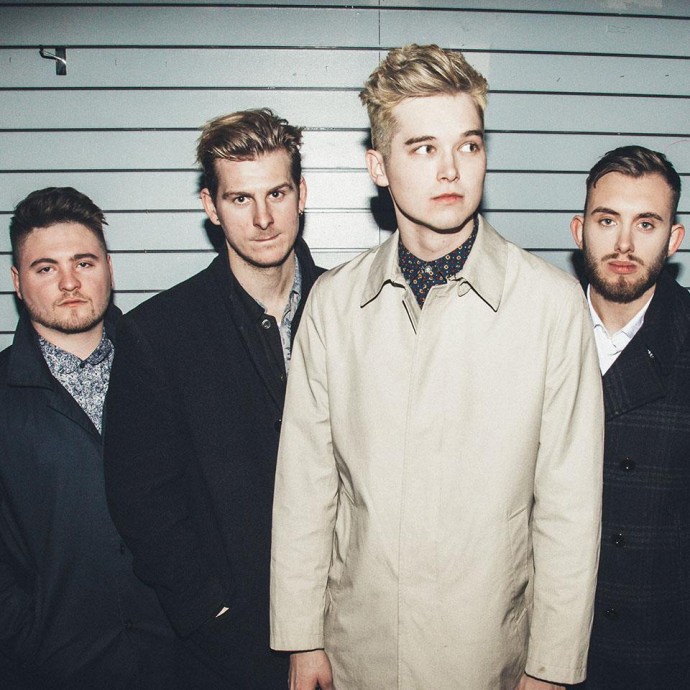 After a couple of well received releases as a solo artist, Bolton songsmith Jordan Allen has now returned for his first recording with a full band in tow. The double A side single 'Helter Skelter / White Lines' features Allen on vocals and guitar, Danny Quin on lead guitar, Kieran Loughran on bass and Nathan Howard on drums.
'Helter Skelter' is a story of unrequited lust, a late night obsession in the dying hours of a night on the town. Allen himself describes it as about "the dark kind of promiscuity that grips you In a drunken haze." The song rips along with a persistent driving beat and prowling bassline from Howard and Loughran with a scuzzy Strokes-like riff setting a suitably sleazy tone. Allen's poetic lyrical style and northern twang mean comparisons to the likes of Liam Fray and Alex Turner are inevitable although the high notes he hits remind me more of The Coral's James Skelly, which is no bad thing. The heavy riffing in the song's bridge and Danny Quin's wailing solo towards the end demonstrate that Allen and the lads can rock out when needed to.
'White Lines' is another cautionary tale of late night excess as Allen tells us about an acquaintance who has 'five lines a day and seems fine' and who possesses the 'knack of stealing other boy's girls and showing them a whole new world'. The track has a more laid back feel for the most part. It's led initially with shuffling drums and brooding bass, the guitars following quietly behind with a simple three chord pattern. Allen's voice is out in the open on the musically lean verses which is all the better for showcasing his lyrical skills. The chorus amps things up with some satisfyingly chunky power chords and a clamour of drums. The song finishes on a high with another epic guitar solo, not usually to be found on most contemporary indie rock tunes but certainly welcome here.
By all accounts this release is the beginning of a new chapter for Allen and his band with much more new material to come. If this single is any indication of what's in store then the saga of Jordan Allen will be a story worth following closely.
The single is available to stream or buy on the following platforms:
Spotify: https://open.spotify.com/track/0BbeFyNhjgs7WTMGYeD6i2
iTunes: https://itunes.apple.com/gb/album/helter-skelter-single/id1100301593
Website: www.Jordanallenuk.com
Facebook: www.facebook.com/jordanallenuk
Twitter: @jordanallenuk