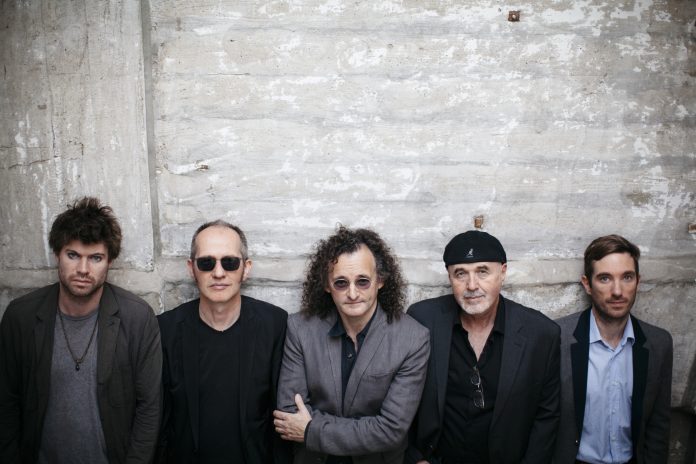 On 10th April, 2014, The Gloaming took to the stage of the Royal Albert Hall and played a spellbinding set which had the entire audience on their feet.
These were not just fans but, more difficult to get out of their seats, politicians and diplomats. The concert was a highlight of the first ever state visit to Britain by the head of the Irish Republic. It was a historic celebration of Irish culture: Elvis Costello played; Fiona Shaw read Yeats (whose poetry was crucial to the creation of modern Ireland). The Gloaming were there, at the special request of President Michael D. Higgins, to close the show. A nostalgic nod to the past? Not at all – it was recognition that their approach to traditional music is as important to Ireland's lively contemporary culture as the country's famously innovative literature, theatre and cinema.
The Gloaming came into being because in 2010 fiddle player Martin Hayes, after working on and off with Chicago guitarist Dennis Cahill for 20 years, felt inclined to form a band. Early in 2011 they got together with the sean-nós singer Iarla Ó Lionárd, pianist and producer Thomas Bartlett and Caoimhín Ó Raghallaigh, who plays fiddle, too, (but a unique one) to see if their collaboration might lead somewhere.
It certainly has: since that exploratory session, The Gloaming have performed at the major concert halls of Germany, France, Belgium, Holland, Australia, New Zealand, Mexico , Canada and America. They sold out the Barbican in London and the National Concert Hall in Dublin – for five nights – and they will be touring Britain again in September.
In 2014 their first album beat off Sinead O'Connor, Hozier, James Vincent McMorrow and U2 to win Irish album of the year. From it 'Samhradh, Samhradh' won Best Traditional Track in the 2015 BBC Radio 2 Folk Awards. Their new one, The Gloaming 2, was released in February to acclaim from journals ranging from The Irish Times ('A richly textured thing of beauty' – 5 Stars), The Guardian ('Exquisite' – 4 Stars) to NPR Music ('Wistful, tender and completely transforming').
With its line-up The Gloaming are bound to sound different from a typical traditional music outfit, but more important than the instrumentation is the unique perspective each of musician brings to the collaboration.
"Everybody in the band is musical outlier in some ways," Martin Hayes says. "No musician in the band is what I would consider mainstream in any way."
Martin Hayes is a quintessentially traditional musician. His father was a master fiddler, leading the Tulla Céili Band in Clare, a county famed for fiddle players. Martin, who had been All Ireland Fiddle Champion six times by the age of 19, still plays with the céili band. He is, though, a modern musician; he travels, has lived in America, and is engaged by the music of his age, from the contemplative compositions of Estonian composer Arvo Pärt to the Icelandic soundscape painting of Sigur Rós. Living in Chicago, Hayes and his friend Denis Cahill frequented the jazz clubs. For a while they played together in Midnight Court, a jazz/rock/fusion band. Cahill's family had emigrated from County Kerry, and Cahill was born in Chicago. As a working musician in the town of northern blues, he played all manner of music before coming to Irish tunes. He sees his role as the band's drummer, chopping out rhythms, using his guitar a percussion, rather than melodic, instrument.
Iarla Ó Lionárd was brought up in an Irish speaking – and singing – family on a hilltop in West Cork, one of 12 children who learned songs from their mother (who learned them from hers). Ó Lionárd is renowned for sean-nós, unaccompanied Gaelic song. He began performing when he was 5, broadcast on radio at 7 and made a record at the age of 12. He had a cameo role in the Oscar nominated film Brooklyn, singing 'Casadh an tSgain', which is on the second album – and stole the scene. Incidentally, when Colm Tóibin, who wrote the novel that became the film, was on the famous BBC Radio 4 programme Desert Island Discs, Ó Lionárd singing 'Casadh an tSgain' was one of his choices – and Martin Hayes playing 'The Lark's March' was another.
Iarla Ó Lionárd sees bardic poetry as the great glory of Irish culture. Yet he is probably more famous for his work outside the sean-nós tradition, as lead singer with the Afro Celt Sound System. Like Hayes, he is as much a contemporary as a traditional artist. Some of lyrics he sings on The Gloaming 2 are several centuries old, but the album opens with 'The Pilgrim's Song', in which he combines extracts of poems by Sean Ó Riordáin, the great Gaelic poet of the 20thcentury, the first Irish language modernist.
Caoimhín Ó Raghallaigh, from Dublin, and another fluent Irish speaker, is doing something similar to Ó Lionárd, but instrumentally.
"I'm a fiddler, my background is traditional music," Ó Raghallaigh says. "But I was drawn to the sound of an instrument that didn't exist. I tried all sorts of fiddles and all sorts of tricks with them, but I never found it until I got this beautiful instrument custom made for me in Norway. It's half way between a Hardangar fiddle and a viola d'amore. I call it the Hardanagar d'amore."
It is, indeed, a gorgeous, golden instrument, with a flattened bridge and ten strings, five, which he strokes with a baroque bow, and five beneath which resonate, providing an echo. It gives a beautiful shimmer to The Gloaming's sound, a modern, abstract underpinning of the melodies Hayes plays, and Ó Lionárd's singing.
Thomas Bartlett's presence among these musicians might seem surprising. He's at home in New York's avant garde musical circles, recording albums as Doveman, and playing piano for David Byrne, Yoko Ono, assorted Wainwrights and Antony and the Johnsons. Bartlett studied classical piano with the renowned teacher Maria Curcio, whose students included Radu Lupu and Mitsuko Uchidao. Antony (he of the Johnsons) Hegarty says Bartlett is the only pianist who can really follow his singing.
"That's like following a cloud," Bartlett says. "You find fluid ways around the beat and learn how to cushion, to shadow to…follow a cloud."
Bartlett brings that technique and harmonic lines he has absorbed from elsewhere to bear on Irish music, following the fiddle of Martin Hayes. This is far, far removed from the familiar role of the piano in Irish music, as the provider of rather plonking rhythms. Bartlett, because of his comparative ignorance of that tradition, and deep knowledge of other music, is free to bring something new to it.
Though he came to play it only as an adult, Irish music cast a spell on Bartlett early on. He was a child when he first saw Martin Hayes perform, and so struck that he made his family follow the fiddler round Ireland for a week, catching all the shows on his tour. Back in Vermont he organised a Martin Hayes concert.
"We had a question about the gig, and an email came back saying, 'I'll have to ask my Mum', and we realised the promoter was a child. Thomas was eleven," Hayes chuckles. "The gig was great!"
Bartlett is more in demand as a producer than a pianist these days, bringing projects with artists such Sufjan Stevens, Anna Calvi, Sam Amidon, and now The Gloaming, to fruition.
"I was given the role of making sure the album comes out right," he says, self-deprecatingly. "I'm the keeper of records. Martin throws in an interesting line – I'll note it. Dennis finds an odd chord – I'll keep track of that and bring it back round."
He might perhaps have produced The Gloaming's first album in this way. It was exciting and revelatory, but a straightforward account of their music. The Gloaming 2 is more considered, ambitious, mature and exploratory. Bartlett has been assertive in its creation. For instance, while most of the album was recorded as live, at one point he sent Hayes and Ó Raghallaigh into the studio to improvise while he played them a recording of Ó Lionárd's singing.
"They're responding to the resonances of Iarla's voice," Bartlett explained. "When you get the three of them building up together you stop hearing the internal logic and specific decisions. It becomes a group consciousness and you get this magical world of sound. That's what I'm aiming for."
Hayes is the initial driving force of The Gloaming, his fiddle at the centre. Now Bartlett is imaginatively building on the extraordinary musical potential of the band. His contribution as producer is subtle, visionary and crucial.
All five members are busy outside The Gloaming. They come together for short periods and work intently. On their last tour they had an ambition, to play a new piece every night.
"And we almost achieved that," Hayes says.
Even so, they don't do much in the way of rehearsal. What The Gloaming do is play together, and, just as important, they listen as well.
"We do have the pub session approach in that we rarely work out parts," Cahill says. "We all know how the tune goes, and we do things around it. It sounds like it could be chaotic but it isn't. There's a common sense that everyone has and an ethic about how this works."
"You have two options in music," Hayes insists. "One is you sit down, compose, arrange, work out the parts then put it all together. The other is a spontaneous interaction of listening with great intensity, responding and creating opportunities of freedom… Those are the two approaches – and ours is the one where people are free in the moment to create as they wish."
The Gloaming never simply re-iterate the tradition of Irish music and song. They come at it askance, shining light from various angles on something old and treasured, imbuing it with contemporary vitality. That's their art, and their importance. The band themselves, though, would dismiss such cerebration with a wry smile.
What people are saying
"Musicians sometimes get lost in ideas." Martin Hayes says. "But real music isn't about ideas. It's real, heartfelt expression and …soulfulness. That's what I'd be looking for."
"Enormously rewarding if you hanker for some NY loft space in your croft house. Q
"Blending traditional tunes with Irish poetry and abstract experimentation, they create a thrilling original magic … this is a very organic modern album and it's brilliant." ***** Mojo
"Steeped in traditional Celtic influences but bravely contemporary." **** The Guardian
"This isn't traditional music. It's not classical music. It's contemporary music that insinuates itself deep within the subconscious." Irish Times
UK Dates September 2016
21 September Bristol – Colston Hall
22 September London – Royal Festival Hall
23 September Manchester – Bridgewater Hall
24 September Edinburgh – Usher Hall
25 September Birmingham – Symphony Hall
The Gloaming website: http://www.thegloaming.net