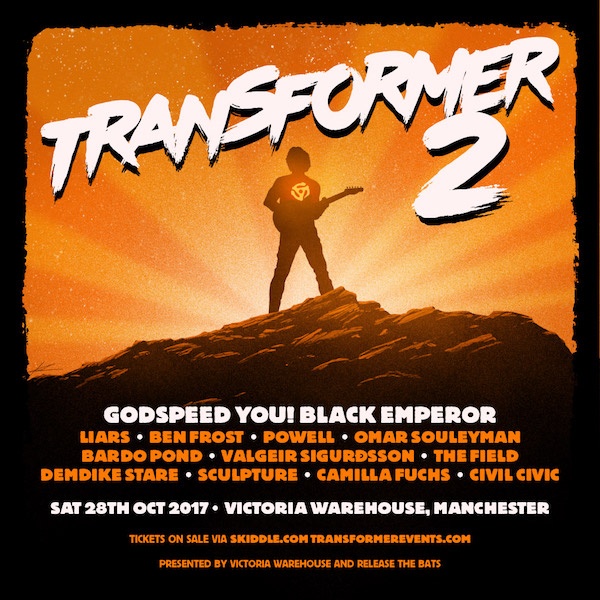 Featuring Godspeed You! Black Emperor, Liars, Ben Frost, Powell, Omar Souleyman, Bardo Pond, Valgeir Sigurdsson, The Field, Demdike Stare, Sculpture, Camilla Fuchs, Civil Civic
After a triumphant inauguration at the Victoria Warehouse in May TRANSFORMER is proud to announce their second event on 28th October. The first Transformer celebrated artists that expanded the boundaries of rock, round two features a cast that positively disregard genres altogether.
It's a line-up that not only tips its hat to the 'sui generis' nature of our past headliners but also raises a glass to their bastard offspring. Transformer will once again reimagine the vast space of the Victoria Warehouse into an immersive festival setting with state of the art light and sound, two different stages, a cinema, digital funfair, record stalls, food trucks and much more besides. It will be a one-stop shop for genre-spanning live music. Tickets start at just £20 + bf from www.skiddle.com.
GODSPEED YOU! BLACK EMPEROR is making their return to Manchester after a rapturous 2015 performance at the Albert Hall in support of their first album after a five years hiatus Asunder, Sweet and Other Distress. Their return comes as welcome relief that their timely re-emergence wasn't to herald, like the horsemen, an apocalypse they'd forewarned on Dead Flag Blues twenty years ago. For anyone unlucky enough not to be unfamiliar with that particular end of days fanfare or their other doomed hymns, Godspeed combine elements of World of Skin era Swans with the fin de siècle angst of Current 93 (but without actual songs). Even that description doesn't quite do them justice. Best to see them for yourselves…before it's maybe too late.
Whilst traces of Transformer 1's headliners can be heard in Godspeed, LIARS echo both the discordant punk-punk of The Fall and deconstructed rock of This Heat. Emerging from Los Angeles at the turn of the century with similarly danceable North American bands like LCD Soundsystem, !!! and Canada's Death From Above 1979, they've proved both their staying power and adaptability with seven, all entirely glorious albums. Their last, 2014's Mess, was released on long time label home Mute, fittingly as it was its very own Black Celebration.
Much of POWELL's music is like a distillation of LIARS organic machine funk. Or if your head was in a toilet bowl whilst they played in the next room. Thankfully his inclusion on our bill will mean you won't have to take such measures. Steve Albini said of him "I am against what you're into and an enemy of where you come from" (when asked for clearance for his voice sample on Insomniac). We'd hope he'd rethink this combative stance if played the Touch & Go worthy Jonnie Standish (HTRK) collaborations on Powell's ace debut album Sport.
Long before Psych became a more fashionable way to describe indie-rock, Philadelphia's BARDO POND were enjoying cult status as one of the best contemporary acid-rock bands around. Although formed in 1991 they garnered wider attention when Tantric Porno opened the seminal Monsters, Robots & Bug Men 1996 compilation alongside such titans as Mercury Rev, Stereolab and Labradford. Despite having over 30 albums in their arsenal, visits across the pond are relatively scarce, making this Transformer appearance all the more essential.
OMAR SOULEYMAN hails from the north east of Syria where he previously performed his unique take on Dabke music at weddings and other celebrations. Luckily he caught the ear of the Sublime Frequencies label, advancing his appeal exponentially. One of his fans is Bjork who asked him to contribute three remixes to Biophilia and his 2015 album Bahdeni Nami is produced by none other than Four Tet. Trilogy Tapes in collaboration with Palace Skateboards issued the single Heli Yuweli in the same year. In short, he is one of the most original live acts on the planet. Miss him at your own peril.
Since 1996, Swedish producer THE FIELD has been crafting his unique take on shoegaze type atmospherics fused together with minimal techno. A simple idea perhaps but he executes this with labcoat precision, ensuring that he's sound is often imitated but very rarely matched.
The influence of early Swans on Australian born, Reykjavik domiciled composer BEN FROST is unquestionable. He not only recorded a track with the title We Love You Michael Gira but also contributed to Swans The Seer album. Their influence alone doesn't tell the whole story however, as his soundtrack work on the series Fortitude testifies: his music posses a scenic quality that reflects Iceland's natural beauty.
VALGEIR SIGURÐSSON from Iceland releases Ben Frost's music all the label he founded Bedroom Community. He notably collaborated with his native's most famous cultural export on the Dancer in the Dark soundtrack and continues to be one of the most prolific and in demand composer and arrangers in the world currently.
Manchester's own DEMDIKE STARE is named after the head witch of nearby Pendle's 17th century coven. The duo of Miles Whittaker and Sean Canty not only acknowledge such portentous Lancashire folklore but also the Black Science of the regions many electronic music pioneers: The alchemy of everyone from Richard H Kirk and Muslimgauze to Gerry & the Holograms and A Guy Called Gerald reverberate through their myriad, beautiful packaged works on the consistently excellent Modern Love label.
TRANSFORMER 2's line-up is completed by London based male/female duo CAMILA FUCHS who make sublime pop that is equal parts Gal Costa, Broadcast and Seefeel. SCULPTURE employ similar radiophonics to artists on the Ghostbox label or imagine Raymond Scott making techno. Melbourne, Australia's CIVIL CIVIC play instrumental guitar music with synths thus seeing them often labelled post-rock as a consequence. There are indeed traces of the genres greatest proponents but also much to savour for fans of everything from M83 to Lightning Bolt.
Event Details:
Transformer Events presents:
Godspeed You! Black Emperor
Liars
Ben Frost
Powell
Omar Souleyman
Bardo Pond
Valgeir Sigurdsson
The Field
Demdike Stare
Sculpture
Camilla Fuchs
Civil Civic
Venue: Victoria Warehouse, Trafford Wharf Road, Manchester M17 1AB
Date: Saturday 28th October 2017
Doors: 3pm – 1am
Age: 18+
Tickets:
1st release – £20
2nd release – £25
Final release – £29.50
1st release Mezzanine level – £40
2nd release Mezzanine level – £45
Direct ticket link > skiddle.com/e/12987302
Links
www.transformerevents.com
www.facebook.com/transformerevents
https://twitter.com/vicwarehouse