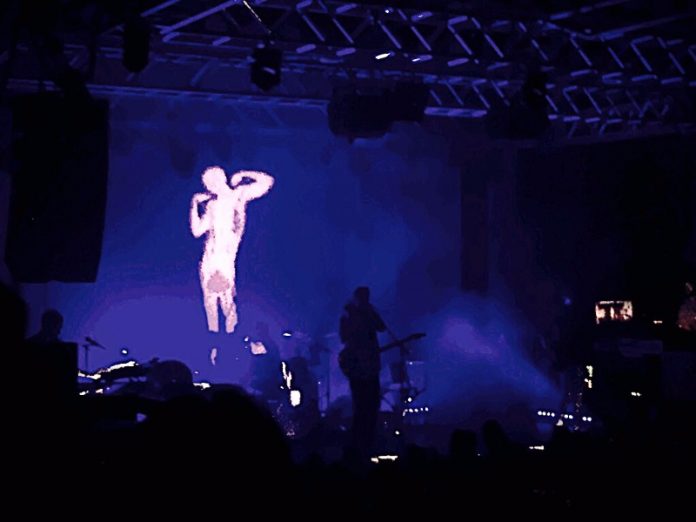 On a cold December evening we make our way to the Union, we're running late as per usual and miss the support band – the old Union is already busy and we notice a distinct lack of hipster beards, compared to Manchester, but many more 'student dreads'. Think CUD and Chumbawamba!

Django Django take to the stage and open with the delightful experimental, neo-classical strains of 'Hail Bop' and I'm in heaven … it's been too long!
The band play most of their eponymous debut album, interchanging instruments throughout, and with a saxophone  player coming on to add depth to the sound. My own personal favourite 'Storm' sounds absolutely massive tonight…
We notice a second smaller drum kit set up at the side of drummer David Maclean's main kit – with none other than a cardboard box for the snare drum that gets an outing for the rhythmical low fi of 'Love Dart'. A cardboard box!
Their biggest hit to date 'Default', gets the Leeds crowd out of their stupor for a little movement, but they're not dancing like us Mancs, not a sniff,  as the usual 'YORKSHIRE YORKSHIRE YORKSHIRE!' chant goes around. 'Firewater' also goes down really well, with its big stomping beat.  The band are very rhythmical and carnival-esque (even the coconut shells come out to play) and they'd be perfect for a decent festival. They also have a 'New Wave' synth edge too.

It's time for the final song of the night, and it couldn't be more apt as singer Vincent Neff announces 'WOR'. The track's air raid siren intro breaks out around the venue and the guitar riff kicks in. And the whole place goes up!
and that my friends is your lot.
It's a crying shame that bands as daring and courageous as Django Django are not bigger than they are.
New album 'Born Under Saturn' is out now and the band are still on their nationwide tour