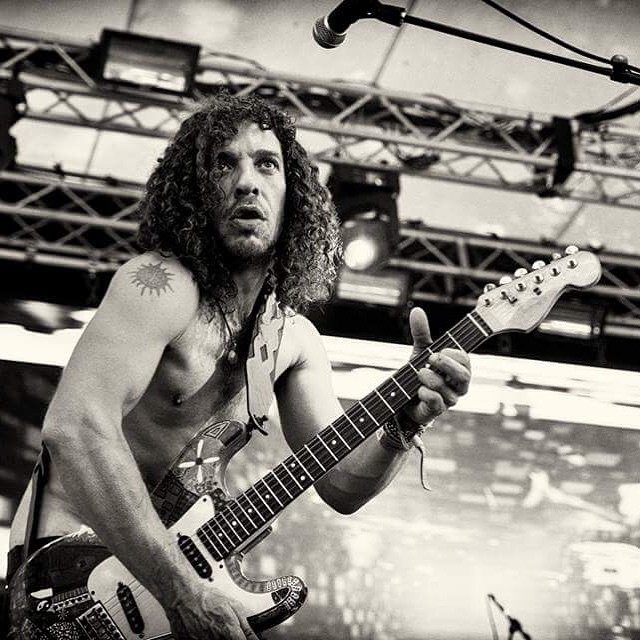 John hails from Wigan, and went to the same school as my brother, Winstanley College. Although he says his attendance record shows he spent little time as a scholar, music always having been his primary passion in life. John's a likeable, amiable fellow and despite his amazing talent exhibits no airs and graces, and was an easy, relaxed and open interviewee.
I asked John about his early nurturing as a musician, particularly the influence of Krishnamurti Sridhar, the renowned Indian Sarod raga maestro. Anyone who has heard John play can clearly discern this major underlying influence of Indian music poking its head up amongst his guitar playing and songwriting oeuvre. John first met this legend of Indian music when he was aged about seven or eight, when a family friend who'd travelled extensively in India, returned with Sridhar in tow and he stayed at the Fairhurst family home. He was a fascinating figure,full of anecdotes and tales from a foreign land, and had been trained in the classical Indian tradition. He left recordings of his music for the family and the young John was instantly captivated by this new style of music and virtuosity, something he'd never been exposed to before.
John was enthralled by his story of commencing his training as a musician at the age of seven, living in a cave in the mountains with his musical master, having come from a long family line of classically trained musicians. John's mind was blown by this charismatic figure and he recalls seeing him play at Liverpool Philharmonic Hall as the best live music experience of his life. John struggled for words to describe the virtuosity of the performance and remembers being deeply moved by Sridhar's speech before the recital, explaining how Indian musicians regard their audience as being as important as the artist themselves, in creating the energy that only music can bring forth. It's clear from John's performance that he took this nugget of truth to heart and the energy of this gig was something special, shared with and coming from the audience, as well as from his and his band's skills, rather than a demonstration of ability and aloofness from the hoi-polloi.
John and Sridhar remain good friends and he visits him in his now home-town of Stroud when time allows. He usually comes away from the experience of playing with and being taught by him feeling that he needs to put in much more guitar practice. This is an amazing fact, because I can say hand-on-heart that John is by far the most talented and proficient guitarist that I've ever seen play, but I guess music is an infinite space, and there is always more to learn.
John's father was also a major influence on his musical growth, playing blues slide guitar and exploring the spaces between the frets that allow for the nuanced and expansive style that John exhibits today. In fact, his dad told him that throughout his incubatioin and infancy he was in his Captain Beefheart phase, listening obsessively to 'Trout Mask Replica' and John feels this early exposure to open and unconventional playing has had a lasting effect on him. He was also exposed to his father's wide ranging tastes in Middle-Eastern, African and other exotic musicians, and it shows in the way John plays, constantly exposing you to styles, methods and themes that I've never really heard played on guitar by anyone else.
John has plans to play with and release music with Sridhar at some point in the future, when his busy schedule allows, a mouth-watering prospect that I, for one, would love to hear. It's a mark of John's modesty and respect for other traditions of music though, that he feels he'd have to raise his level of playing and knowledge of musical possibilities to be able to do this.
Next I asked John about his unusual practice of playing both solo electric-acoustic sets, and with a traditional rock 'n roll line-up, within one performance. It stems from his time as a world traveller, where in true troubador style, he hot-footed it around South-East Asia, playing in blues bars and with traditional Thai musicians, amongst others. And from there he discovered the joys of Australian aboriginal musicianship and Maori culture in his time in the antipodes. To fund and sustain his travels he busked extensively, a necessity since he blew most of his and his girlfriend's travel budget on the purchase of a stunning '50s blues guitar that he found.
After returning from his travels, he moved to London and knew at that point that there was nothing other than being a musician that he wanted to do on this earth. Several years of busking to support himself as he flitted from place to place without a fixed abode, led to his development of the set that he performed for us ahead of his rock band numbers. And what a set it was, but more of that later. A fellow busker introduced him to the boom box, which John makes extensive use of in his solo performances. Initially it was a way to up his busker earnings by drawing more of a crowd with a bigger, meatier sound than a sole acoustic guitar could provide, but he has made it in an integral part of his musicianship with a skill and dexterity that moves it from being mere percussion alone to a soundscape redolent of tribal festivities and primeval influence.
Busking taught John what people respond to, and on what level, within his music, and allowed him to hone, refine and recraft songs through repetition and repeated reception by a wide-ranging, not necessarily musically-minded audience. It shows. John's solo songs are complex, expansive, multi-faceted and highly original. Your ear never knows what to expect next, yet he can string themes through his playing that feel like a consistent narrative, more of an audio short story than the more frequent verse/chorus/verse offerings of many of his less talented colleagues. He also learnt how to capture people's attention and imagination and keep them attentive. I can vouch for the fact that his audience at The Trades was held in rapt observance of this amazing musical phenomenon in a way that I've rarely seen with a solo singer-songwriter. It also taught him musical and life discipline, the cold, wet January afternoons being as much a part of his craft as the sun-dappled Elysian strummings of festivals and summer happenings.
I asked John about his songwriting techniques. He has an eclectic and variable method of composition, making sure he records and saves all ideas that he toys with, whether it be rhythm, melody, lyrics, soundscape or more exotic ephemera. At last count he had over seven hundred pieces and fragments that he will revisit and review as he strives to develop new material. Some of them become songs in an afternoon, some take weeks, some may go many years from being laid down to finding a place in his oeuvre. His development as a person and a musician has as much to do with what sees the light of day as what the thinking behind the original idea was. He constantly surprises himself revisiting old tropes to find that they are just the thing he's looking for at the moment, despite having written them off as insufficient when first laid down.
John talked to me about his move from British city life to his spell residing and playing in New York, a life choice he was able to make due to funding from The Arts Council when he knew for sure that playing and performing was all he ever wanted to do. He arrived in The Big Apple via Toronto where his first shows were booked. He arrived without a place to stay and advertised for help from fellow musicians on the now defunct MySpace forum. A gent named Christopher Paul Stellin answered his plea and offered a place to stay. His sense overwhelmed by the exotic chaos of the city, he recalls waiting at metro station in Brooklyn, full of trepidation, 'waiting for the man', and realising his soon-to-be friend was about to collect him, seeing a figure stooped under the neck of a guitar strapped to his back, heading for him from amongst the crowds in the distance. There then followed a long apprenticeship of jam nights, gigs with multiple fellow travellers, and open-mic sessions as he integrated into the city's musical underbelly.
Since then he's been a frequent revisitor of New York's musical scene, engaging in 'mad trips' whenever time allows to meet fellow artists and partake of the city's unique musical heritage and lively, vibrant, eclectic and inspiring scene. New York's musicians also taught him a work ethic and devotion to the craft, with an expectation that anyone good who wants to get somewhere may have to play over three hundred gigs a year, around The States, to reach the level of required respect and attention needed to be recognised in that vast and heterogeneous country. John plans future musical sojourns in New Orleans and Nashville, seeking to expand his influences, styles and abilities beyond what is already a huge and awe-inspiring repertoire.
I asked John about the polarities between his tender, sonorous solo work and his rock rambunctiousness, and which truly reflected his style. He replied that they were both truly him, the light and dark in his soul, reflecting the two sides that live in all of us. When I asked him about the space in the middle between these two extremes, he expounded that it is a place he intends to investigate in the near future. He is developing projects to play with a wider range of musicians, including jazz and Western classical players to develop a more rounded and multi-instrumental sound. Not middle of the road but a different kind of virtusoity. And I'm sure that a man of his talents and exceptional ear will find people falling over themselves to play with him and explore their craft with a true musical thinker and doer, an aficionado, dare I say it, a maestro. He is modest again, saying he considers himself a pupil at their feet, always learning from other musicians as they learn from him.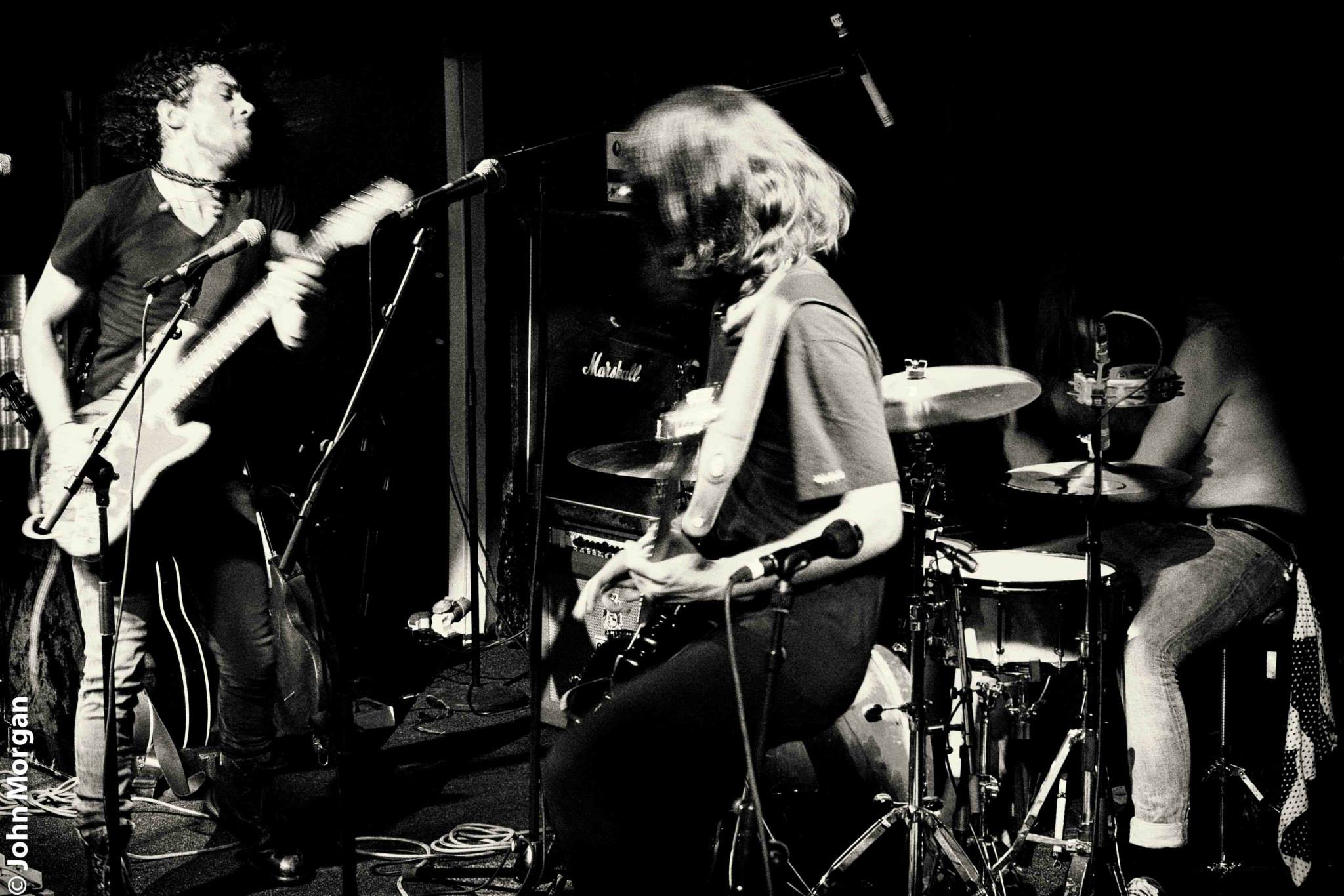 I ask John whether he was born as a rocking bluesman, or consciously adopted the lifestyle. He thinks he was always destined for it, and the lifestyle found him. Whenever he tried to live differently from this, he was always drawn back to it, just like his predecessors in the blues style, the life and the stories and themes they generate being the lodestone from which true blues music appears, timeless and evanescent, the sound of the streets, the poor, the oppressed and the hopeless. The blues is the soundtrack to, and the remedy for their woes, and it will never leave us, as long as there are people struggling for respect, recognition and equality, wherever they are in this world.
John's major guitar-playing influences begin, obviously, with Hendrix, but he has more contemporary idols among whom Jack White figures. He's a great lover of Jimmy Page, Paco de Lucia, Django Rheinhardt, Muddy Waters, Frank Zappa, Johnny Winter and Santana amongst a list of hundreds. We ended the interview with a laugh and a handshake and me wishing John to enjoy the unique venue that is The Trades Club, that I knew would accord him a rapturous welcome. He then introduced me to his parents who were there to see him play in a town not too distant from that of his upbringing. I left with an impression of an immense, modest talent, a genuine blues and rock musician who walks the walk for real, and a llovely, down-to-earth bloke who doesn't consider himself above us mere mortals who could only wish after and aspire to his gargantuan abilities