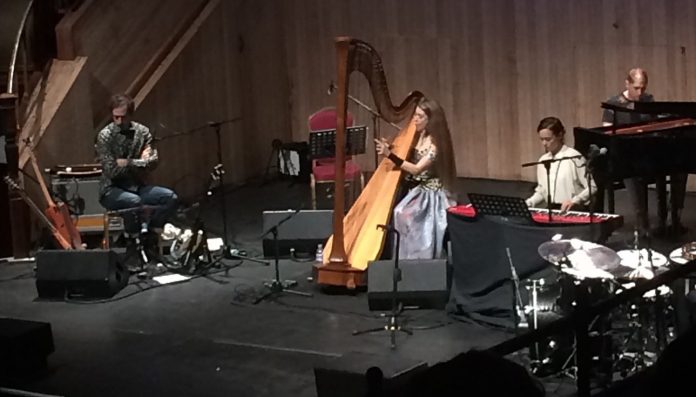 Support on the UK section of the tour comes from Scottish singer, Alasdair Roberts, whose earnest folk stylings are not really my cup of tea I'm afraid. I feel for him performing in front of a crowd so eager to see the headline act but he plays really well and his acoustic set gets a good crowd reaction.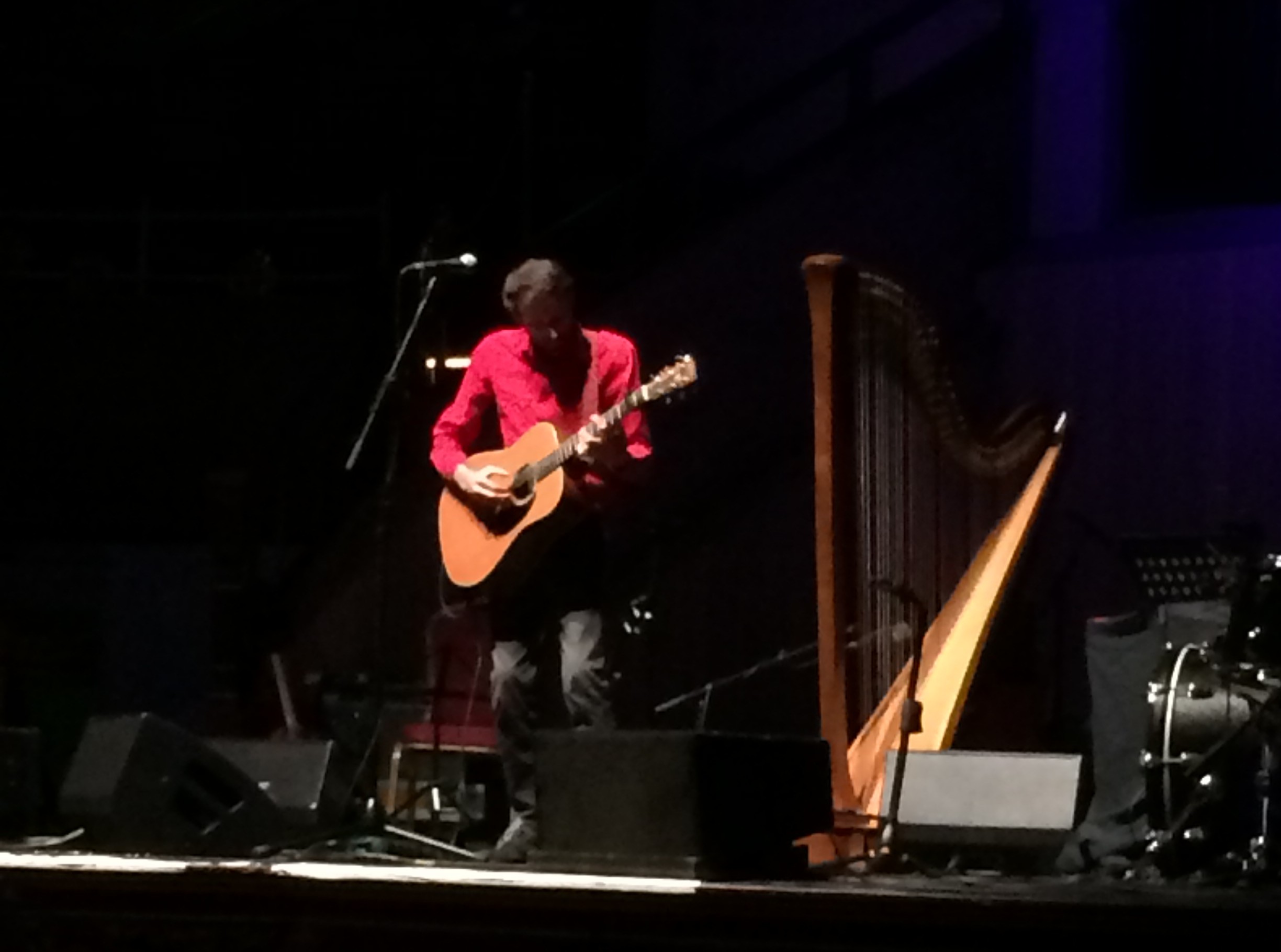 The anticipation of the fanatical crowd is palpable from the start and as she walks on stage Newsom receives a hero's welcome. Seating herself at the harp she launches into 'Bridges and Balloons', the first track on her 2004 debut 'The Milk-Eyed Mender'. Realising she has started in the wrong key, she subtly adjusts mid-verse but her nervous laughter mixes with that of the savvy audience and she decides to start again, coyly explaining "There has to be a first date on a tour and this is it!" Rather than an awkward and cringe worthy moment, it feels like a charming and honest introduction.
The set is heavily focused on songs from the new album 'Divers' released the previous week, with many of the songs receiving their live debut tonight. Current single 'Sapokanikan' is one of the night's highlights, with its soaring vocals and complex sprawling lyrics touching on everything from American history to English poetry. Newsom does not write easy music. Her songs don't often follow simple structures or feature catchy choruses. The songs twist and turn, changing rhythm and style sometimes midway. The verses thread through the music, like a story unfolding. This is music to take in and absorb rather than participate in. The seated venue and the quiet and respectful audience lost in rapt attention add to the feel of a recital rather than a gig. Although I doubt many recitals feature audience members in full fancy dress, but it's to be expected tonight on Halloween or "the spookiest of nights" as Joanna calls it.
Of the many new songs played tonight several stand out: 'Goose Eggs' has a country tinge to it, with its mellow keyboards, drawling vocals and lazy drums.  'Things I Say' is a beautiful tender piano ballad, simple by Newsom standards, but no less effective than the grander stuff. 'Leaving The City' is dark and gothic, an almost medieval sounding harp-led piece which changes pace suddenly with a driving drum beat provided by brother Pete. It's one of the best songs on the new album and the live version does not disappoint.
Newsom's three-piece backing band are few in number but rich in talent. Ryan Francesconi, Pete Newsom and Mirabai Peart swap and cycle through instruments throughout the gig without breaking sweat. Peart also provides some occasional spot on vocal harmony. The dense orchestration of some album tracks are pared down for the live show but lose none of their impact thanks to the creativity and skill of this group.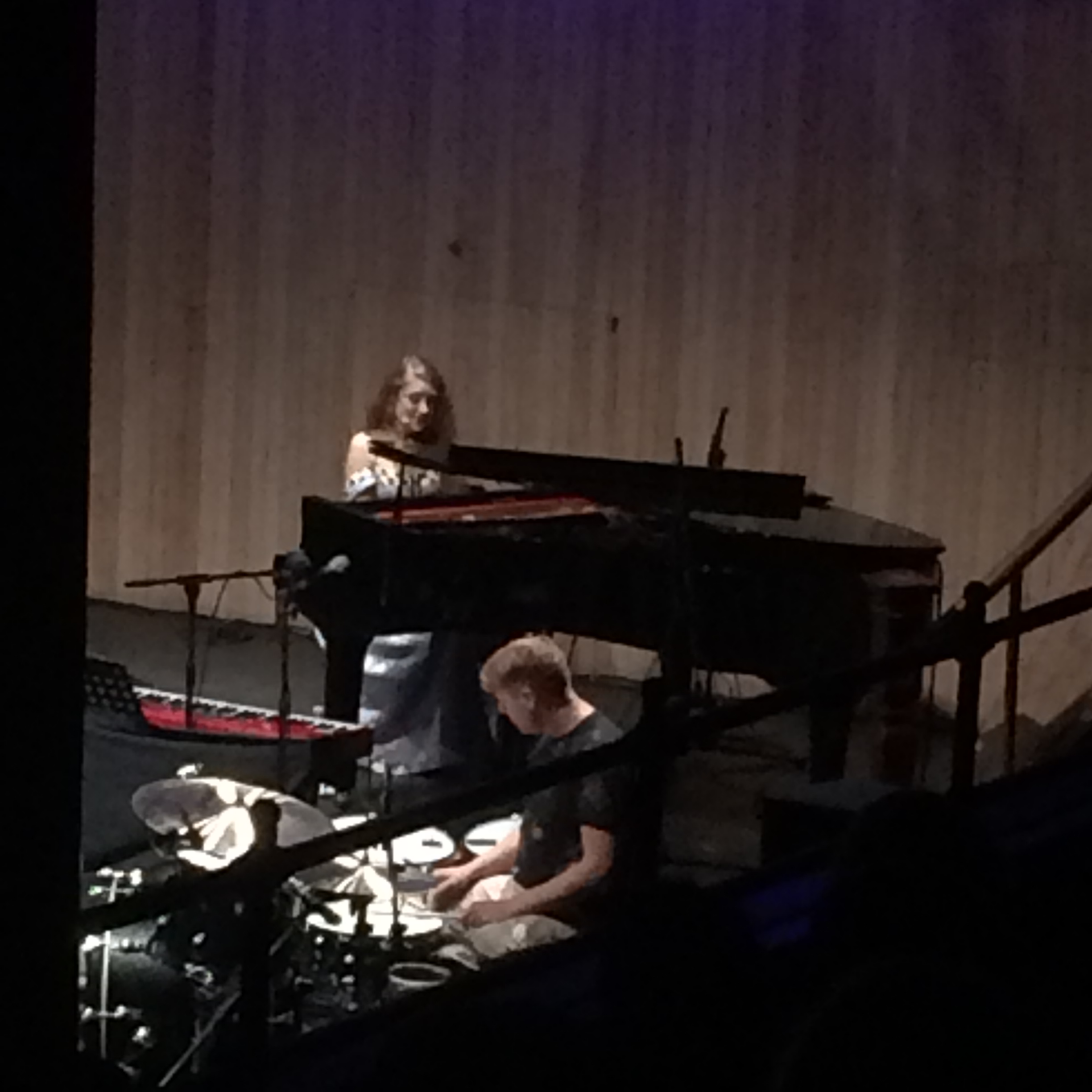 Newsom is no musical slouch, going between harp and piano throughout and, like her band, often changing mid-song. Having never seen a harpist perform before, I find myself entranced by her playing which she somehow manages to make look easy despite creating a complex beautiful melody. Songs like 'Cosmia', 'Anecdotes' and 'Divers' are great demonstrations of her mastery of her instrument.
Another set highlight, 'Soft as Chalk', from the last album 'Have One on Me' is a vocal showcase, with the singer showing us a bluesier side. Her rolling piano drives the song along hitting a Dr John-style boogie rhythm before the end. Newsom's voice is fantastic throughout the night, deftly pulling off swooping manoeuvres and hitting incredible high notes.
The set finishes with two encores: the heart-breakingly fragile 'A Pin-Light Bent' from 'Divers' and finally a stirring, punchy version of 'Peach, Plum, Pear', from 'Milk Eyed Mender' which has the crowd ecstatic from the first line. With that, she's gone, and the crowd are on their feet again for the third time tonight. It's certainly been a while since she's played live, but a standing ovation from a sold-out crowd on her first gig back seems like evidence enough that there's no rust to be found on Joanna Newsom.
Set List:
Bridges and Balloons
Anecdotes
Soft as Chalk
Divers
Emily
The Things I Say
Waltz of the 101st Lightborne
Have One on Me
Sapokanikan
Goose Eggs
Leaving the City
Cosmia
Time, As a Symptom
Encore
A Pin-Light Bent
Peach, Plum, Pear