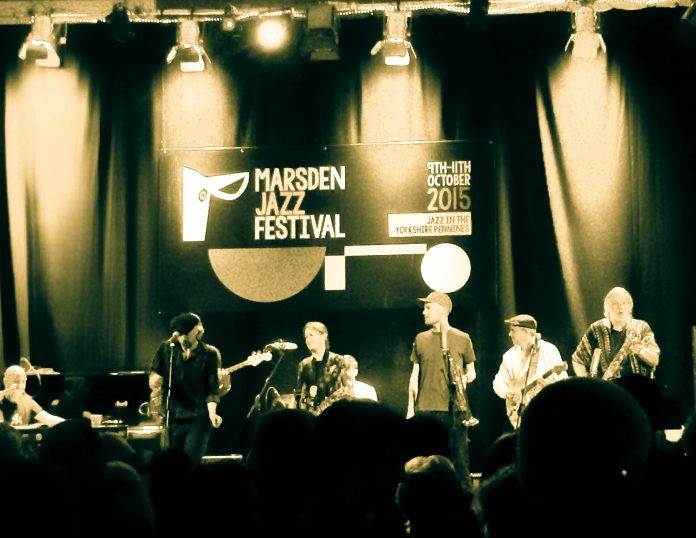 Our reviewer Hugh saw the Nu Popes and Arun Ghosh & the Indo Jazz Sextet at Marsden Jazz Festival – winner of 'Outstanding Established Festival' title at the Yorkshire Gig Guide Grassroots Awards 2015 in Whitby
Nu Popes at Marsden Mechanics
The term jazz has always meant many different things, and Marsden Jazz Festival, now in its 24th year, always brings together a strong and varied programme with something to suit every taste. Nu Popes, a 7 piece Huddersfield-based funk outfit, marked their 10th anniversary with a thoroughly enjoyable and impressive set of high energy classic tunes in a bill topping slot.
'Shake Everything You Got' was the opener, and shake everything the delighted crowd did, through an untiring medley of irresistible grooves delivered with panache and good humour and carried off with effortless musicianship. Frontman, Ross Taylor, pranced and hot-stepped while chanting a funk litany of memorable choruses such as 'Thankyou Falettinme be Mice Elf Agin' and 'Use me' against the bone crunching bass and drums of Clinton McFarlane and Matt Longbottom. The regular horn section of Amanda Spalding and Nick Batty plus guest Rod Mason never dropped a semiquaver, adding further interest by picking up shakers, tambourines and cowbells in between their zip-wire tight horn lines. The venerable presence of Rod Mason brought not only tenor sax and congas, but also a sighting of that fine creature often heard on old recordings but seldom seen in the wild, the baritone saxophone.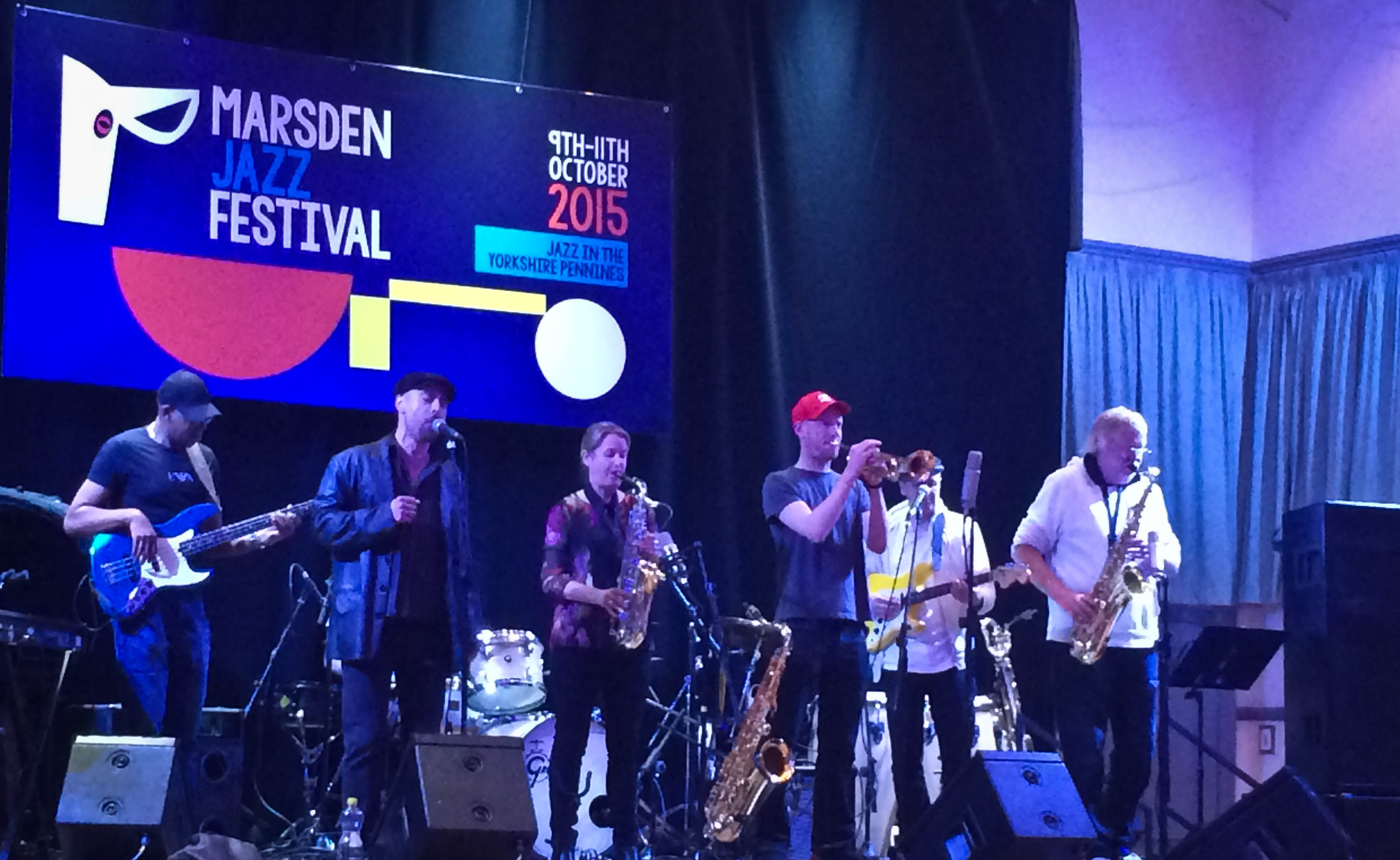 But is it jazz? Well, all the genealogy was there: the harmonic drive provided by Steven Beever's slinky keyboard lines paid homage to the likes of Herbie Hancock and Horace Silver, guest guitarist Jez Platt (depping for Martin Chung) tipped a respectful hat to George Benson and Wes Montgomery, while the controlled fury the band stoked up reminded me of Tower of Power. Jazz began as popular entertainment, but has since diversified into art music, pop music and a myriad fusions. But from African folk roots to New Orleans, from the old big bands to Michael Jackson, one strand of jazz has always been about making people dance. Nu Popes showed us that there is no dance music quite as exciting as old school funk played by a band steeped in the musicianship that jazz created. This was a worthy finale to the Saturday programme at Marsden Jazz Festival and the audience's feet failed them not for the whole 90 minutes. Let's hope Nu Popes bless us with their divine grooves for another decade at least.
Arun Ghosh and the Indo Jazz Sextet at Marsden Mechanics
Arun Ghosh has followed a somewhat unusual path as a jazz musician, adopting the clarinet, south Asian folk music and large format composition as major elements of his work, typified by his recent South Asian Suite, played in toto at Marsden Jazz Festival. Presenting this significant work of reflection on global music, Ghosh strikes a homely and disarmingly boyish figure. Eccentrically, he included a singalong version of 'You've Got a Friend' in the middle of an otherwise intense set of original works. That aside, the 'South Asian Suite' itself hung together convincingly as a whole band workout and the Sextet managed, without showy solo passages, to convey excitement and virtuosity to an eager audience. Thankfully, Ghosh's affable manner countered the ponderous seriousness that sometimes accompanies such 'fusion' gigs.
The Indo Jazz Sextet is a formidable Northern ensemble, its moods ranging from frenetic, throbbing rhythms to meandering lyricism. On the front line, Chris Williams' keening sax counterpointed and echoed Ghosh's rich, seductive tones on clarinet. The rhythm section was built on the fascinating chatter of Nilesh Ghulane's tabla, the geometrical framework of Dave Walsh's drums and a harmonic platform of Liran Donan's bass, plus piano and electronic drone tracks. On 'Gypsies of Rajasthan' Ghosh romped around the stage like the Pied Piper of Bolton, on 'After the Monsoon' he wooed us with a pastiche of folksy dances and with Sufi 'Stomp', he conjured up the whirling trances of Qawwali, citing the celebrated singer Nusrat Fateh Ali Khan as an influence. Transporting us from the windswept Himalayas to the humid tropics of Srilanka, the Sextet performed a kind of collective improvisation, each of them attuned to the other within the balanced structures of Ghosh's pieces. At times the mighty battering of the tabla and drums all but drowned out the acoustic piano, but on the tranquil Mountains of Nepal, John Ellis played a tinkling impressionistic introduction, from which the clarinet spun a plaintive melody before leading into a solemn and beautiful ensemble hymn worthy of its title.
These evocative, distinctive works of jazz are inspired, Ghosh frankly admits, by places he has mostly never visited, but clearly must have dreamed of while growing up as a musician in the north of England. Neither in brass bands, modern jazz nor in Asian music in general is the clarinet a common voice, and yet speaking in a kind of international romantic vernacular, the Sextet weaves together strands of jazz, klezmer, Balkan and Asian music into a compelling tapestry. It creates an atmosphere suggestive of some northern towns and cities, jazz with a northern accent, if you will. It represents neither the metropolitan centre nor some rustic outpost, but a contemporary musical tide awash with currents from recent history and faraway places. We should look forward to what the quirky Ghosh will bring us in future as his music develops, because the 'South Asian Suite' is certainly a memorable achievement at this early stage of his career.