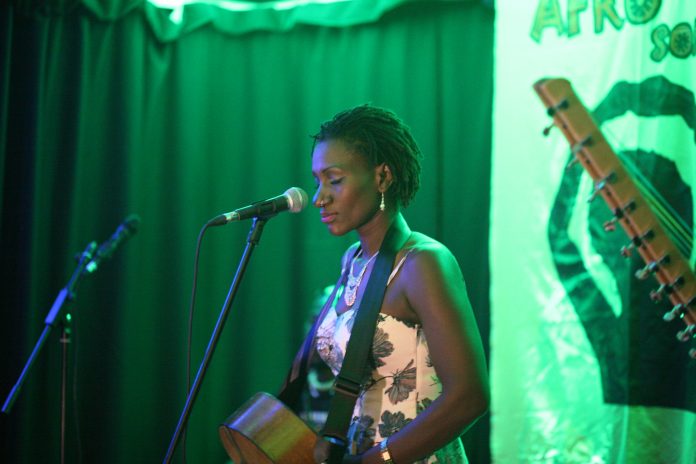 With all the recent hubbub about our monarch being on the throne longer than any of her ancestors, it was refreshing to come across somebody truly majestic who wasn't afraid of speaking from her heart, had no body guards when she did her audience 'walkabouts', and had all her subjects up and dancing.
To be honest I was expecting a liberally proportioned older woman – which shows that my ignorance about African singers is on the same level as my knowledge of African musical instruments. Queen Mashie however is as a tall slender, beautiful young woman with the poise of a monarch and the dress sense of a supermodel. When she isn't happy, she stops the music, asks for an adjustment – and she gets exactly what she wants. Because the people around her completely respect and trust her passion for her art. She is no prima donna pop star, wanting to get her own way, but a dedicated and generous performer determined to give her audience the quality she knows she is capable of.
Queen Mashie is gracious in explaining the instruments used on stage and translating the words of many of her songs. She introduced the Mbira – a 'thumb piano' of metal tines within a circular framework – the national instrument of Zimbabwe, which she plays to accompany many of her songs. But also on stage – and played by her support musicians -was a more traditional version of this in a gourd shell – which she described as 'like a Zimbabwian harp'. There was also a kora – a West African harp-like instrument – a traditional drum kit, and a tamborine and a large pair of shakers.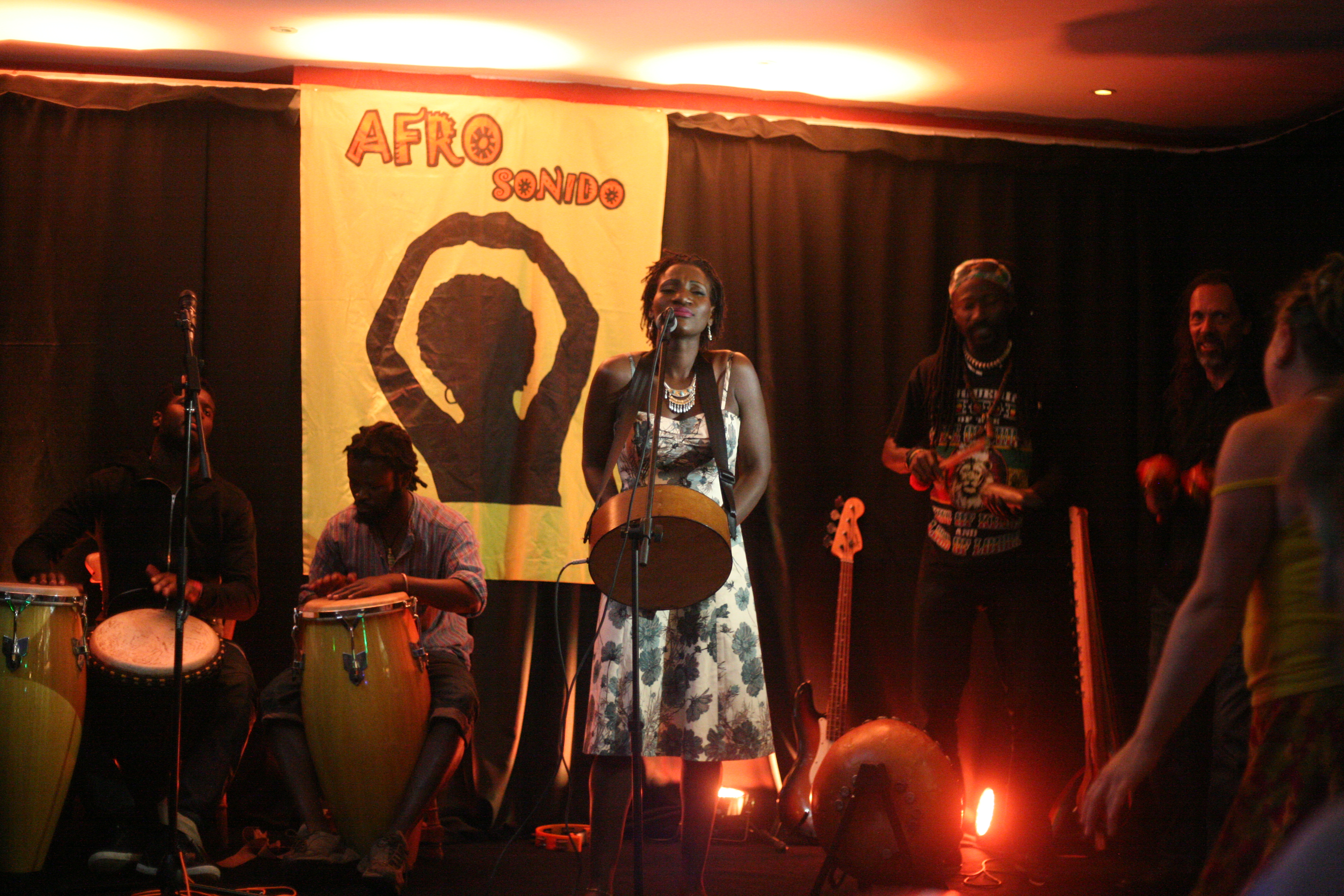 On the night I saw Queen Mashie at Crazy8 in Todmorden, she has three musicians on stage with her – all colleagues based in England, who she'd invited along to perform with her. There was Sens Sanga, Suntou Susso and Mbada Bjorn. I rather lost track of who played what as they frequently swapped instruments, but I was told by Queen Mashie's promoter that Suntou was one of the top 10 kora players in the UK. Oh yes – and there was the guy from the audience who came forward when Queen Mashie asked if anyone wanted to play a shaker. Except he was clearly and experienced drummer and stayed on stage for quite some time, very much in synch with the other players. It was that kind of performance – lots of audience involvement, people getting up to dance, musicians coming off the stage to join in with them – but with a sense that Queen Mashie was always 100% per cent in control.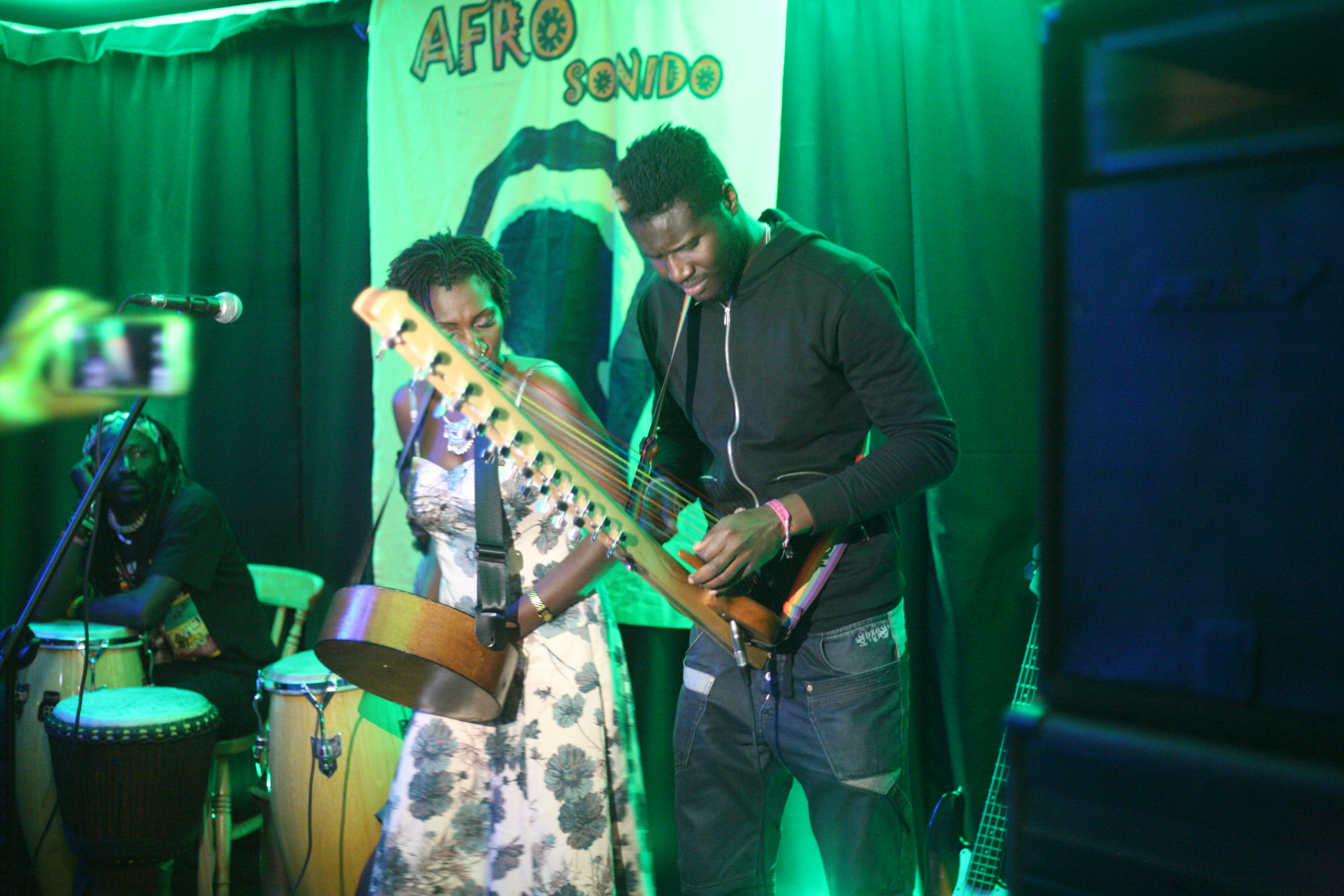 Ok – enough of the structure and on to the music. Queen Mashie sings in Swahili, Shona, Ndebele and English – sometimes a mixture of languages within one song.
I'm not sure what I was expecting, but what really struck me was the poignancy and power of many of Queen Mashie's songs. The clarity of her voice hits you deep beneath the ribs. Whether she's singing about love ('If you say you need me, give me some love?'), about a street child in the beautiful track 'Abandoned Soul', or delivering her own version of a traditional song about how the people of Zimbabwe 'came through fighting'. it's all compelling stuff. Her songs cover a spectrum from gentle, lilting melodies to drum-furious hip-shaking foot-tapping hand-clapping ballads to songs of timeless suffering and survival. And as for that wonderful reverberating noise Queen Mashie makes with her tongue – that sound that is as primeval as it is sophisticated. I just wish I had the words to describe it properly, because she does it so gloriously.
The audience loved this performance. A number of audience members were on their feet from the first track and many others were clapping and foot-tapping along. And when Queen Mashie insisted we all got up to dance and sing along, during one of the later tracks, nobody disobeyed her regal orders.
To be honest I was a bit anxious about meeting this regal woman after the gig. But she was an absolute delight to talk to. Very warm and friendly and generous – and not half as formidable as she appears on stage, she comes across as genuinely caring and interested in other people. She tells me she enjoys writing and singing about 'people and their daily living, I sing a lot about culture. And I love the concept of unity. We are all one,' she tells me with great sincerity.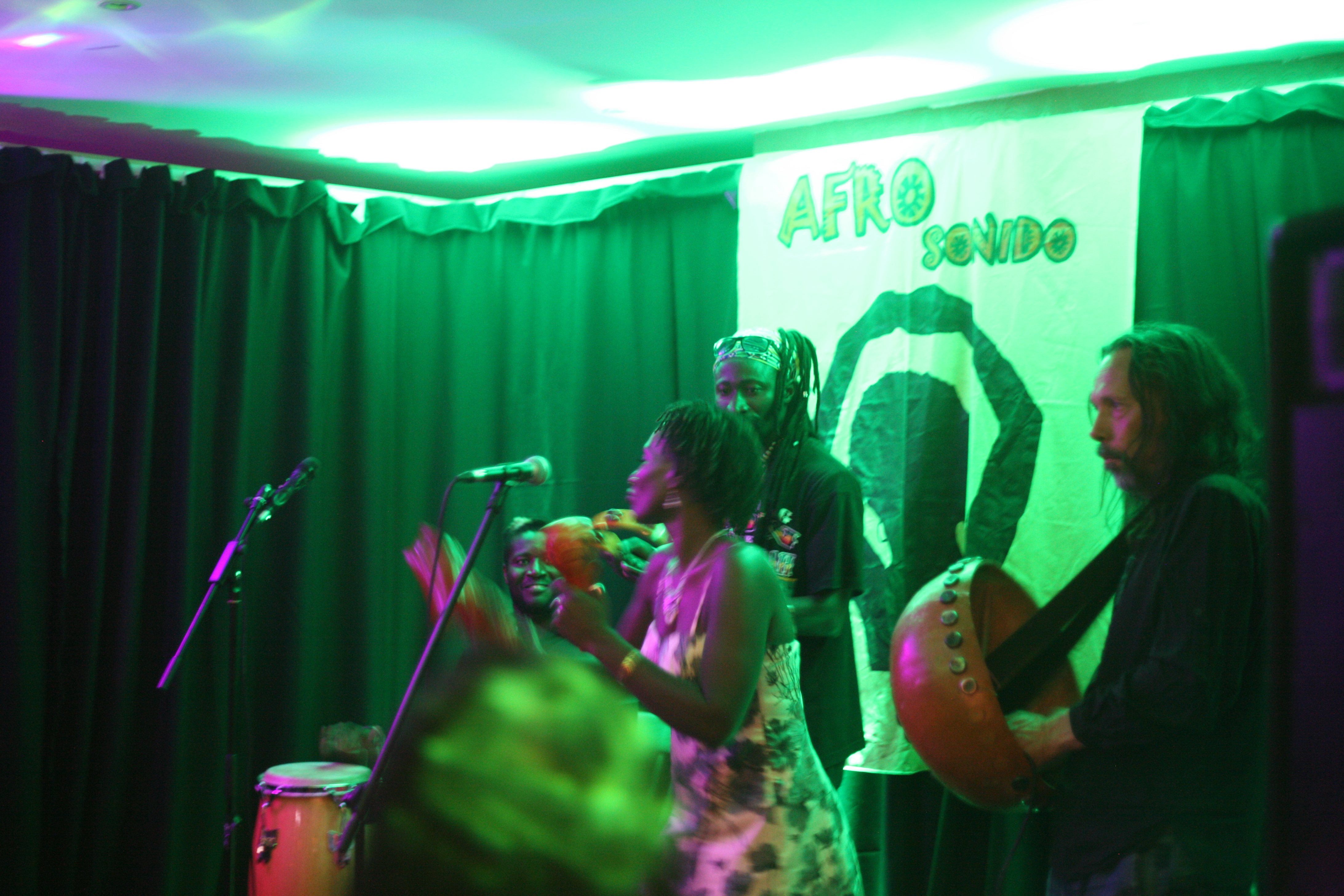 Born in Zimbabwe as Tatenda Sandra Mashiringo, this highly intelligent woman explained that she never set out to be a musician. Although she'd been singing since she was four, she did a degree and diploma in computer studies and was headed for a future in IT. 'But my brother Andy Brown, who's in the music industry, opened my eyes to a different future,' Queen Mashie says. 'He said to me, you can sing, so are you going to sit here in Zimbabwe where there are no jobs. So he took me on tour with him.'
From this start as a backing singer in 2002, Queen Mashie became a lead singer in her own band, and she has been on a world tour of her own, ever since. Recording several albums and collaborating with a variety of successful musicians from around the globe, she moved from Zimbabwe to Kenya, and then eventually to France where she is currently based. She has toured in the States, in Norway and many parts of Africa and even performed at the Miss Zimbabwe UK competition in Leicester. She frequently performs in Geneva . Her trip to England this year included a performance in Manchester – before she came to Todmorden. 'I really like this town,' she tells me, enthusiastically, 'the atmosphere and the music scene here remind me so much of Zanzibar.' (I have a feeling her visit coincided with one of our dryer weeks.)
It may be some time before Queen Mashie comes back to our part of the world, but if she does, then try and catch her. You won't regret it. In the meantime take a listen to her latest album on her website.
Queen Mashie's website: http://www.queenmashie.com/index.html