Having just moved to Huddersfield I decided that I wanted get out and see (and review) a band as soon as I could, so when Smokey Brights sent over their tour dates I grabbed the chance to see the Seattle based band on their first UK tour.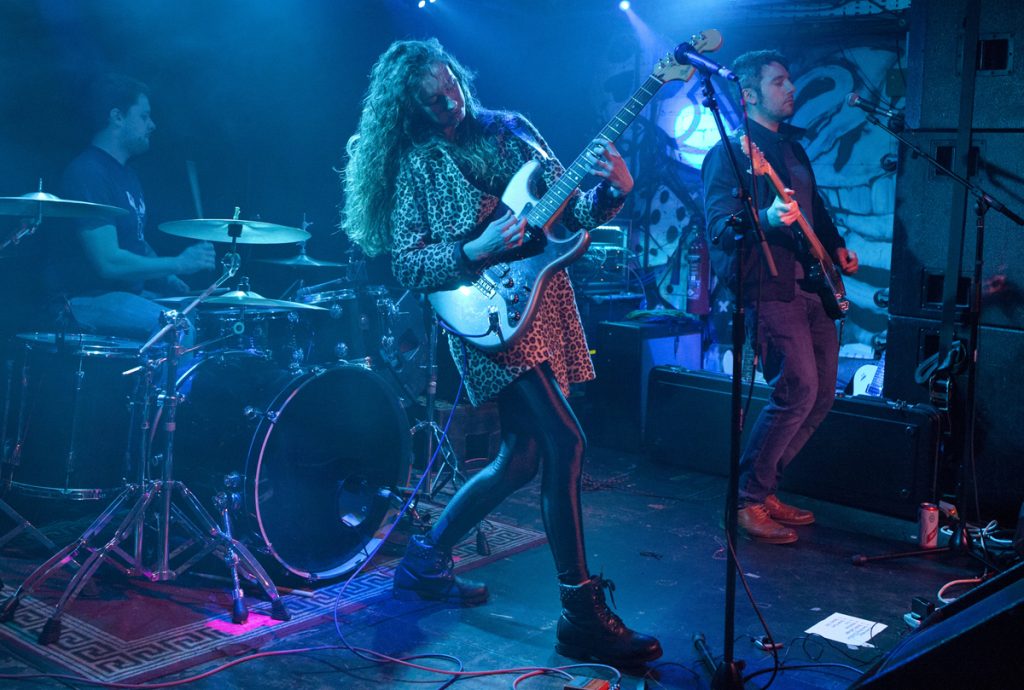 But before Smokey Brights take to Parish stage there's a trio of support acts. And first up is Loz Campbell. Loz is one of those artists I've heard a lot about but have never managed to catch live. So it's that classic rock trio thing – bass, drums and guitar. And it's heavy people, it's a really dense loud sound. Loz's guitar is great, it's not flash for the sake of flash but it's quality OK. And her vocals are great. It's sort of alternative rock but, for me, it has these hints of NWBHM of old.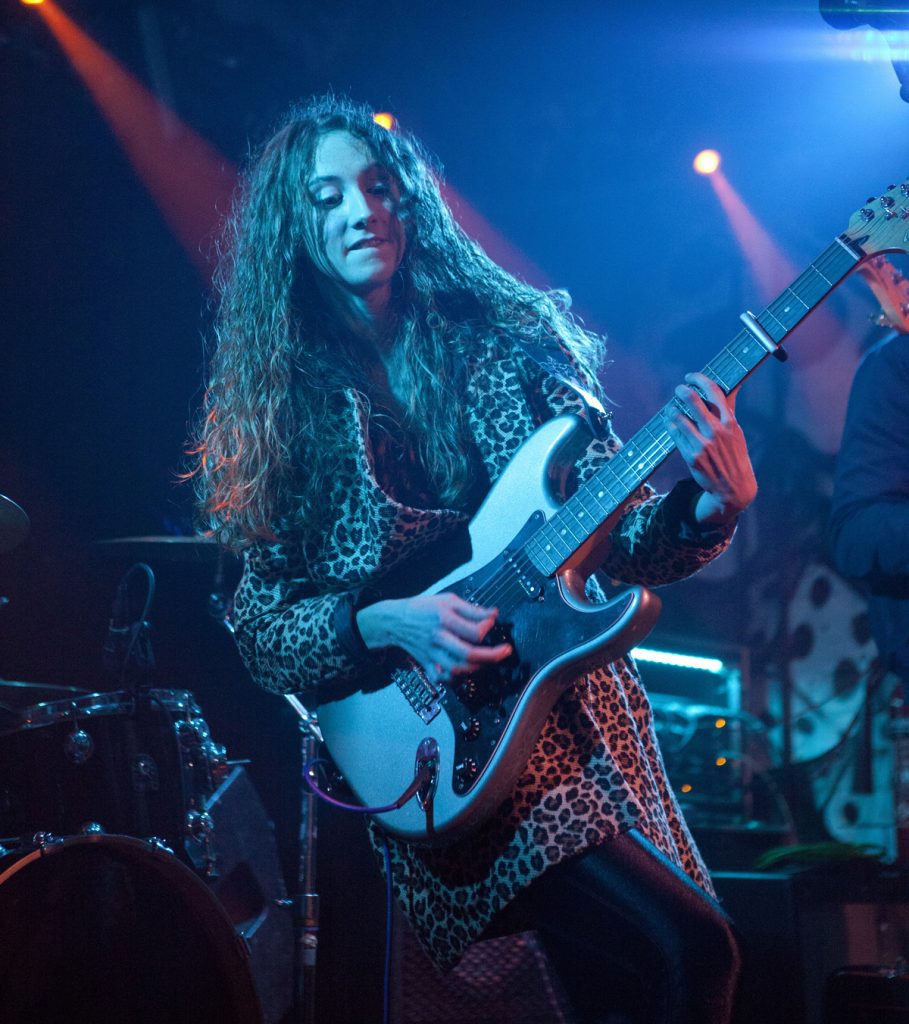 And it's not samey, there's variety in the material. The set standout for me is a song that is slower than the other songs but has this really great punky chorus. Loz is somebody I'm making a note to catch again.
Halifax based Calina are up next. My review notes for Calina start by saying "Yay Tunes" and tunes a plenty they gave us – a mix of covers and originals. They open their set with 'Seventeen' – a song I can only assume is an original. The first thing I notice as a standout is the lead vocal, loved that voice. It's a great song with a kinda alternative rock thing going on.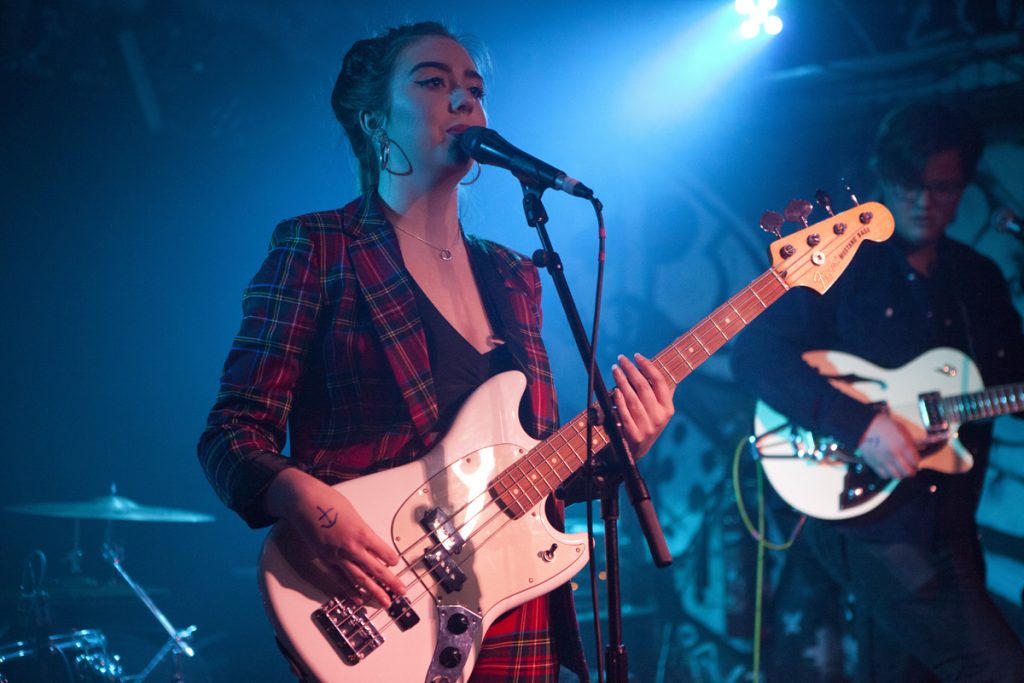 Weirdly, although not all that weird for me if I'm honest, my notes say "There's some really great drumming going on" even before I get to the way the two guitarists compliment each other and swap lead lines.
Another original 'Best Friend' has rather stuck with me, a rather fab sorta boppy song. 'Red Trousers' – a Calina original – is a great alternative rock track with hints of indie creeping in, that changes tempo throughout. Really great, although what it's about I don't know.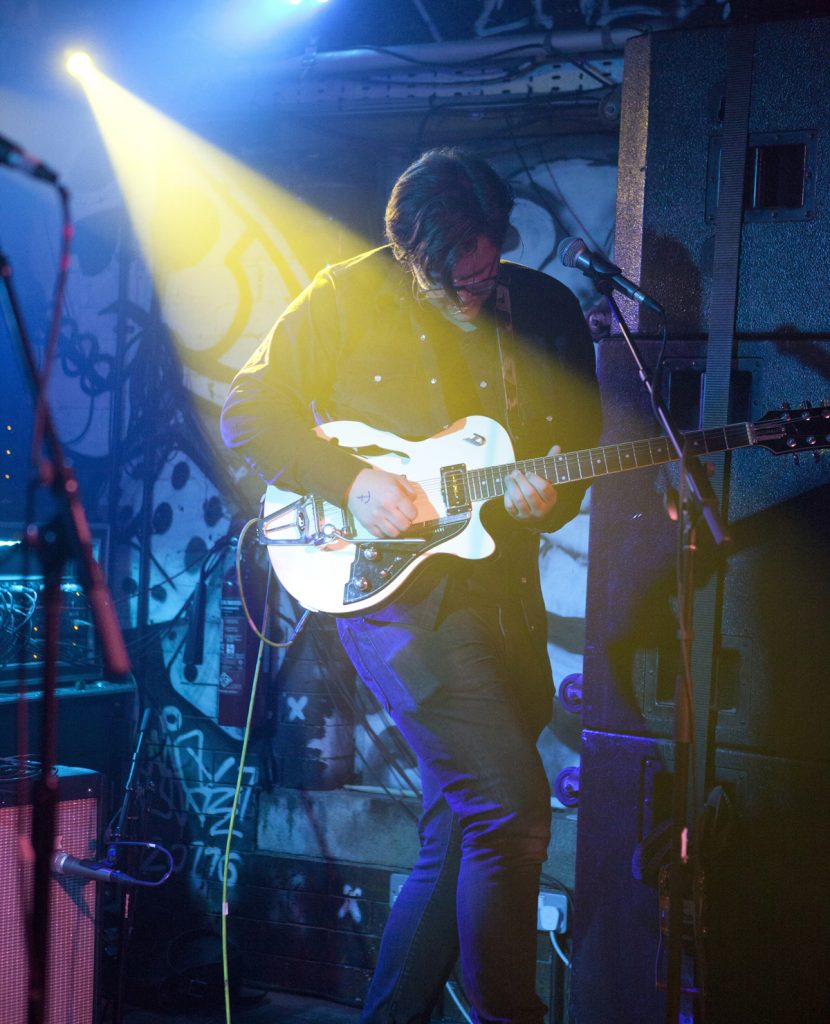 It may seem strange to pick a cover over an original as the absolute set standout but that's what I'm going to do. Their cover of 'Feeling Good' is fabulous. OK so it's taking from the Muse cover but they brought enough to it to make it their own. I loved the straight vocals over the howling searing guitars. This people is how you do a cover.
I'd recommend catching Calina, they're obviously talented and the original material is great.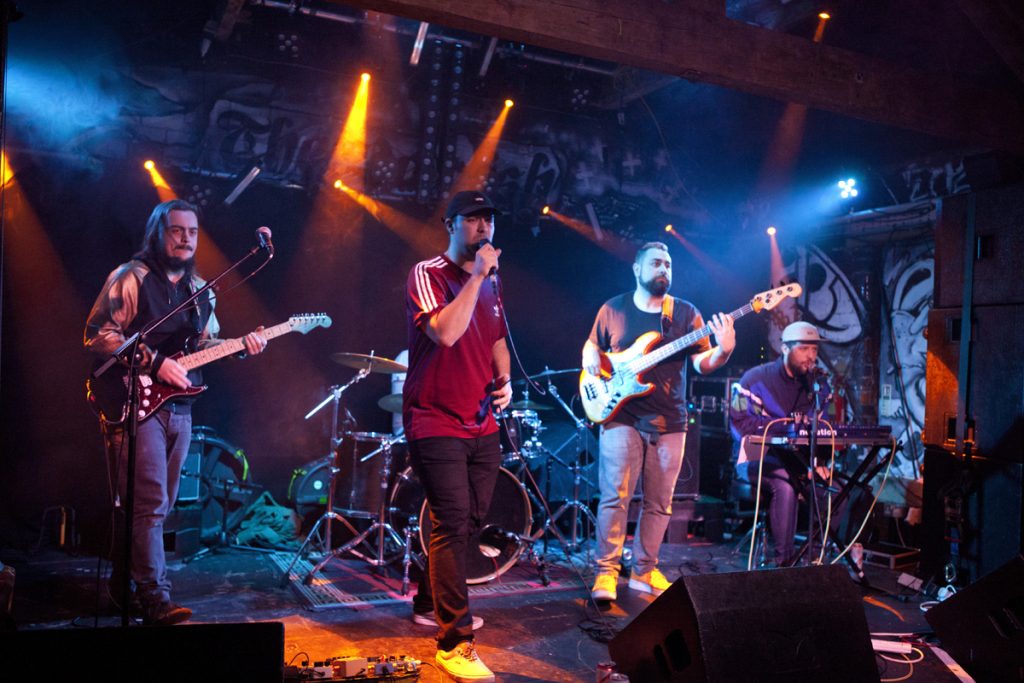 Vuromantics, oh Vuromantics I think I may have been a little, how shall I put it, unfair on them when I reviewed their EP. Live they rock, except they don't rock as such Vuromantics are as funky as hell in a late night party vibe sorta way. It's all sorts of 80s club sound, but it's sophisticated it's smmmooooottthh. Sam's vocals are way cool at times reminding me of those Heaven 17 vocals. The bass is just, well, brilliant. The guitar injects a bit of a rock thing and the keyboards are fab.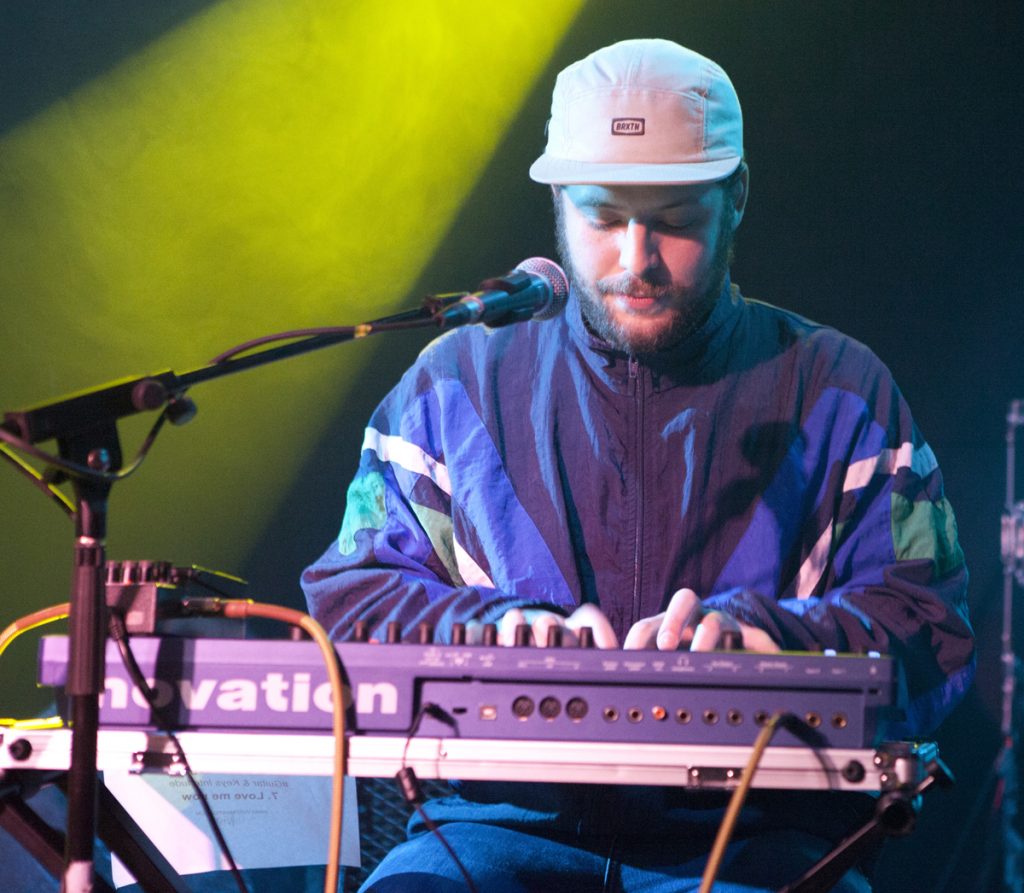 The undoubted standout track was the new single, this people is as danceable as fuck. If there'd been just a few more people at The Parish the party would have started.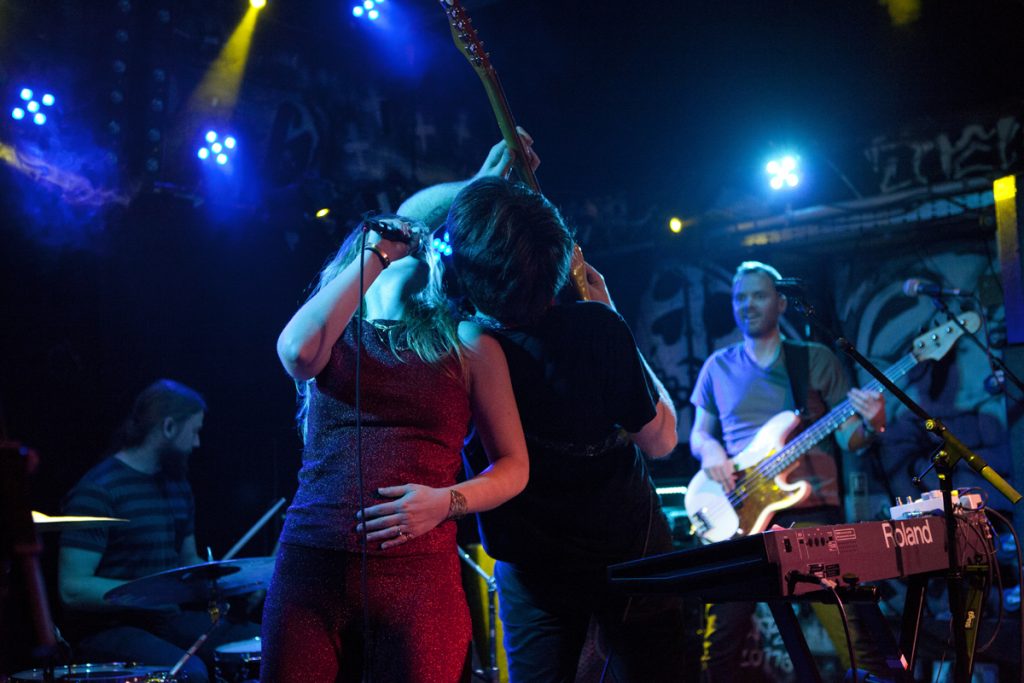 And so to our headliners Smokey Brights. There's what I might describe as a distinct 70s AOR vibe to their music – and vocally that references Fleetwod Mac – but it's not that clear cut. They throw in these psychy sounds and even at one point something kinda grungey. My notes say "But, and it's a huge but, these guys really rock" (and yes when I write live review notes they do read like one of my reviews). Yep the band rock, they really do.
The band clearly revolve around Kim – vocals and keyboards – and Ryan – vocals and guitar. This isn't to say that the drummer and bass player don't do the job, they do, it's just that visually Kim and Ryan draw the eye.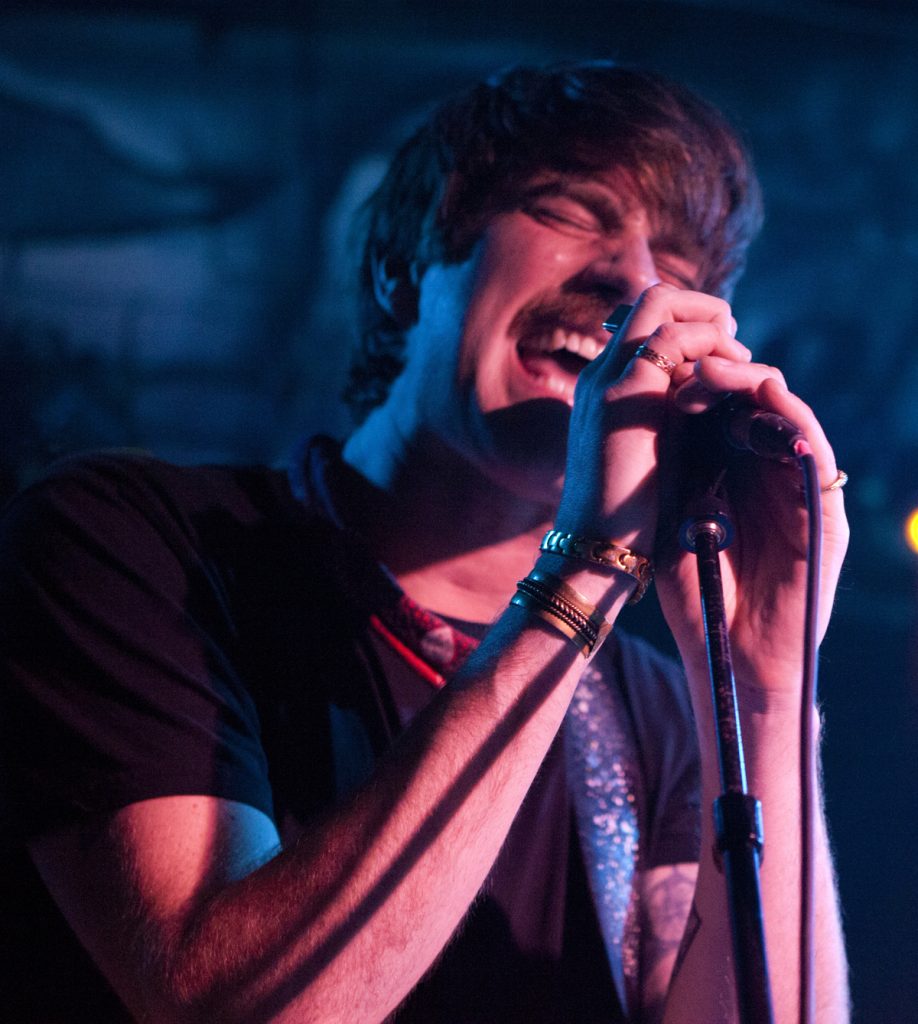 Separately their vocals are fantastic But when they sing together boy is it sweet. That sound has lodged it's thing in my head. Kim's vocal do have a slight touch of Stevie Nicks, it's not a copyist thing it's just the delivery and tone in places. Kim by the way answers the question "When your instrument is a keyboard, quite how do you respond bodily to the music?", at times I couldn't quite work out how she managed to play the keyboard and move the way she did.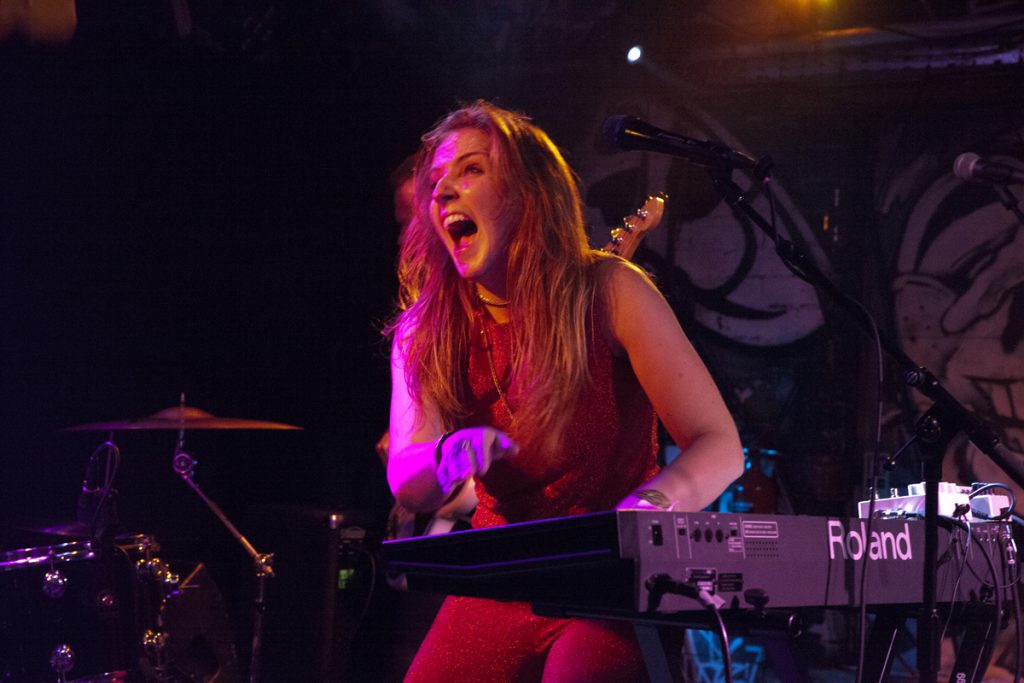 Set highlights, too many to mention so I'm just going to focus down on four songs. 'If I Can't Change Your Mind' is an epic soulful ballad with Ryan taking lead vocal. It's huge, it's moving. 'Living It Up' (from their last EP 'Different Windows') rocks big time but with those sweet sweet vocals. 'Frustration' is a surprise, it's all grungey but grungey with harmonies. And finally their cover of 'Dreams'. OK so it really points up their Fleetwood Mac influences but Smokey Brights bring something of their own to it, really nice one.
They manage to whip up the, to be honest, not exactly heaving Parish into a Smokey Brights party. It feels intimate and like we, the crowd, are part of it. This band work really really hard. Both Kim and Ryan leave the stage to party with the crowd, ah so there are advantages to the venue not being that full.
On one level Smokey Brights might be labelled as a good time party band but there's depth, a depth that draws you in and really concentrates the mind. I so hope they come over again soon, adored this band.
More info
Smokey Brights
https://www.facebook.com/smokeybrights/
http://www.smokeybrights.com
Vuromantics
https://www.facebook.com/Vuromantics/
https://www.musicglue.com/vuromantics/
Calina
https://www.facebook.com/Calinatheband/
Loz Campbell
https://www.facebook.com/LozMusic/
http://www.lozcampbellmusic.co.uk
All photos on this page © Frank Roper Photography