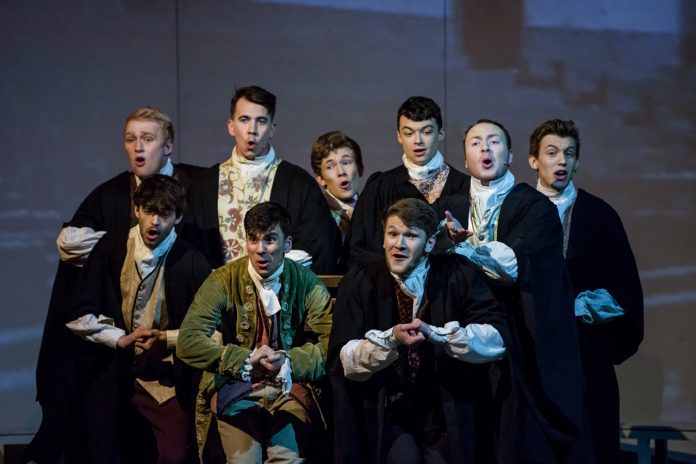 The Civic are supporting a Barnsley theatre company in reshaping their production of local musical No Horizon, in a hope to take the story of a remarkable Thurlstone Scientist from the 17th century on a national tour.
No Horizon is inspired by the inspirational, forgotten, true story of South Yorkshire's blind genius, Nicholas Saunderson. Born in Thurlstone he lost his sight to Smallpox as a baby. He studied at Penistone Grammar School and despite his blindness went on to achieve remarkable success in a world before Braille become a leading scientist and mathematician. The musical was written by the former headmaster of Springvale Primary School in Penistone, Andy Platt to tell Saunderson's spectacular story. Touchingly told through music the musical does more than entertain – it raises the spirit.
"Billed as the Yorkshire Les Mis… The musical shows incredible promise. It has much more to offer. If it shakes off the shackles of comparisons to its French cousin and enters a period of further development to hone elements of the production, there's every chance that you'll see this show on a far larger stage in the near future." The Reviews Hub
The Civic have chosen Right Hand Theatre as one of their 2017 CARP artists (Civic Artistic Residency Programme). The Programme aims to help artists creating work and experimenting with new ideas in a creative, supportive arts environment.
Right Hand Theatre is a natural choice for Artist Residency, as a newly established company which has been formed to create and develop pieces of original, inspiring musical theatre. Based in Barnsley, the company has evolved from a highly successful run of No Horizon at last year's Edinburgh Fringe Festival. They took No Horizon to the festival where it received excellent reviews and feedback. Performing in front of audiences of over 200, the show was labelled a Top Four Pick by the Sunday Mail and labelled, 'One to Watch Out For' by Elaine Paige.
Alongside the generous support of The Civic through CARP Right Hand Theatre have been granted Arts Council Funding for a Research and Development project. They plan to use their time in CARP to develop this original musical, for touring in the professional theatre world, maximising its powerful story and reshaping it to make it practical for touring. As well as developing their own organisation to produce further pieces of great theatre.
Through participation in CARP Right Hand Theatre aim to bring this human story of hope, resilience and aspiration from Barnsley to a much wider audience.
Right Hand Theatre will be in residency at The Civic in Autumn 2017 and Spring 2018.
CARP 2018 will be open for applications later this year.
If you are an artist looking for opportunities for artistic development, visit The Civic website to see how we can help: www.barnsleycivic.co.uk/artists
No Horizon The Musical www.nohorizonthemusical.com