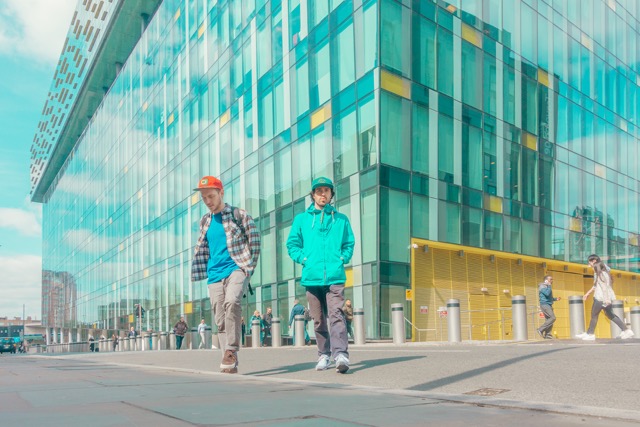 The news comes as the T's also debut new single 'Hang Tight' complete with the UK's first Facebook Live music video. Planned in a single day, shot in one take on an iPhone and streamed straight to Facebook Live, the maverick live music video accompanies the latest track from their new album South City, out September 15th 2017 on South City Records.
WATCH FACEBOOK LIVE VIDEO HERE – https://www.facebook.com/toomanyts/?ref=br_rs&sw_fnr_id=2300682728&fnr_t=0
The duo, Leon Rhymes and Ross Standaloft, have crafted a faithful following with their golden-era hip hop formula; positive vibes, trademark rapid back to back flows and turbo-charged live performances. Their latest track 'Hang Tight' personifies that sound. Listen HERE: – https://soundcloud.com/too-many-ts/hang-tight
Too Many T's have built up a strong fan base with their electric performances and positive vibes stage shows, touring all over the UK over the last four years. They have supported some of hip-hop's greats including Snoop Dogg, Big Daddy Kane, De La Soul and Public Enemy. But it's now time for the T's to step forward & take centre stage.
September 2017 will see Too Many T's long-awaited debut album released. Produced alongside Flux Pavilion and Odjbox, 'South City' is one of the freshest hip-hop albums to come out of the UK, with a high-energy sound that will appeal to music lovers around the globe.
The first exclusive elements of the album campaign to be revealed are the artwork and extensive UK tour dates. With brand new tracks, an even newer show, a ton of incredible videos and huge collaborations, these coming months will see the T's cement themselves as one of the UK's most electrifying acts.
"For us, this just feels like the beginning. To work for over two years on the album and for everything to finally come together, we couldn't be more hyped to get out there and show people what we've been cooking." Leon Rhymes, Too Many T's
Tickets for Too Many T's UK tour will be available on Friday 7th July at 10am via www.toomanyts.com.
Pre Order the new album 'South City' Here – https://toomanyts.lnk.to/southcity
TOO MANY T'S – SOUTH CITY TOUR 2017
11TH OCT NEWCASTLE. THINK TANK
12TH OCT GLASGOW, HUG & PINT
13TH OCT INVERNESS, MAD HATTERS
14TH OCT LIVERPOOL, 24 KITCHEN STREET
18TH OCT MANCHESTER, THE DEAF INSTITUTE
19TH OCT LEEDS, HYDE PARK BOOK CLUB
20TH OCT NOTTINGHAM, ROCK CITY BASEMENT
21ST OCT BIRMINGHAM, THE SUNFLOWER LOUNGE
24TH OCT CARDIFF, CLWB IFOR BACH
25TH OCT BRISTOL, EXCHANGE
26TH OCT PLYMOUTH, THE JUNCTION
01ST NOV BRIGHTON, HOPE & RUIN
02ND NOV SOUTHAMPTON, JOINERS
03RD NOV OXFORD THE BURLINGTON
04TH NOV BATH, THE NEST
08TH NOV LONDON, OSLO