Inspired by the extraordinary sound of vortex rings travelling through the atmosphere at supersonic speed, 'Speaking Tubes' is a gleaming steel circle of large air-ducting tubes and giant cones which spill out a chorus of sound into special, interactive listening zones. Vortex is a contemporary music piece to be performed within the Speaking Tubes installation, which was created in collaboration with composer Yannis Kyriakides, saxophonist John Butcher, physicist Jem Stansfield and the University of Huddersfield School of Computing and Engineering. Musicians and audience members alike move around and interact with the sound installation, themselves becoming the live performance.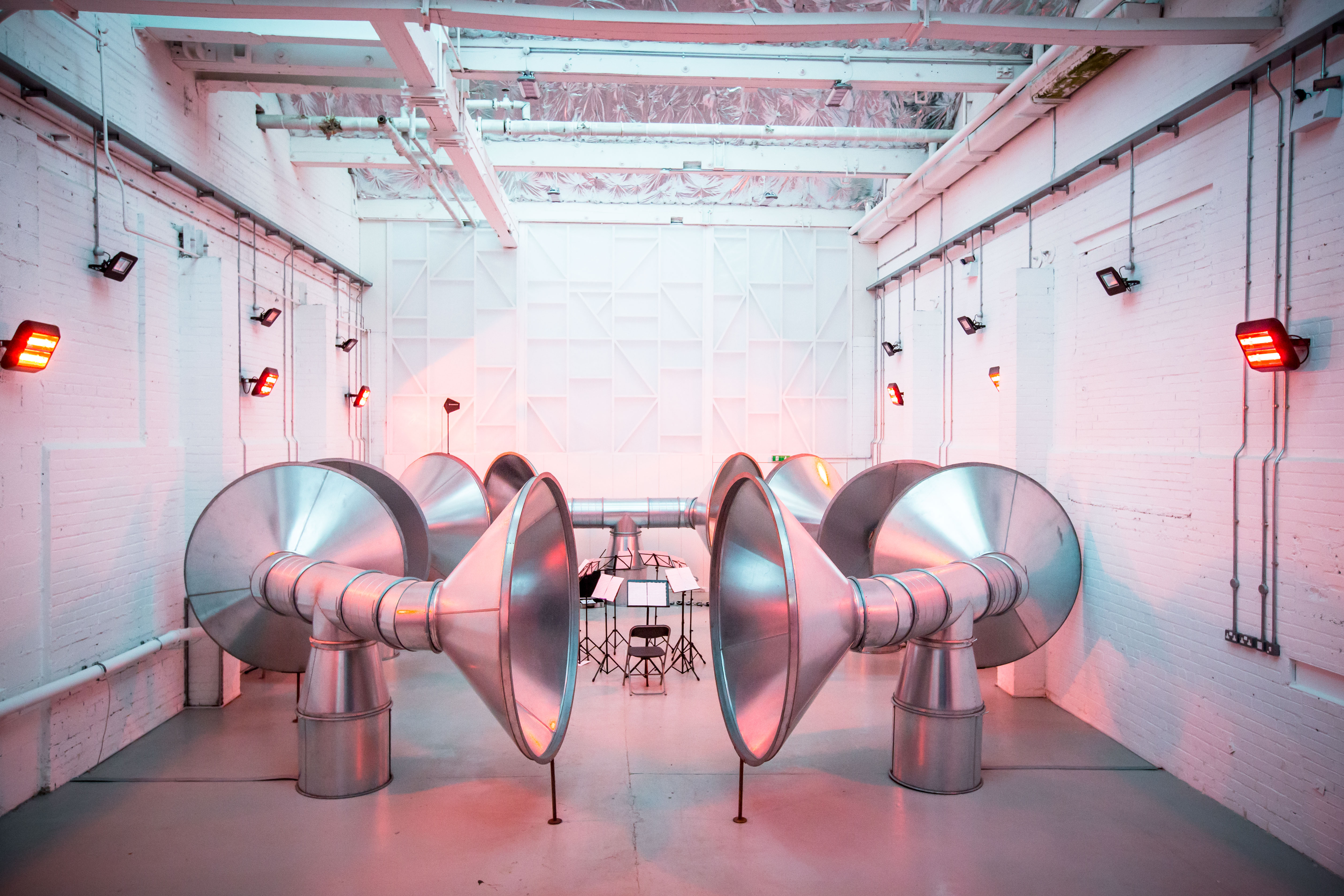 Yannis Kyriakides commented, "Vortex is a project that has been developed over a number of years with IOU that has taken the form of an installation and performance. The essence of the piece is to put the audience in an immersive situation at the heart of a sonic vortex and explore the various effects of sound movement through the extraordinary installation created by IOU. The fact that the audience has to find their own position inside the listening space amongst the musicians gives the piece an intimate as well as exhilarating power. The collaboration with IOU, local musicians and in the forthcoming version with renown saxophonist John Butcher promises to be a memorable experience."
Amsterdam-based composer Yannis Kyriakides has written over a hundred compositions and regularly works with visual artists, choreographers and film makers. His work has been featured at leading contemporary music festivals such as Aldeburgh Music Festival, Huddersfield Contemporary Music Festival and the Venice Biennale. Vortex will feature IOU's volunteer musicians as well as, for the first time, tenor and soprano saxophonist John Butcher, who is known for his exploration of feedback and extreme acoustics.
More information on IOU: http://www.ioutheatre.org/
The installation is only around for the short time of two days so make sure you pop in to see it and tickets for the Vortex performances can be purchased online, over the phone or in person at The Civic.
Speaking Tubes is at The Civic on Friday 25 and Saturday 26 November between 10am and 4pm. Admission is FREE.
Vortex is at The Civic on Friday 25 and Saturday 26 November at 7.30pm. Tickets are £8 full price and £5 concessions.
For more information and to book visit www.barnsleycivic.co.uk or call the Box Office on 01226 327000.