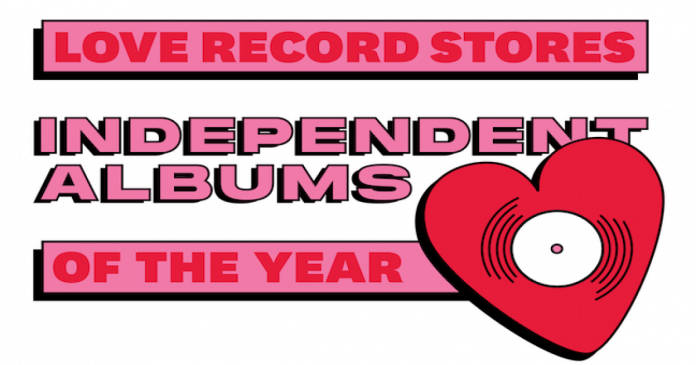 The #loverecordstores 'Independent Albums of the Year' list is 2020's favourite releases from independent labels voted for by a cross section of notable independent record stores including Drift, Resident, Rough Trade, Normans, Piccadilly, Bear Tree, Assai, Banquet, Stranger Than Paradise, Bleep and Monorail among many others.
To celebrate this initiative 191 independent record stores across the UK will be making 95 new and exclusive vinyl pressings of albums included in the list available to buy and pre-order from 6pm on Saturday the 5th of December.
This is a great moment to celebrate some of the amazing independent music of this year, and crucially, to show some love for the record stores who need our support at this time.
The Top Ten albums in this year's Independent Album of the Year list are as follows:
1: Four Tet – 'Sixteen Oceans [Text Records]
2: Phoebe Bridgers – 'Punisher' [Dead Oceans]
3: Moses Boyd – 'Dark Matter' [Exodus Records]
4: Kelly Lee Owens – 'Inner Song' [Smalltown Supersound]
5: Gil Scott- Heron – 'We're New Again – A Re-imagining by Makaya McCraven' [XL Recordings]
6: The Orielles – 'Disco Volador' [Heavenly Recordings / PIAS]
7: Rose City Band –' Summerlong' [Rose City Band / Thrill Jockey Records]
8: Khruangbin – 'Mordechai' [Dead Oceans in association with Night Time Stories]
9: Working Men's Club –' Working Men's Club' [Heavenly Recordings / PIAS]
10: Fontaines D.C. – 'A Hero's Death' [Partisan Records]
A full listing of the Top 100 hundred albums and the independent record stores can be found here: https://www.loverecordstores.com
This new campaign takes place at a crucial time in the run up to the all-important Christmas period and marks the first time that the UK's record retailers have implemented a collective, collaborative chart, which reflects the mutual support seen across the UK's wider independent music sector, including artists record labels, fans in what has been a difficult year for all involved.