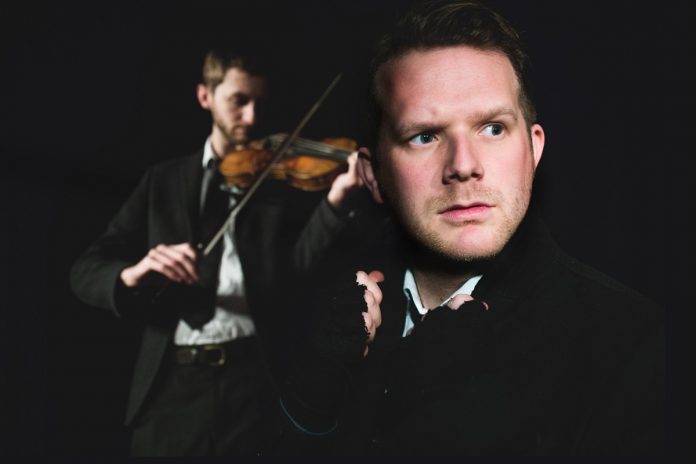 "Your blood stills. You see monstrous things creeping in the shadows. Is it all in your mind? Just tricks of the light? One thing is for certain: these tales will give you shivers…"
Shivers is a chilling trio of brand new tales from Halifax-born writer and storyteller Adam Z. Robinson and Leeds-based musician Ben Styles. Combining original ghost stories with a haunting violin score, the show is enthralling and charming… with a few thrilling surprises along the way.
The Storyteller weaves three spooky and spellbinding tales as The Musician creates the perfect ghostly atmosphere with a specially composed violin soundtrack. The tales are filled with terrifying folklore, ancient superstition and contemporary hauntings.
In 'The New Priest of Black Pines' a doctor visits a remote isle to treat her sick brother, only to discover that ancient and barbaric rituals are still being practised. In 'Dead Air' a young man calls a late-night radio station to disclose a family secret that has haunted him for a decade. In 'A Horror in Porcelain' a wealthy and eccentric millionaire sends his assistant to collect a notorious antique doll which has a strange and horrifying history.
Halifax-born writer Adam Z. Robinson said "I think these are our most chilling tales to date. They're even more sinister and spooky than the stories in The Book of Darkness & Light. We can't wait to share them at Square Chapel this autumn."
Shivers is a co-production with Square Chapel Arts Centre, Harrogate Theatres and LittleMighty. The two venues have provided the team with support, space and creative input to produce the show.
Shivers will have its world premiere at Square Chapel Arts Centre on Thursday 28 September in the newly re-opened Red Brick auditorium. Then, in January 2018, the show will be performed at Harrogate Theatre Studio for four performances (13-14, 20-21 January), with plans for a national tour in autumn 2018.
Tickets
www.squarechapel.co.uk
www.harrogatetheatre.co.uk
More about the performers
Adam Z. Robinson
Adam is a writer of theatre, short fiction and film. His play The Book of Darkness & Light toured in 2016 and will tour again in autumn 2017 to 22 theatres nationally. He is the co-writer of Odd Doll Puppetry's Seaside Terror, touring autumn 2017. Adam's play Conscientious toured nationally in autumn 2014. His short film The Split was directed by Ed Rigg (Confection, Passenger) and starred Edward Hogg (Taboo, Indian Summers, Jonathan Strange & Mr Norrell). It has been included in several film festivals including the Manchester Film Festival, the Cambridge Film Festival and the London Short Film Festival. Adam also co-wrote and co-directed the short film Go On, My Son (with Nick Coupe – Lucky Chicken). The film was supported by Roundhouse, London.
Ben Styles
Ben is a musician and composer. He composed and performed the music for The Book of Darkness & Light. He has been playing music since the age of 7. While at university, he found a violin in a friend's attic and set himself the challenge of teaching himself to play it. Within a year he had joined a band, Backyards. The band played the BBC Introducing stages at Leeds and Reading Festival. The band had several releases, including  If You're Scared, Underbank Hall and Goodhart's Law.