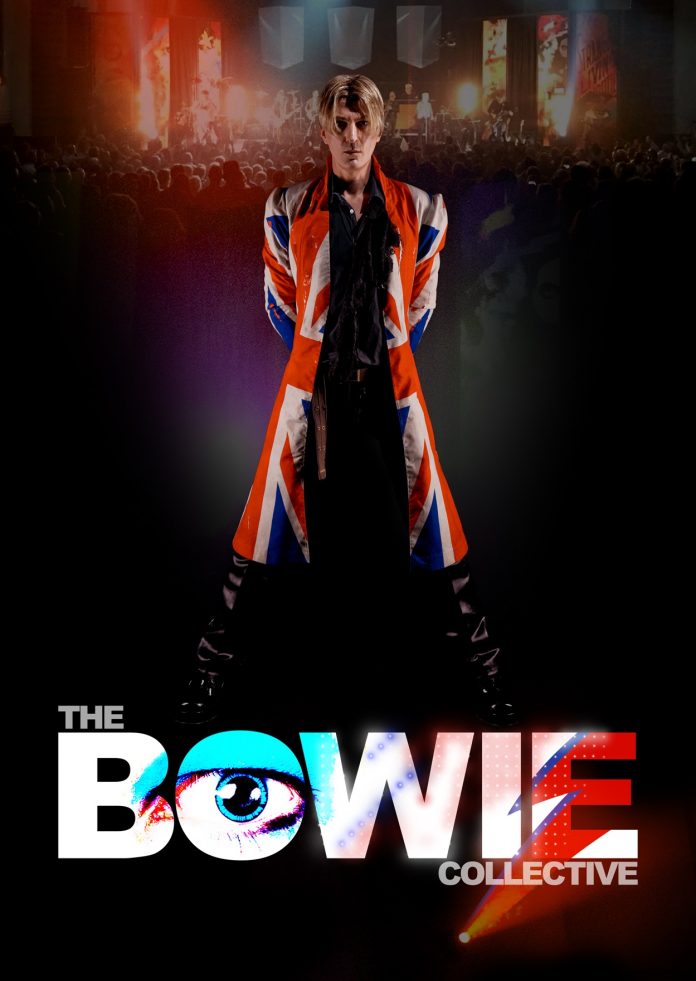 With glowing endorsements from the likes of Rick Wakeman and Mike Garson this exciting show is a must for Bowie fans and the Bowie-Curious! From the dark depths of isolation and fractured reality of Berlin to the sheer celebration of Let's Dance, the amazingly accurate Bowie Collective make it their mission to give you the Bowie show you always wanted – and will never forget.
At the beating heart of this multimedia show is a 12 piece Rock 'n Roll band performing arguably the most sonically accurate versions of David Bowie's greatest records you will ever hear, visually enhanced by a spectacular stage set, lights and video backdrop. As Rick Wakeman described it… "You guys really did it proud! Excellent show and great audience reaction too!"
When David Bowie left us in 2016, he left a body of work so complex and varied that it would be a life's work to fully explore and understand it, says Steve Evans who plays the part of Bowie in the show. "I would never have considered doing this if David was still with us. But on the day he died I spoke to the guys and we all felt the same way. We wanted to keep the 'strange fascination' alive in any way we could, for ourselves as much as anything. We had no idea that our private mission to 'Do It Right' would grow into a show like this but we're amazed and happy that when we all get together it's such a great moment."
"The mission is simple. We want to create the feeling of being at a Bowie gig, and we want to re-create the amazing records he made – but on the live stage. He would constantly tinker with his own songs over time and you never knew what version of a song you might get."
"Our show is for the 'Kooks' who love the devil in the detail and we try to capture every nuance of the records and the feeling that they create. "There are two things to remember about this show: One, every moment has been made with love; Two, the whole show is powered by alien technology. We continue the work of the 'Starman'…"
Hardcore Bowie fans will nod knowingly at the detail embedded on the show, and people discovering Bowie will enjoy a sensory rollercoaster into the mind of a genius.
Tickets for this show are available from £26.75. Purchase tickets online, www.victoriatheatre.co.uk, or by calling the Box Office on 01422 351158