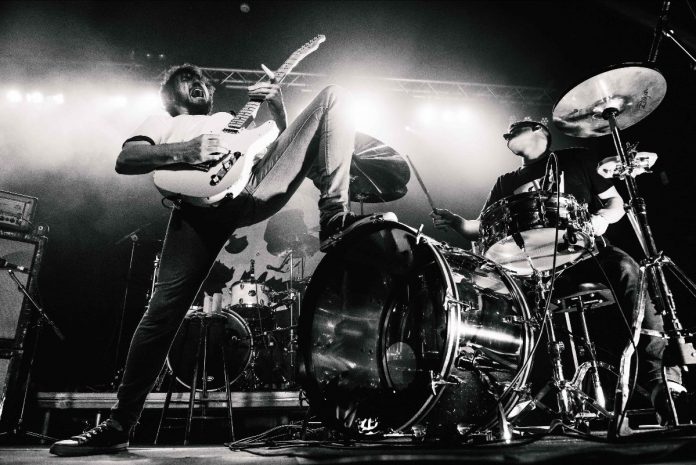 HAGGARD CAT release their ferocious new single 'Rational' through Earache Records today, February 14th. Band head off on their first ever UK headline tour through March and April 2020, tickets on sale now.
The incendiary, brand new album 'Common Sense Holiday' is set for release on 13th March through Earache Records
HAGGARD CAT have today released a brand new single 'Rational', their 3rd single taken from their forthcoming 2nd album 'Common Sense Holiday'. At first lulling you into a false sense of calm and introspection, the track builds and grows, with sparks of anger firing off with every added riff and snare hit as 'Rational' builds to its dramatic conclusion.
From guitarist/vocalist/human whirlwind, Matt Reynolds – "Rational is by far the most exploratory and experimental release from us to date. It features not one, but two hidden key changes and drifts through several time signatures. The lyrics deal with the idea of being sold a lie and although it may seem it, it wasn't originally intended from a political standpoint, it was in fact a retrospective look at a very short relationship that turned bad near instantly. I hope that someone listening for the words will be able to make up their own mind as to what it personally means to them."
Live wise, the band will be heading out on their first ever headline tour, which will stretch through most of the end of March and all the way through the start of April – with London show at The Grace on 31st March. The band will release their forthcoming new (2nd) album 'Common Sense Holiday', on March 13th through Earache Records.
Ticket Link for all shows: www.haggardcat.com/tour
All HAGGARD CAT UK headline dates below:
MARCH 2020
March 17 Bristol Rough Trade
March 18 Milton Keynes Craufurd Arms
March 19 Swansea Bunkhouse
March 20 Nottingham Bodega
March 21 Liverpool Sound Basement
March 23 York Fulford Arms
March 24 Stoke The Underground
March 25 Birmingham Dead Wax
March 26 Huddersfield The Parish
March 27 Glasgow Garage Attic
March 28 Newcastle Surf Café
March 30 Bournemouth Anvil
March 31 London The Grace
APRIL 2020
April 01 Guildford Boileroom
April 02 Plymouth The Junction
April 03 Penryn Fish Factory
April 04 Exeter Cavern
The band will be releasing their much anticipated 2nd album 'Common Sense Holiday' on March 13th through the legendary Earache Records, a follow up to their hugely acclaimed debut album 'Challenger' from 2017. They have already released the massive 'First Words' single (premiered on the Radio 1 Rock Show in October, watch the video – HERE). The new record chronicles modern life at the turn of the decade from different perspectives. Each track takes on a different aspect of what's going on in the world around us, from social media, drugs and alcohol to politics. Each track acts as a single chapter of the whole record. As singer/guitarist Matt Reynolds explains "We love the idea of revealing the album slowly, track by track; so a listener will get a really fragmented idea of what's going on at first, which finally opens up into the big picture, it feels like a good metaphor for what the album is trying to say as a whole."
Live wise, these dates follow a steady build of DIY headline touring, a packed live support schedule including with the likes of Jamie Lenman, Enter Shikari, Dead Kennedys, Black Peaks, Black Peaks, DZ Deathrays, Employed to Serve and Palm Reader, as well as a rapturous performance at last years Glastonbury Festival.
HAGGARD CAT are:
Matt Reynolds – Guitars and vocals
Tom Marsh – Drums
Pre-order the album 'Common Sense Holiday' – HERE