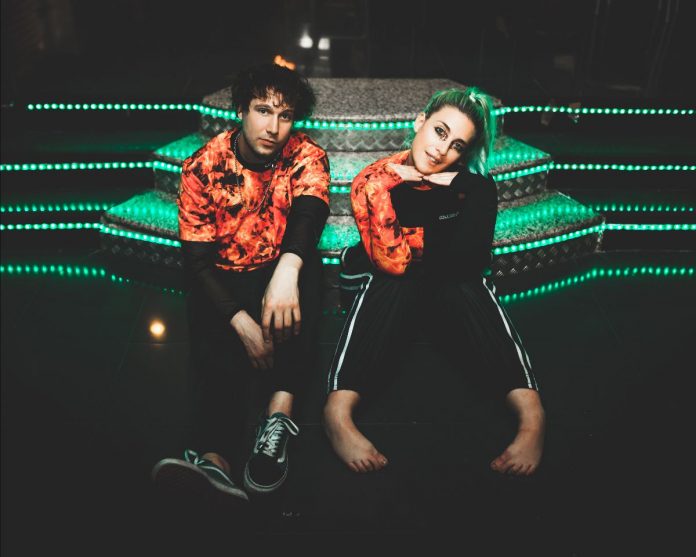 Vukovi, Glasgow's finest architects of infectious pop-infused high-energy rock return today with another taste of their forthcoming second album 'Fall Better', due to be released this month on January 24th through VKVI Records.
Exploding into 2020, and a new decade, with 'Violent Minds', the albums incendiary opening track, frontwomen Janine Shilstone states: "First track on the album, favourite track on the album for me. It's also one of the darkest songs we've ever written lyrically. It's has a deliberate schizophrenic vocal production over a rock Rumba beat and stupidly heavy guitars which sounds fucking terrible, but it really works so beautifully. This one for me is the daddy track (whatever that means)"
"The anime voice/hook you can hear is from a super limited-edition guitar pedal called Miku Stomp," continues guitarist Hamish Reilly. "You can programme it to say phrases in Japanese through the guitar (wizardry shit, right?)"
Having spent the tail-end of 2019 touring through Europe with Londoners Counterfeit, Vukovi are primed and ready to detonate across the UK and have announced a special series of record shop in-store acoustic performances and full band headline shows, commencing in their home city of Glasgow on January 24th, to celebrate the release of 'Fall Better' that day.
Produced by Bruce Rintoul – in whose spare bedroom Janine recorded some of her vocals – 'Fall Better' provides a master class in powerful, melodic songwriting penned to a rock beat from which every trace of fat has been removed, set to pulsing rhythms that extend an invitation to the dance floor to all.
Janine Shilstone has a simple mission statement for her band's music. "I want our songs to let people know that they're not alone in feeling crazy," she says. "I want to give people who feel that way a little bit of comfort. I want them to feel less alone. I want to let people know that it's okay to be weird, and for them not to feel isolated because of it. Our fan base is a beautiful army of weirdos, and I want that to grow. I want them all to feel like they belong here.
"And I want to be a rock star," she says, laughing.
Catch Vukovi live at the following special acoustic in-store performances and full-band headline dates in January 2020:
24/01 IN-STORE HMV in Glasgow *
24/01 LIVE Nice N Sleazy in Glasgow "
25/01 IN-STORE 2pm Assai in Dundee *
25/01 IN-STORE 2pm Assai in Edinburgh *
26/01 IN-STORE Beyond Vinyl in Newcastle *
27/01 LIVE Hyde Park Book Club in Leeds "
28/01 IN-STORE Rough Trade in Nottingham *
29/01 IN-STORE Badlands in Cheltenham *
29/01 LIVE The Frog & Fiddle in Cheltenham "
30/01 LIVE The Fighting Cocks in Kingston "
31/01 LIVE Asylum 2 in Birmingham "
*ACOUSTIC IN-STORE
"HEADLINE SHOW
Tickets available HERE
Order the 'Violent Minds' single here: https://vukoviband.lnk.to/ViolentMinds
Pre-order 'Fall Better' at: https://vukoviband.lnk.to/FallBetter
'Fall Better' track listing:
1. 17359
2. Violet Minds
3. Aura
4. C.L.A.U.D.I.A
5. Behave
6. Play With Me Cos I Can Take Me
7. Verify Your Worth
8. All That Candy
9. I'm Sorry
10. Where Are You
11. White Lies
12. Run/Hide