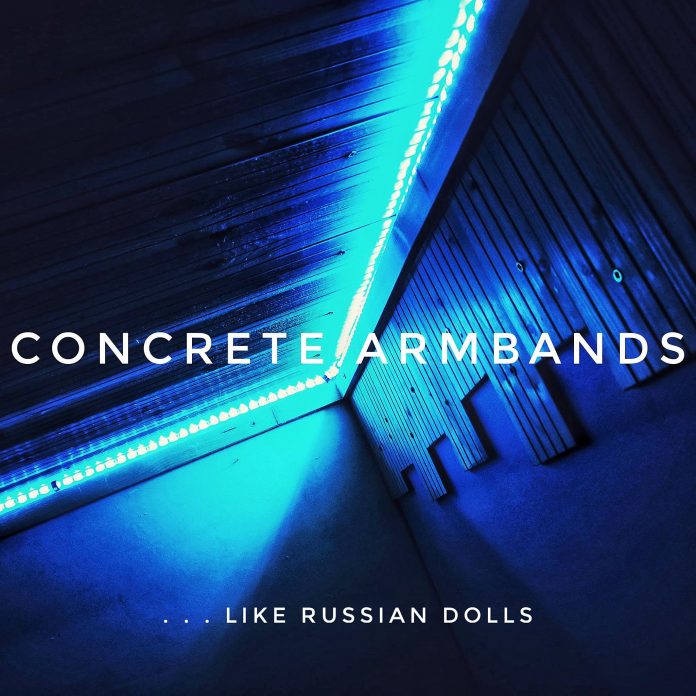 I was hugely impressed by the previous single from Concrete Armbands I reviewed – 'The Brink' – but this is on another level. It's so different I had to spend quite some time checking it was actually the right track by the right band. But listen closer and yes it's the same band, and I love a band who throw me a curve ball.
The opening, which had me completely confused, is all 80s' electronic rock, it has that synth drum thing going on. And it has vocals to die for, the lead vocal is a thing of joy. The way those lyrics are sung. And oh that high pitched vocal, that took me back big time. And that's before we even get to the lyrics. And it is the most earworm-y thing.
And while I'm making it sound all completely retro it isn't because it has a distinctive alternative rock sound in there, it's not obvious but it's there, which brings it right up to date.
And then, at nearly 3 minutes in, it just goes completely crazy. It gets loud, way loud, it thunders, it roars. But the vocals, they are just pure. It is the most glorious contrast, it's pure theatre. Right up to that point you could play it in a club and people would dance to it as a dance-y track, what they'd do when it goes crazy I have no idea, perhaps somebody should try that. The thing is that, if you play it way too many times more than you perhaps should, you start to live for that moment when it just goes crazy, you anticipate the moments before that happens when it slightly builds, because you know it's going to happen.
'… Like Russian Dolls' leaves me almost without words to describe quite how good this is. It's a thing that fills you full of joy, and leaves you breathless with excitement.
The info
Despite having been active for less than a year, this Sheffield-based alternative rock quartet are already making waves in the Sheffield gigging scene due to their unique blend of sounds and tight live performances. Taking inspiration from artists as diverse as Muse, Biffy Clyro, Royal Blood and Frightened Rabbit, their music is as engaging as it is unpredictable.
Ben Austin – Drums
Ali Hart – Bass
Josh Teggert – Vocals/Keyboards
James Thomas – Guitar
Links
Twitter: https://twitter.com/CArmbands
Facebook: https://www.facebook.com/ConcreteArmbands/
Soundcloud: https://soundcloud.com/concrete_armbands
Instagram: https://www.instagram.com/concretearmbands/?hl=en
Youtube: https://www.youtube.com/channel/UCN9cXw6-nzRCsrkCWVeMWGg