Thank your chosen deity, FUDGE. have released a new single. '9/10' is the third instalment from The Town Hall Session, the forthcoming EP from FUDGE..
'9/10' is not your usual FUDGE. track; if you get what I mean. Musically it's different – although very much still a song from the band – it encompasses hip hop, punky sounding heaviness and has these moments of glorious groove. And it also sounds jerky and weirdly off-kilter in places. I guess the band could explain this better and they do:
Otto (guitar) explains "In contrast to the previous song, this is what happens when I get complete free rein and have no parameters when I write. This song has groove, hip hop influences, heavy yet melodic bits and an awkward feel at times. The ending is essentially Angus and I sat in a room going, 'Let's make this song really hard to play and really hard for people to try and learn'. So, I dare you to try and learn it and send us a video. I bet you'll get it wrong!"
And Angus (drums) expands on this "This one is stupid. It's mostly in 4/4 but we think we're being clever by making it sound anything but. In fact, it's all by accident and we just wanted to write a nonsensical show- off song. This is the result. Cam impressively managed to put vocals to it but there is more space for instrumental limelight here. In my opinion, it has the potential to be something more, or something totally different to what we played in this version. There is so much space instrumentally that anyone could take it, put their own spin on it and make something totally new without destroying it. To put it simply, I have great fun playing this one, it makes me clench my teeth."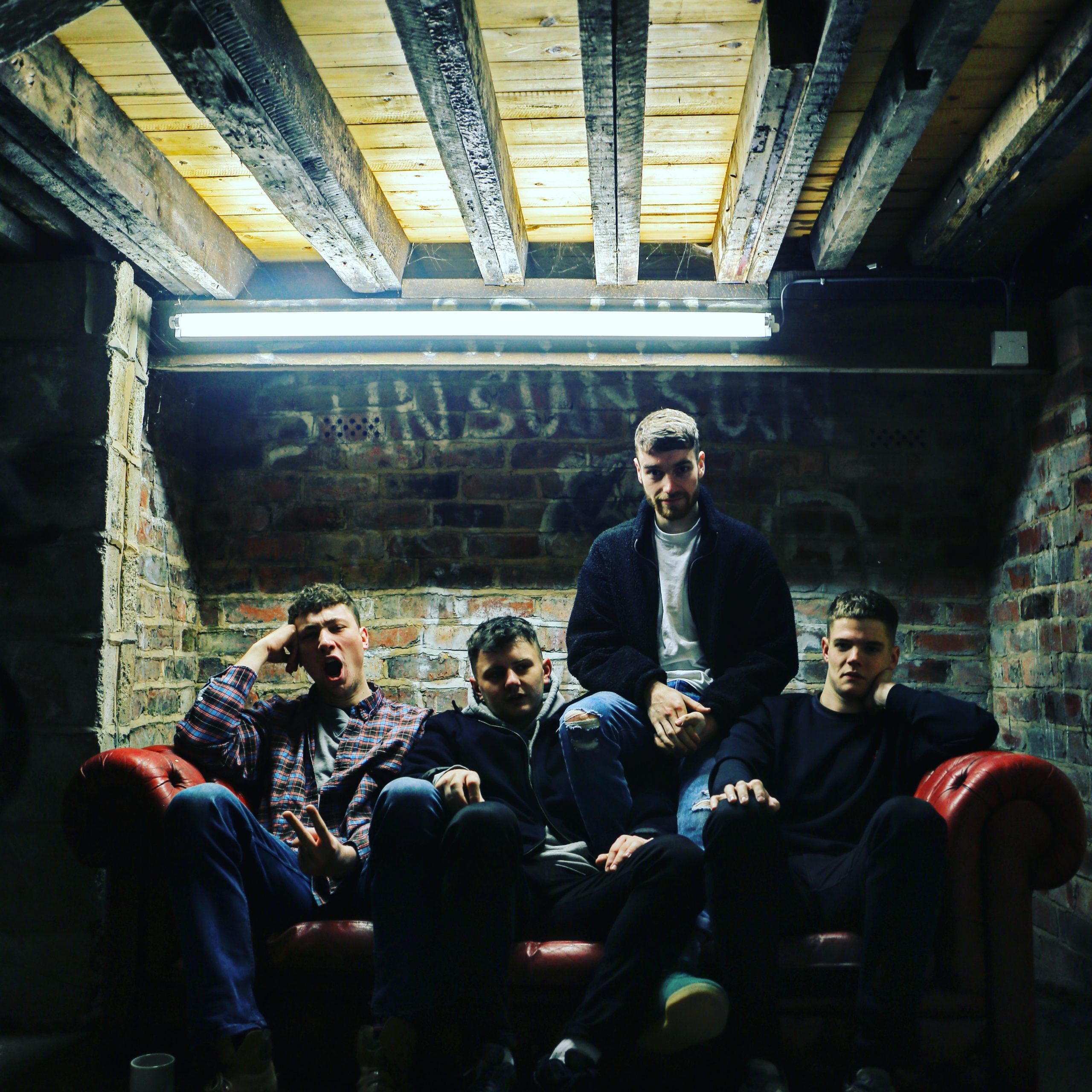 And if the band are making this sound as though it's kinda mad musically – which it is – it's also a showcase of what they're capable of musically. It's a bloody cohesive thing but it changes all the time. As Otto says this is a mash-up of loads of different styles, all of which are distinct but somehow one complete whole. Clever that. What this results in is a song that's going to a belter live; those moments of slower groove giving an opportunity to catch your breath and those let it hang out bits are the ideal time to go completely wild. It's going to be messy, people.
So it may be out-there musically but, hey, this is FUDGE. It's going to be about something, right? And it is. Cam (vocals) gives us the lowdown "9/10 is the only song on the EP I feel like I wrote specifically about myself. It represents the relationship I once had with 'the sesh' (as cringy as that sounds) and day to day life. Listen to it, some of you will relate, some of you won't, that's sound, take what you will; it's all fun and games until someone poos themselves."
The band have out-done themselves yet again. The song shows that the band – warning music reviewer cliche upcoming – are progressing and developing their sound. But, and this crucial, they're keeping that energy, that rawness, that we all love about them. I have one more thing to say about this song – a new song from FUDGE. – fuck yeah, let's all get messy.