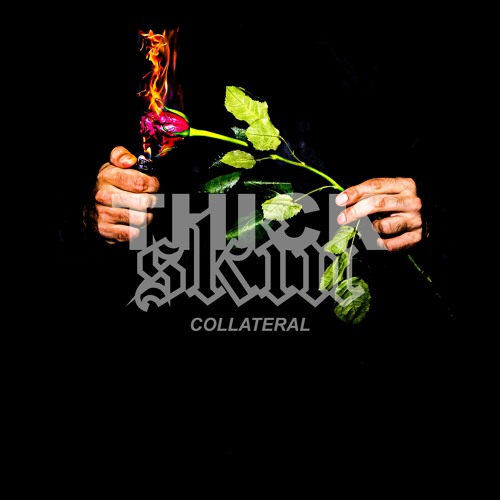 Thick Skin describe themselves as an emo band, now emo is one of those types of music I find it difficult to get a handle on to be honest. I feel kinda more comfortably describing this as a punky alternative rock that, crucially, does not do the quiet/loud thing. What it does do is guitars to the max, raw roaring guitars. Combine this with vocals that positively rock and you have something that has been 'on heavy rotation' here at LSF Towers since I was sent the review stream.
So, I hear you say, what makes this stand out from anything else that falls into this sort of music? Well, for a start the way that the guitars work together – they intertwine and mesh, the varied guitar sounds. And then there's some really nice, I mean really really nice, drumming going on. And some really great backing vocals. Oh that and the fact that this is dark, almost doomy. But in there is a tune, yep try it, you can hum along to this.
So stripping back all the 'this is XXX type of music', this is a rock song, a brilliant, inventively put together, dark rock song. Play as loud as you dare.
The info
Thick Skin are an Emo band, who hail from the punk scene in Leeds, Thick Skin formed in late 2018 with a dark and gloomy edge to their melodic sound. With members of past bands; WSTR, Calls Landing, These Minds, Beach Head & Hinges.
Following a productive first year as a band, playing shows supporting Single Mothers, Culture Abuse and Muskets. Headlining a hometown festival and an explosive weekender with Sibling for their farewell shows. Thick Skin plan to show the world what they're made of and Collateral is the first instalment of that.
Lead Singer Jason says, "Thick Skin started after former bands parted ways and I felt a need to put everything I'd been working on out into the world and what better way to do it than with some of the best pals I have. The first year was all I could have wanted, we played with some incredible bands and the response we've had from our first tracks was amazing!
We cannot wait to release this next chapter of Thick Skin and we hope everyone else is just as excited for this as us. Collateral is an embodiment of this new direction and shows everything this band stands for!"
Thick Skin have previously shared their tracks '43', which encompasses the emotion they intend to portray within their music. Thick Skin have also shared their songs 'Parasite' and 'Horoscope' to continue their powerful first year.
Thick Skin on Facebook: https://www.facebook.com/thickskinuk/
Jason Blackburn (Vocals) / Jordan Hill (Guitar) / Luke Hudson (Guitar) / Matty Maycroft (Bass and Vocals) / Ben Morris (Drums)