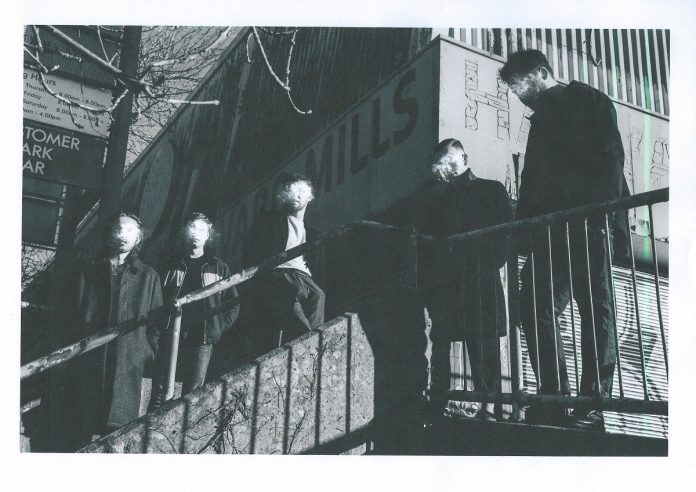 Leeds based HOUSEHOLD DOGS will return with their first new music of 2020: 'Ain't No Heaven', out 26 March 2020.
The roots of 'Ain't No Heaven' originally trace back to a piece of prose penned by Dogs frontman Declan Newcombe. Gripped by an inexplicable surge of inspiration while walking in the pale light of one cold winter's morning, Declan felt compelled to capture a dark and enigmatic monologue that began to materialise amidst his stream of consciousness. With just his phone to hand, he found words spilling wildly and vividly into a written passage of a stark intensity and brittle vulnerability. Psychologically curious and poetically captivating, Declan recognised its lyrical potential.
Obliquely autobiographical and cloaked in mystery, the track makes reference to places and people at once familiar, but perennially out of focus. As contorted images of disrupted sleep patterns, living nightmares and twisted relationships flash-by, the listener is enveloped in a disturbing and intoxicating narrative. With the repeated mantra-like refrain: "I'll put it on hold for you" echoing throughout, 'Ain't No Heaven' is 'likely to linger and haunt your soul long after the needle has departed the groove.
"Lyrically, it is raw. Nothing has been edited from the original stream of consciousness bar the repetition." says Delcan, analysing the prose from which 'Ain't No Heaven' took shape. "I think that made it more conversational and intimate. My lyrics are only ever me describing my surroundings and Ain't No Heaven is just that. It is partially autobiographical but not to a narcissistic extent. It just nods to people and places. If I listen to it I can still see it all so clearly, I can almost taste it. I could write an essay on what it means but unless it means something to someone else it really means nothing."
Accompanied with a fittingly brooding soundscape courtesy of bandmates Alex Fletcher (guitar), Ross Day ( (guitar), Matt Fogg (Bass) and Josh Hagan (percussion), 'Ain't No Heaven''s ghostly beginnings flesh-out to cast a bold, imposing shadow of the kind The National, Cigarettes After Sex or The Church would be proud to cast as their own.
'Ain't No Heaven' follows the band's 2019 single 'Will My Dreams Be Electric Tonight?'. As with that single and all the band's releases to date, the track was recorded, produced and mixed entirely independently, with bassist and resident producer Matt Fogg at the helm. Proudly creative and independent, all artwork for the band's releases, including this, are created by Declan. With a noble independence and fierce DIY ethic, Household Dogs strive to assert complete control over their art. "It is so crucial to have complete creative control over something that is so deeply personal." says Declan.
Since 2018, Household Dogs have been intricately weaving elements of Alternative Rock, Americana, 80s post punk with psychologically-searching lyrics to create compositions of a striking gothic noir. With singles including the turbulent 'Lonely Lover' and 'Is This All' (which attracted BBC Radio 6 airplay and a '10 out of 10' review from BBC Radio DJ Tom Robinson), more and more heads turn towards their gravitational sound with every captivating release bearing their name. Touring throughout summer 2019, the band have gained a reputation for ungovernable live sets, with memorable performances at festivals like Live At Leeds 2019, alongside support slots with the likes of The Blinders, Fizzy Blood and Giant Rooks earlier in the year.
Following a short run of Autumn dates, Household Dogs will be hitting the road again on a Spring UK tour in support of 'Ain't No Heaven'. Catch the band at the following dates and venues:
HOUSEHOLD DOGS – 2020 TOUR DATES
01/04 – Huddersfield – The Parish w/ Leif Erickson
03/04 – Blackpool – Bootleg Social w/ Dirty Laces
07/04 – Sheffield – The Washington
08/04 – London – The Old Blue Last
09/04 – Leeds – Hyde Park Book Club
11/04 – Norwich – Voodoo Daddy's Showroom