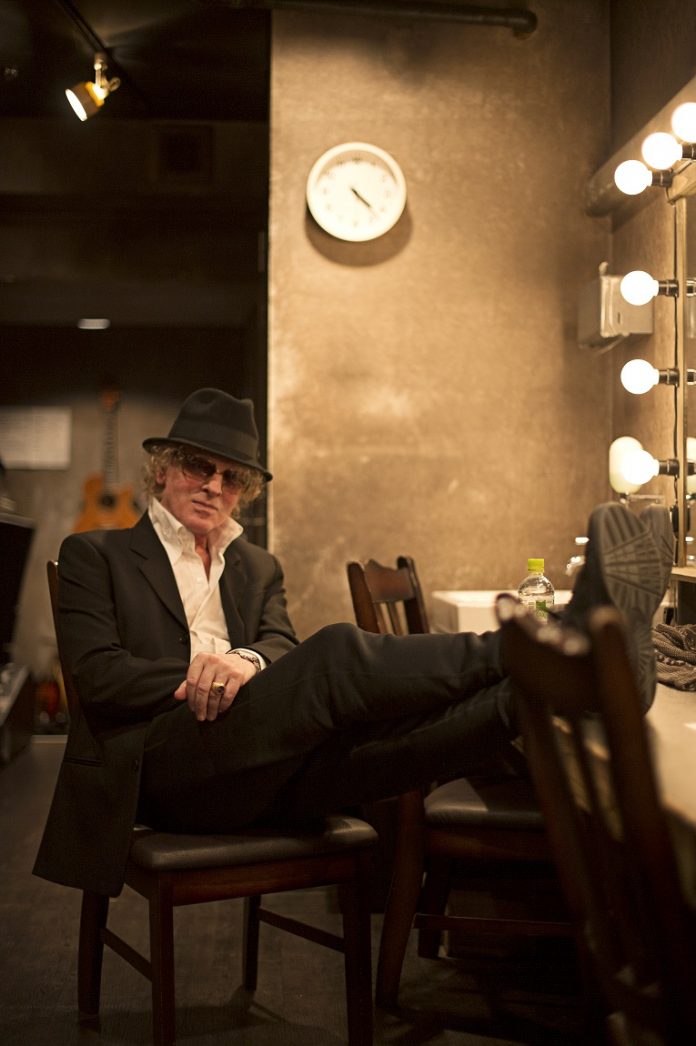 Following on from last year's fond tribute to David Bowie, 'Dandy,' Ian Hunter releases a second cut from his widely acclaimed new solo album, 'Fingers Crossed.' A vivacious stomper, recorded at HOBO Studios in New Jersey, and co-produced by Hunter and Andy York, 'Ghosts' was inspired by a 2014 visit to Union Avenue in Memphis where Ian and the Rant Band were invited to jam in rock 'n' roll pioneer Sam Phillips' legendary Sun Studio.
"I'm like some kid in a candy store – always been a fan
It's all still here – the atmosphere – it's where it all began"
As leader of '70s British rock legends Mott the Hoople and as a hugely influential solo artist, Ian Hunter is widely revered as one of rock'n'roll's most compelling performers and one of its most articulate songwriters. As author of such immortal anthems as, "All The Way From Memphis", "Once Bitten, Twice Shy" and "Cleveland Rocks" and the voice of such landmark albums as, "All The Young Dudes", "Mott", "Ian Hunter" and "You're Never Alone With A Schizophrenic", he remains a hero to fellow musicians and fans around the world.
'Ghosts' will be released on 9th June 2017 on Proper Records. Listen to 'Ghosts' here: https://www.youtube.com/watch?v=PPrRpkfdGeQ
ON TOUR IN JUNE/JULY 2017
Tue 13 Jun 2017 – Harpenden Public Halls, Harpenden
Wed 14 Jun 2017 – Old Fire Station, Carlisle
Fri 16 Jun 2017 – Waterfront, Norwich
Sat 17 Jun 2017 – Cheese & Grain, Frome
Sun 18 Jun 2017 – Arts Centre, Bingley
Tue 20 Jun 2017 – Hangar 34, Liverpool
Wed 21 Jun 2017 – Stables, Milton Keynes
Thu 22 Jun 2017 – Welly Club, Hull
Sun 25 Jun 2017 – Town Hall, Birmingham
Mon 26 Jun 2017 – Guild Hall, Preston
Wed 28 Jun 2017 – Student Central (formerly ULU), London
Thu 29 Jun 2017 – Plug, Sheffield
Fri 30 Jun 2017 – Engine Rooms, Southampton
Mon 03 Jul 2017 – Mouth of the Tyne Festival, Playhouse, Whitley Bay