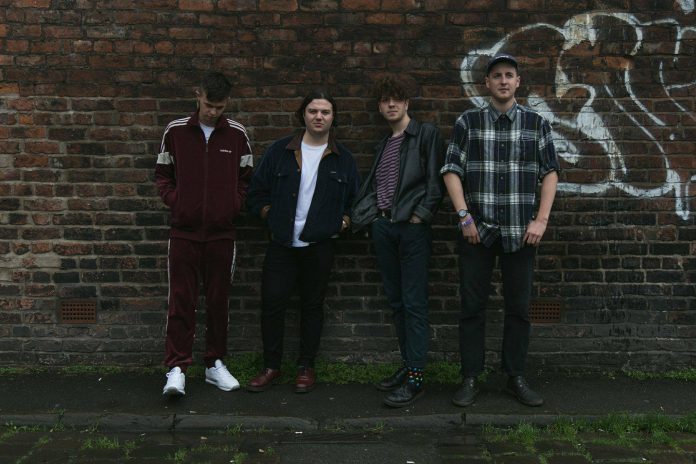 Fill the floors! Stockport sensations – NO HOT ASHES – are back with a new single for the new year and it's a certifiable banger.
The perfect remedy to punch right through the January blues:
'Skint Kids Disco' is the latest tune to emerge from the rapidly rising outfit's upcoming EP of the same name, set for release via the Modern Sky label on 30 March 2018.
Speaking about the track, frontman Isaac Taylor says: "We wrote this song with every intention of writing an outright disco-pop anthem. "Skint Kids Disco" incorporates a multitude of sounds and elements that are reminiscent of the music styles we love as individual musicians. Sleazy guitar tones, fat funk bass lines and big disco beats."
As with the rest of the EP, 'Skint Kids Disco' was recorded and mixed at the new Magic Garden studios in Wolverhampton with help from producer and sonic wizard, Gavin Monaghan (The Sherlocks, Jaws, Robert Plant). A tried and tested relationship that clearly works creatively and mutually for both band and producer, No Hot Ashes found themselves bouncing ideas off one another more so than ever in the recording of this particular track.
As Taylor explains: "We've always recorded with Gavin, but never felt we had enough time to experiment with sounds. With this song and the EP generally, we found that both us and Gavin had lots of time to really work at every nitty element of the song and you can hear the difference that's made."
TOUR DATES 2018 MARCH
1st March / Leeds / Lending Room
9th March / Cardiff / Clwb Ifor Bach
10th March / Bristol / Mr Wolf
25th March / Sound & Stage / Manchester Acoustic
31st March / Academy 2 / Manchester
+ More to be added soon….
FOR MORE INFORMATION