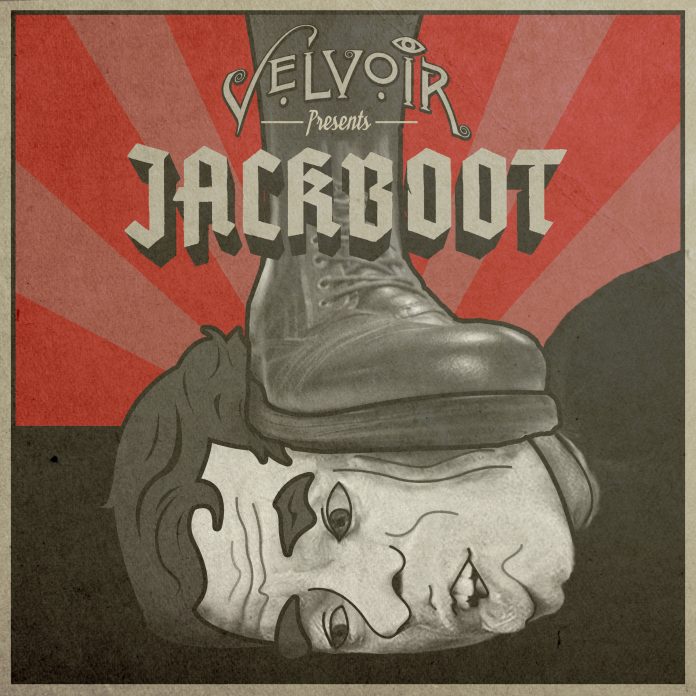 Velvoir are frequent visitors to Yorkshire, so that plus the fact that I rather like this track, is the reason I decided to preview the band's new single.
It's hard rock, but hard rock with a slightly retro feel – a lttle bluesy, a little psychedelic rock in feel. And, and this is a big plus for me, this is a band who aren't afraid to employ some distinctly retro guitar sounds, I love that big tone. And the vocals are cool, way cool, dramatic and slightly arch. And it has what I can only describe as the most wonderful 'oooh' I've heard on a track in a long time (you want an idea of quite what this sounds like, think of Frankenfurter in Rocky Horror).
Short, sharp and hugely effective, frankly the whole thing is a blast, it kicks ass people. Velvoir pack more into the barely three minutes of 'Jackboot' than many other bands fail to do in a longer track. And the louder you play this thing the better it gets.
'Jackboot' is released on 1st February.
The info
Velvoir are either a North-East based trans-fronted, art rock/psychedelic band or, as I'd prefer to see them, four deviant visionaries combined to deliver an unparalleled, hypnotic experience; an otherworldly cabaret sporting themes of existentialism and a pleasant death.
Website: http://www.velvoir.com
Facebook: https://www.facebook.com/velvoir
Soundcloud: https://soundcloud.com/velvoir
OK so this isn't anything like 'Jackboot' in sound but it'll give you an idea of the drama of Velvoir.
This review is one of our 'There's A World Out There' features in which we will choose things to review – albums, singles, gigs – that we like and feel are worth a listen – but are not made or played in Yorkshire. It's as simple as that.