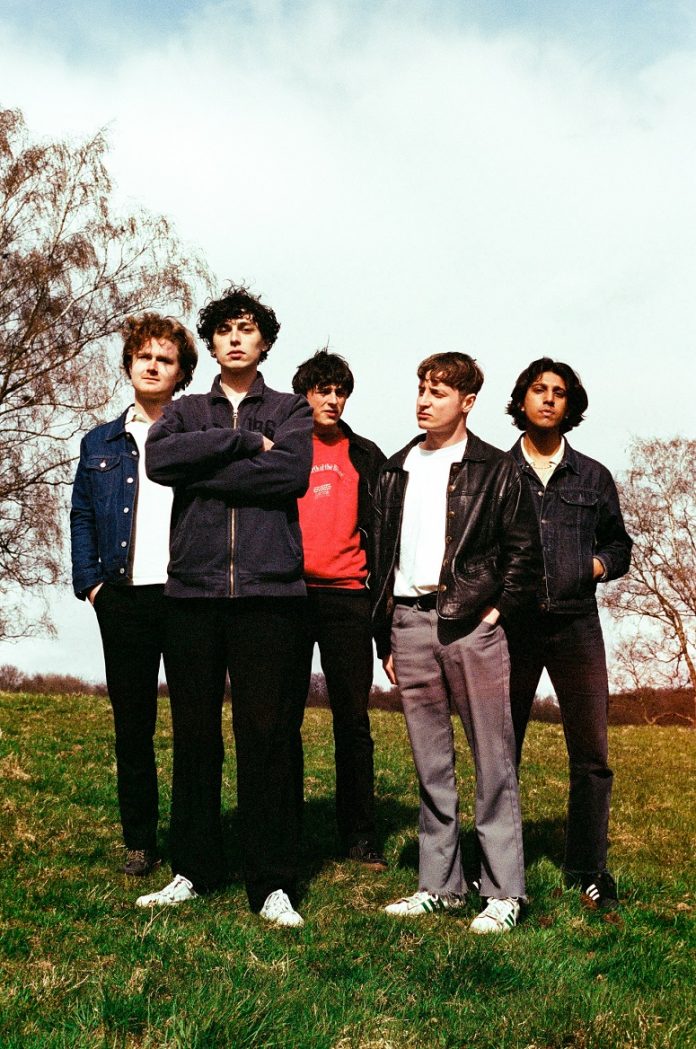 THE GOA EXPRESS have shared 'Overpass', the B-side to their latest single 'Second Time'. Where 'Second Time' – mixed by Ride's Mark Gardener – unpicked the imperfections of youth over a spirited jangle, 'Overpass' takes a different course, as the band explain:
"Overpass accompanies Second Time as an angry relative, screeching up loudly alongside it. Frantic and chaotic, it exists for the high octane, hustle and bustle of the city. No respite."
Teenagehood, brotherhood and a love for alternative music have united THE GOA EXPRESS from the off. Hailing from the Northern industrial towns of Todmorden and Burnley before being adopted more recently by the Manchester culture carriers, their teenage years can be viewed as something of a hedonistic pilgrimage into the underbelly of suburban rock and roll- their first gig having been 3 songs blasted out their mates garage, the next on top of a local vintage shop where the floor nearly caved in: "when there's fuck all, you make do with what you got". This sentiment is nothing new, but in an age where artists and bands are often exist as heavily constructed, pretentious facsimiles, it certainly feels new.
The intensity of this friendship has resulted in the occasional bust up along the way, yet it only adds to the burning chemistry that the band offer on record and on stage. Together, brothers James Douglas Clarke (Guitar + Vocals) and Joe Clarke (Keys), along with Joey Stein (Lead Guitar), Naham Muzaffar (Bass) and Sam Launder (Drums) all contribute to a fuzzy wall of diverse sound, becoming harder to pin down with their constantly evolving, psych-umbrella'd, rock and roll. What sets THE GOA EXPRESS apart from other musicians who sit comfortably within scenes is that their identity as a band has been growing organically long before the 5 of them decided to pick up instruments and teach themselves art of killing time.
THE GOA EXPRESS 2021 LIVE DATES
19th July – Manchester – Yes
14th August – Lancaster – Lune Attack Festival
21st August – Brecon Beacons – Green Man Festival
2nd September – Bedford – Esquires
3rd September – Dorset – End of the Road Festival
4th September – Manchester O2 Ritz – Manchester Psych Fest
5th September – Warrington – Neighbourhood Weekender
24th September – Manchester – Yes Basement – SOLD OUT
25th September – Dublin – The Grand Social
7th October – Carlisle – Old Fire Station w/ The Magic Gang
8th October – Liverpool – Arts Club w/ The Magic Gang
10th October – Cardiff – Tramshed w/ The Magic Gang
11th October – Oxford – O2 Academy w/ The Magic Gang
12th October – Southampton – The 1865 w/ The Magic Gang
15th October – Margate – Elsewhere
22nd October – Norwich – Waterfront w/ The Magic Gang
13th November – Glasgow – Stag and Dagger Festival
THE GOA EXPRESS are:
James Douglas Clarke – Guitar / Vocals
Joey Stein – Guitar
Naham Muzaffar – Bass
Joe Clarke – Keyboard
Sam Launder – Percussion