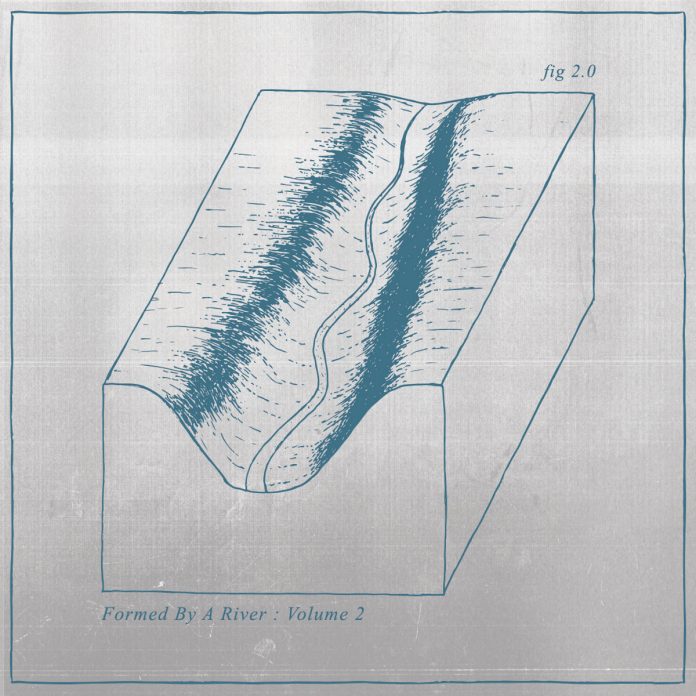 This is the second charity compilation celebrating unreleased material from an incredible range of artists from across the area covered by the M62 – including Manchester, York, Leeds, Hull and Grimsby – released by Formed By A River. The proceeds from the sales of this volume will be split and donated to both Music Venue Trust and Stagehand.
Some of the bands on the album I've both heard of and heard, others not. Your experience is likely to be the same but that's the advantage of something like this, you get to hear bands you might not otherwise have found.
The album opens with The Household Dogs' 'The Great Depart'. A huge dense and gothic melancholic song. Hints of post-punk, Drama to the max. An incredibly impressive sonic performance. I have grown addicted to the drama, the power. A highlight for sure.
New to me are SLAP RASH. I had to look them up. They hail from Manchester and do kind of noisy DIY in a kind of jerkily funky style with lots of semi-spoken word sections if ' …In A Ditch' is anything to go by. This is one of those 'I love it, but for the life of me can't say why' things. It's quirky, and I like quirky music but that isn't the only reason.
Next up are The Black Lagoons with a cover of Goldfrapps 'Lovely Head'. It's kind of hard to describe but they've taken the song and applied what I'm going to call a dose of Nick Cave to it. All the bits of the song you'd expect are there but they're warped and, sometimes, frankly wonderfully strange. I like this more than I do the original.
I reviewed the original release of Crush's 'All My Plants Are Dead' when it came out but this is different. Let's call it a re-interpretation. They've taken the original frankly jaunty song and turned it into something moody and atmospheric using just voice and guitar. This sort of thing doesn't always work but this is outstanding.
The strangely named 'ICSIIY' by TALKSTOOMUCH is a smooth somewhat ambient kind of pop song with depth. It's not really my sort of thing but objectively I can hear it's good, very good. This is followed by 'Need Me' by Sarge. Now I wasn't sure about this to start with but actually this has grown on me. Jazzy edge, hints of 70s' pop, sparse, put together beautifully. It's charming and I've been charmed.
Talk More are next with an acoustic version of 'King Street'. Now I understand that they are an indie band but this isn't. It sounds more like Laurel Canyon singer/songwriter than indie. Intense vocals, raw acoustic guitar.
The Howl & The Hum thrill with 'Portrait I' (recorded at The Oporto). This is one of those tracks that quietly takes over your mind. Mesmirising, hypnotic with vocals to die for, that pierce your very soul. Utterly fantastic, you get me.
And then there is Last Of The Wonder Kids who bring the rock with 'Statues'. Noisy guitars, urgent drumming, compelling vocals. Lovely stuff. The blast that is 'Grandma's Pen' by Bull follows. This was released as an album teaser, so read my review.
I have fallen in love with Eric Dimmack's 'Drop In The Ocean'. Funky, jazzy hip-hop with the sweetest guitar. Spoken words, sung sections beguile and intrigue. One of my album highlights.
Fever are next with 'Time Will Define'. A fab song with a great tune. I guess if I had to put it into a niche I'd say it's indie-pop – although it's more pop than indie; if you get what I mean. Lovely stuff.
'Flume' a Bon Iver cover by Alice Simmons. is basically all about her voice. Sure there's a guitar there but it's the voice that holds you enthralled; intimate but strong, powerful but fragile it's just beautiful.
'Average Wave' from Talkboy was, as with the Bull track, released as an album teaser. Read the review.
Codex I've not heard of before but their song 'Grin' is immediately compelling. I guess you'd call it electronica but it's a track that builds from gentle beauty to up beat. Carefully chosen sounds layered perfectly. So perfect is the build that you are never jarred; this thing is as smooth as you like.
British/Somali poet, rapper, and neofolk singer/songwriter Knomad Spock closes the album with 'Maps'. As it started I was suddenly open-mouthed with amazement. This is truly stunning. He speaks quietly over acoustic guitar, he speaks words that cut deep, that feel so personal it almost seems wrong to be listening. They feel like thoughts floating above the guitar which is more structure than tune – it follows the words. If you only listen to one track from this album (not that'd encourage you not to listen to the whole thing) make it this.
If you didn't already know we had it, this album showcases the brilliant bands and artists we have across The North. And yes as a compilation there are different genres and styles so it's likely that you'll have favourites but if you listen objectively to the tracks that fall outside your usual genres of choice you'll hear the quality and maybe discover a new band or artist.
This album is full of great music, and not only that by buying it you'll benefit some great causes; who could ask for anything more. So go buy this. Do it now.