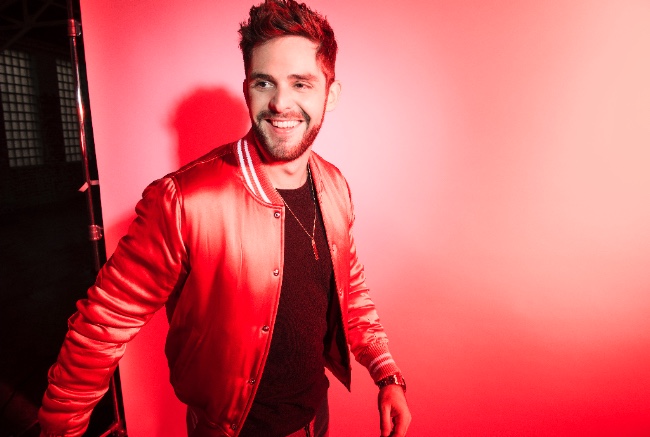 Thomas Rhett's third studio album, 'Life Changes' was released on September 8th via Big Machine Records. Thomas has also shared the album's next single 'Unforgettable'.
Blending Country, Pop and R'n'B into a refreshingly timeless sound, Thomas has enjoyed a meteoric rise that has seen him hailed as one of America's brightest new talents. Scoring his first hit in 2012, Thomas introduced a sound that mixed the southern swagger of Country music with Pop hooks, R&B grooves, soulful strut and the anything-goes attitude of Rock. Thomas has gone on to win 'Male Vocalist Of The Year' at the ACMs, performed with artists Nick Jonas and Zara Larsson, astonished audiences at London's Country 2 Country festival, and has become a husband and father too.
'Life Changes' is Thomas at his most impressive and accomplished to date. Kicking off the album is the already chart-topping 'Craving You,' and from there it carves a path as wild and wide as his own career. There are coming-of-age Country ballads, heartland Rock & Roll anthems, EDM-influenced Pop tracks and R'n'B slow jams all wrapped together by the songwriting skills and elastic vocals of a frontman who's willing to shine a light on his own milestones and mistakes.
"I am and will always be a country artist," Thomas Rhett said. "It's who I am, it's in my blood. I will always try to push boundaries because that rebellious side has been in me since I was a kid. My voice and my journey that inspired these songs is the glue that makes this album cohesive. This is where I'm at musically and these are my stories."
Thomas Rhett found himself in the producer's chair for the new album alongside Dann Huff and Jesse Frasure, as well as new collaborators Julian Bunetta (One Direction) and Joe London (Fifth Harmony, Jason Derulo). Having a hand in writing 10 of the album's 14 tracks, there's plenty of autobiography, but his stories are so compelling because they are our stories, too. And like any great storyteller, he weaves a wide narrative with the new collection, delivering the album from several different perspectives.
LIFE CHANGES TrackListing:
1. "Craving You" (featuring Maren Morris)
2. "Unforgettable"
3. "Sixteen"
4. "Drink A Little Beer" (featuring Rhett Akins)
5. "Marry Me"
6. "Leave Right Now"
7. "Smooth Like The Summer"
8. "Life Changes"
9. "When You Look Like That"
10. "Sweetheart"
11. "Kiss Me Like A Stranger"
12. "Renegades"
13. "Gateway Love"
14. "Grave"
Full UK Dates
November 2017
10th – Roundhouse – London (SOLD OUT)
11th – O2 Academy – Birmingham
12th – Academy – Manchester
14th – O2 Academy – Glasgow
15th – Waterfront – Belfast
Tickets are on-sale and available from http://www.livenation.co.uk