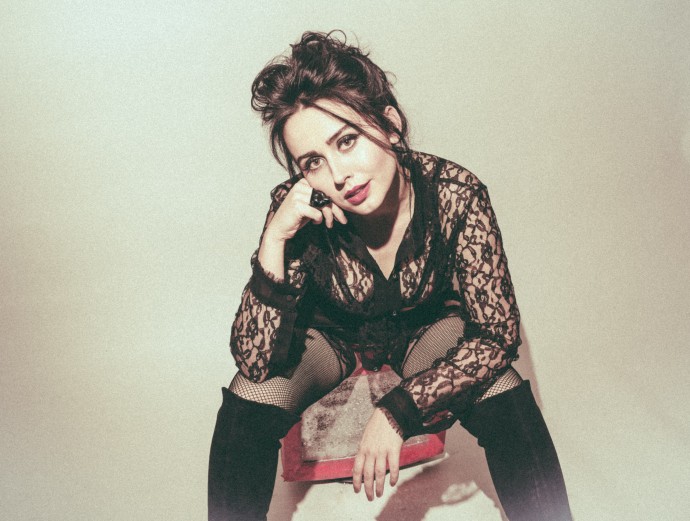 Fiona Grey is embarking on a UK tour this August/September – with dates including Harrogate and Manchester
Fiona Grey is a twenty-two year old composer and songwriter based in Los Angeles, by way of Chicago. With a background in musical theater performance, and influences including David Bowie, Debbie Harry and Missing Persons, Grey pushes the boundaries of traditional pop music through her edgy songs and energetic live performances. Dubbed a "very worthy young pop talent" by Popmatters, Grey has performed at notable LA venues such as Troubadour and Resident, and shared the bill with popular acts including Charli XCX and Foals while touring as a backing vocalist for KITTEN.
To date, Grey has released two EPs, including 'Striped Heart' and 'Belladonna'. The latter featured the acclaimed singles 'Beauty Queen' — "a heartfelt lowrider that woos its way into your teen dream heart", according to Neon Gold Records — and 'What You Want'.
Grey is currently gearing up for the release of her newest EP, due out this Autumn. The record, according to Grey, will examine our culture's widespread infatuation with pop culture and obsession with love. With powerful vocals, live string instrumentation and a rock 'n' roll heartbeat, the EP invites listeners to tap into their own human emotions, taking them on a journey wrought with tenderness and uncertainty.
For more information, please visit:
http://fionagreymusic.com
http://facebook.com/fionagreymusic
https://twitter.com/FionaGreyMusic
https://www.instagram.com/fionagrey/
http://soundcloud.com/fiona-grey
UK Tour Dates:
21/8 – Frankenstein Pub – Edinburgh
22/8 – The Cowshed – Edinburgh
25/8 – The Cowshed – Edinburgh
27/8 – The Cowshed – Edinburgh
1/9 – Blues Bar – Harrogate
5/9 – Whiskey Jar, Manchester
7/9 – The Jacaranda – Liverpool
8/9 – Telford's Warehouse – Chester