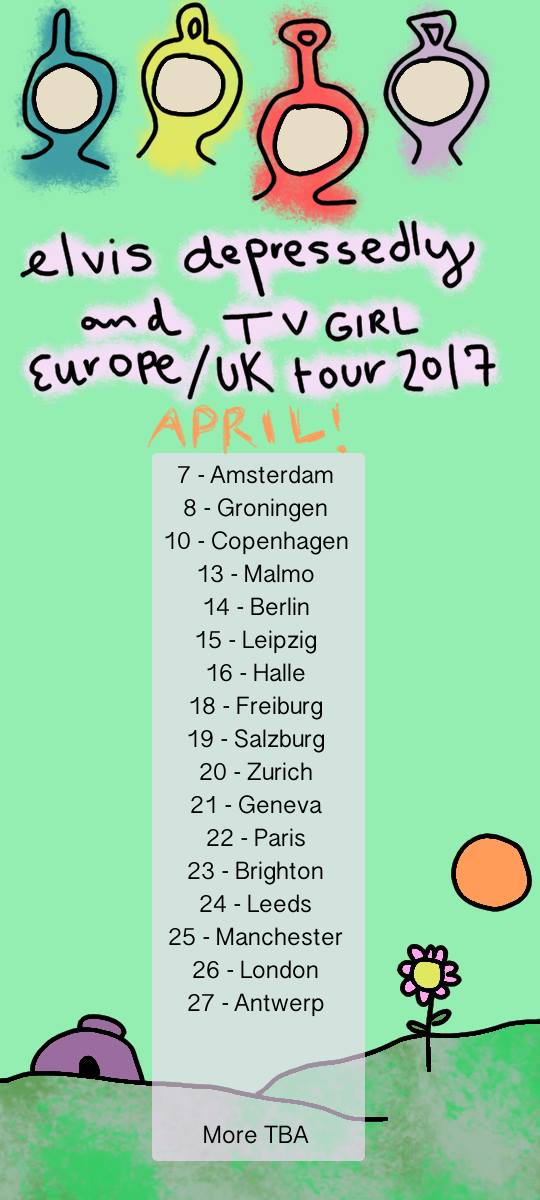 Following on from the reissue of their cult favourite 'Holo Pleasures' EP and their incredibly successful first ever UK live shows early last year, Elvis Depressedly will be playing the following dates later this month:
Apr 23 – Brighton, UK @ The Joker
Apr 24 – Leeds, UK @ Brudenell Social Club
Apr 25 – Manchester, UK @ The Star and Garter
Apr 26 – London, UK @ Kamio
The info
Elvis Depressedly is Mathew Cothran and Delaney Mills. Mathew and Delaney live in the Blue Ridge Mountains of North Carolina.
Elvis Depressedly stares straight into the void and airs their own blunt perceptions about it through their music, but it's never been the band's intentions to bring you down even if it says so right there in their name. Mathew Lee Cothran (also of Coma Cinema) and Delaney Mills – alongside a revolving cast of friends and collaborators – have been taking the monoculture's obsession with a dystopian world and turning it into their own wry joke in their homespun quarters of South Carolina from the very beginning. Since 2011, EPs and singles built with a bare necessity of instruments and production tools have recorded a memory box of self-healing guitar-pop laced with an Ambien trance, but with Cothran quitting his day job and resettling in Asheville, NC with Mills after the release of 2013's Holo Pleasures to focus his efforts on their latest full-length New Alhambra, an increased currency in time has resulted in Elvis Depressedly's most definitive listen yet.
'Holo Pleasures' is a 12 minute cult favourite EP amongst the DIY scene and has spawned many bands from its sulky muddled influence, whilst in many ways, New Alhambra is an auditory homage to what has shaped lead singer Mathew Lee Cothran's life. Its title, as any hardcore pro-wrestling fan will recognize, credits the Philadelphia arena that birthed its most legendary and extreme version of it, and the use of samples from wrestling shows serve as a reference to his upbringing. The album was characteristically made with outdated equipment and limited by only one microphone, with Mike "Dr. Vink" Roberts playing an essential role on bass that enrichens the rockier resonations in comparison to Elvis Depressedly's previous releases. Cothran and Delaney were constantly on the move during the recording process thanks to their new found career freedom, but none of it takes away from New Alhambra's fully texturized shift toward brightly melancholic noise-pop inspired by Cothran's favorite unsung heroes such as Waterboys, Prefab Sprout and Emperor X, and in more conventional instances, Elliott Smith and Mac DeMarco.
You can follow their adventures via @tastymask on twitter.