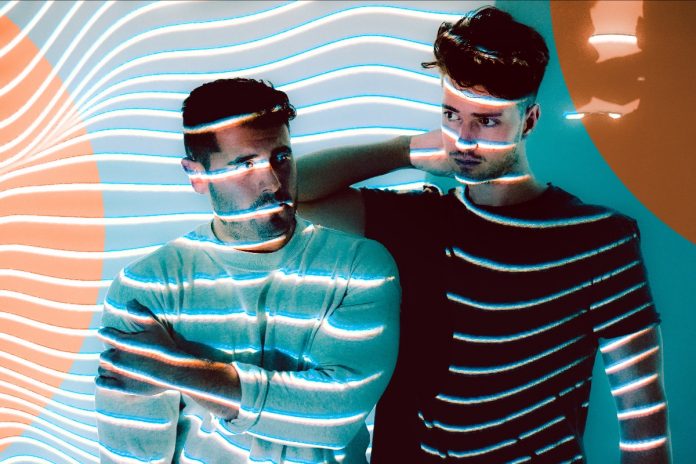 The Blue Stones released Black Holes last year via eOne to some serious critical acclaim, getting the attention of the likes of AUDIOTREE, YAHOO MUSIC, and BILLBOARD. Alternative Press said, "The Blue Stones are quickly carving out a name for themselves in the blues-rock, alt garage world making stages quake and leaving only one question in their wake: 'all that from two guys?'"
Listening to the larger-than-life blues-rock of The Blue Stones on their label debut, Black Holes, it's astonishing to discover just two people create all that sound. Guitarist/vocalist/lyricist Tarek Jafar and percussionist/backing vocalist Justin Tessier have known each other since meeting as kids. But it wasn't until attending university together that they decided to combine their talents into a musical project.
The Blue Stones have an incredibly diverse palette of influences — and although they're a duo, it's unfair to limit the comparisons just to The Black Keys and The White Stripes. The weight of Led Zeppelin, the grit of Hendrix and groove from hip-hop artists like J. Cole and Kanye are all there. But in an effort that's unlike any other in contemporary rock, the result is something unique to today's musical landscape.
Their story is the voyage of a group beginning to find its way, emerging from isolation and perspiration to inspiration, reaching an audience waiting to be tapped and entertained. An Alternative Blues Rock band is fighting the good fight, looking to connect in an increasingly fragmented music universe. And with the boys back in the studio working on new material, the sky is the limit.
Dates
16-Oct-19 Newcastle Think Tank
17-Oct-19 Leeds Hyde Park Book Club
18-Oct-19 Manchester The Eagle Inn
19-Oct-19 Glasgow Attic Bar, The Garage
21-Oct-19 Bristol Rough Trade
22-Oct-19 Brighton The Hope & Ruin
23-Oct-19 London The Seabright Arms