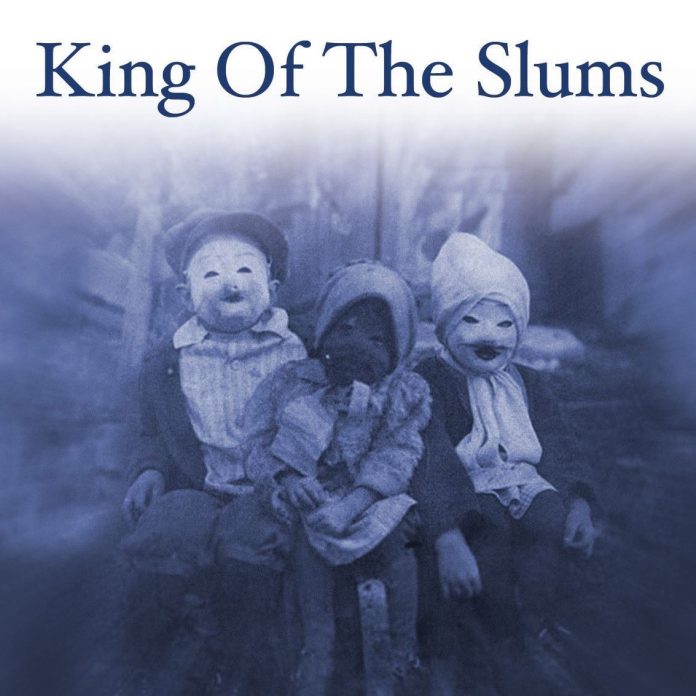 It was with a great deal of excitement that I got the email asking LSF whether we'd like to review King Of The Slums' new album. Having fond memories of the band in the late 80s I said yes immediately.
So if you, like me to be honest, haven't been keeping up and didn't realise they'd released something in 2009, the question you're going to be asking is 'Do they sound like they used to?'. The answer to this, at least to my ears, is yes and no. There's still the bite in the music and words, but it's tighter. The post-punk element has been replaced to some extent by a dub element. And crucially there is no violin.
So this leaves me with a dilemma, do I review this 'through the lens' of their 80s material or treat this as a completely different thing? After some thought I decided to review this an album in it's own right.
That said, let's get down to it – this isn't a track by track by the way. And don't think just because I've not mentioned the other tracks that they are just not good, they are, they're great. It's just that these are my highlights.
'Church Bells Over England' draws us in with a dubby slow intro and then it explodes. This is great stuff. It reminds me to a degree of Here & Now circa 83/84 but this is no bad thing. In fact for me it is a great thing. It's not the same but it has that vibe, the spacey guitar, the bass prominent. The echo in the vocals in the intro. And here I must introduce the issue of the words. The words here are important – as they are in all the songs. They are good but for the purpose of the review I wasn't able to study them, let their meaning seep into my head. That's going to take time.
There's vaguely eastern sounding intro to 'Punting In Oxbridge' but this morphs into a choppy, rocky, sort of punky sounding thing. It swirls, it growls. It frankly kicks arse. Boy, can these guys play. Lyrically what we have here is great commentary on class and politics.
'Red Canal Witness' brings back that dubby sounding vibe. Spacey guitar. The spacey bits are separated by sections which sound a bit like Motorhead playing dub. This may sound like a criticism, it isn't you'll love that heavy bit coming in. It works. But listen to the words and suddenly this is the saddest thing.
'You were standing there, over, dirty green water.
I don't know why you did what you did, or the trouble, that was in your head.
Some are fickle, and some run deep, some don't last so long, some go on and on, too long,
Your arms held out, going up and down, kinda dancing, but not dancing, now your yellow hair and pale blue dress is floating, is floating, floating…'
Now the dark is creeping in, 'Dark Web Groomer' is menacing. It contrasts the days when children 'played out' and could run away from danger, and now when they go on the web, approached by faceless strangers -'He's 53, not 15, chatting to, someone he shouldn't'.
I am not entirely sure what to make of 'Crooked Flowers'. It takes a long while to reach the words. It sort of noodles along with some spoken bits, guitar and synth until the vocals come in. The noodling is great but I can't help feeling it goes on slightly too long. The problem is that I just know that by say the third time I listen to the album it'll be one of my favourite tracks.
UPDATE: Having listened to this track a second time, I've changed my mind, the intro isn't too long, it's just a tease for the rest of the song. It's worth waiting for that.
Once you get the body of the song what you get is great, it's fast, it's choppy, it's about terrorism (I think). The actual title is 'Crooked Flowers (Reportage)' so I'm guessing that it was written in response to the recent terror attacks, it's a commentary.
We are back with the slow with 'Toxic Skip Rat'. It's one part spacerock, one part Sabbath. A guitar that rings out over this. Although it's another of my favourites I didn't have the slightest idea what the song was about until I noticed that the lyric sheet actually tells you it's about when depression and insomnia come to visit you. Having seen this it all snaps into focus.
'Lost In Translation' – I thought for ages quite how to describe this, discarded much of the things I came up with. It's sort of Japanese sounding in places, in others it sounds a bit like 'Kashmir' played by a punk band. It builds and it it builds until it just stops. I am, and I'm sorry, making this sound like a mess, it isn't. It is brilliant. It is fabulous. I hit repeat way too many times on this track.. This is the standout of the album for me.
'Fast Spinning Chandelier' is just the weirdest thing, it caught me completely by surprise. It's almost folky but spacey (spacefolk anyone?). I found myself quite moved by this.
What we have here is a fantastic collection of songs. Musically it's immediate, these are great from the first listen. Lyrically they are thought provoking, emotional and incredibly well written. Ticks all the right boxes for me, I recommend it.
The album is available right now from:
KOTS on SLR Records' website: http://slrrecords.mybigcommerce.com/?ctk=YXU08B5P6N9ERJG2BOL72
Amazon: https://www.amazon.co.uk/Manco-Diablo-King-Slums/dp/B072KXQSYS/ref=sr_1_3
Sadly the band won't be gigging in support of the album, they hint at 'a unique one-off event to take place at an unlikely time, at an unlikely setting'.
The info
King Of The Slums are:
Stuart Owen – Drums/Music
Nic Bate – Bass/Music
Charlie Keigher – Guitar/Words/Music
Website: http://www.kingoftheslums.com
Facebook: https://www.facebook.com/kingoftheslumsMD/
Learn more about KOTS: https://en.wikipedia.org/wiki/King_of_the_Slums