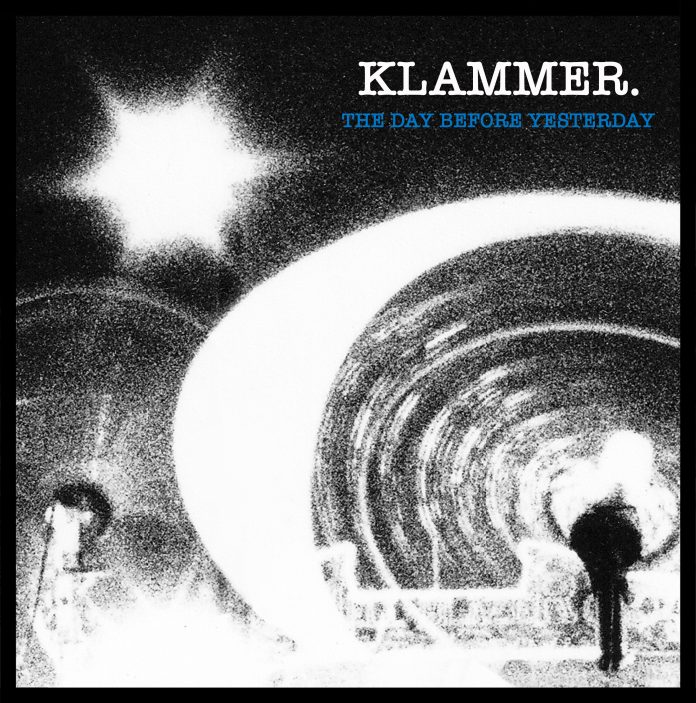 Klammer are a post-punk band. Before you make all sorts of assumptions about what a West Yorkshire post-punk band will sound like, because you probably will be wrong, I'll give you an idea of what they sound like.
So yes they can sound like you might have assumed; that's old style swirling Goth. But when I say post-punk I mean everything that came after punk – angular funk, rich classic pop, electronica (although they don't have a synth player). And their sound comes with what I'm going to call a pop sensibility; their songs have catchy tunes, a sense of arch style.
To put things into context, because there's an arc that travels through this album, the band say "Maybe things were better on 'The Day Before Yesterday' or maybe worse? Are we allowed to be looking backwards or do we have to follow the trend and only live in the now?". This, to my mind, mirrors the contradictory Britain we live in; on the one hand we are all rushing to keep up with the new, but on the other harking back to the supposedly 'better' past.
Opening track 'Pass The Test' in the band's words 'Betterment through application. Globalisation. Intellectual appropriation. Maybe it's about China or maybe it's people plotting in Weimar Germany? Some of the song is in black and white and some is in grainy technicolour but not in hi-definition'. Is at the same time dark but has this edge of brightness. It sounds a bit like the Cult in full on whirling swirling sound mode. Lyrically it's dark, very dark, but hey, fuck it, let's dance our arses off before it's all late.
'I Really Really Want To Believe' addresses something we know and live with in a political sense 'Tell the truth, don't tell lies just to make things seem OK and things will be better! It's a difficult thing to do but, in the long run, it really is the best way. Sitting on a pile of lies can only be a short term solution and the higher the pile then the harder the fall'. Theses that sense of desperation to twist your world view as lie upon lie piles up. But this can be interpreted in an 'our lives' kind of way; you can take your choice. Musically it takes that post-punk sound angular. There's an anxious edge to the sound of this.
'Progress (Or The Lack Of)' – 'When will we EVER learn? It's a song about the need to change our ways and face the facts. It's a time for running away if we don't. It's a time to be angry with our leaders'. An overtly political song that has universal and timeless meaning. It's angry sounding; punk, that angular post-punk nagging guitar. In a word, powerful
Next up is 'Broken Dreams (In A Crashing Car)' takes the sound of those angry guitars and the feel of electronica. A bass pulse that drives. And while rooted in rock, it mixes the two forms to make something beautiful and haunting. What's it about 'The recurring dream turns to a nightmare that always wakes you with a jolt! It's all about anxiety, it's all about frustration and longing. It's about wanting to do better and the fear of failing. It's about wanting to be in charge of your own destiny'. The sound of anxiety runs through this track. Form follows function.
Oh my word 'While You Sleep' is absolutely magnificent. The sounds of post-punk, classic pop and classical are melded into something huge. And over this the vocal is sung as a declaration, a speech.
The subject of 'the Blind Leading The Blind' – 'Don't believe everything that you're told in the modern world! Modern media in a modern world. It leaves some people behind and can lead some people into a deep dark hole'. Is a dark warning, told in words that are venomous. Although thi song has the power of a big post-punk track, it comes with punk power and feel and a rather earwormy tune.
Whether it is meant as a brief respite from the darkness 'the Insider' – 'A quick history of the rise and fall of a Glam Rocker' – is a riot, 3½ minutes of dance yourself into the ground post-punk rock.
The album takes a turn to the big classic 80s' pop with the intro of 'a New Direction'
The story of an artistic type seeking a life change and a new love but frustrated by an inability to express feelings, until the catalyst is found and the new direction is found and followed with glorious optimism. It does the quiet/loud thing; glorious melodic sections followed by revved up pure angular shards of glass guitar. And yes, it's guitar music but the feel of post-punk electronica runs this.
'Oblivion' is about 'An immortal who, for millennia, has ruthlessly destroyed lives and influenced history for his own gain'. Surprisingly this song has a kind of high energy alt-rock feel. This is HEAVY, you get me.
'I Wish I Could Bring You Back' is heavy in a different way, an emotional way. A sense of loss, grief, desperate need is written hard into this song. It tears at your soul, it reaches in and grabs your heart. The power, the emotion, is in the vocal. Incredible.
Pain is writ large in 'Heartworm'; a song about 'The death and termination of a soured relationship. Disease has infiltrated the system and is wrecking havoc, causing misery and anger. It's destroyed the love and needs to be removed by any means!'. Wonderful words, wonderful music.
A creeping, crawling and menacing track 'Limbic Pastime' – 'A description of a life lived in pain with no real hope of improvement. Illness can be mentally a real killer'. Sonically it's a big sky sound; the space in this track is fantastic. Guitars stab, guitars rumble
Closing song 'Alone' is 'the story of two brothers. The first brother stays in the countryside where they were born while his sibling insists on taking his chance in the Big City. The brother in the countryside sees his sibling return as a broken man, devastated and broken by city life and the unfriendly ways of city people'. This might be described as a big Goth song; big choruses, dark verses. This really has to be heard.
Klammer are a band who are always progressing; adding new sonic twists to their songs, while at the same time being rooted in the original post-punk sounds. Not for them is the slavish adherence to 'the rules of post-punk songwriting'. And great playing and vocals are guaranteed. I have a particular thing about Klammer's singer as he brings a particular and unique archness to his vocals.
This is an album that melds the general with the personal. It really is 'a game of two halves'. The first is taking a worldview, the second feels intensely personal. Using words, that deserve your close attention, the songs travel from the worries of the world we live in to the worries, anxiety and pain of the personal.
Somehow with the songs on this album Klammer have managed to make the dark and moody sounds, the dark lyrics into something surprisingly catchy and uplifting. Many of the songs are the very epitome of post-punk floorfillers, and others have an extreme and mesmerising beauty. This album is astounding.
The info
Hailing from Leeds, Klammer draws from the members' shared love for all things angular, dark, loud and melodic. Previously described as the love child of XTC and Gang Of Four, Klammer offer an enticing contemporary twist on the post-punk attitude, blending elements of goth rock, punk rock and dark wave, all with dark pop sensibilities. You'll find plenty of hooks and a dark and edgy broodiness coursing through their sound.
Formed by UK Producer Steve Whitfield (The Cure/The Mission/Jane Weaver) in 2014, they have already released 3 albums to great critical acclaim, with last years 'You Have Been Processed' receiving fantastic reviews across the board. The singles 'Modern God' and 'Spiral Girl' both from the album, received airplay on 6 Music.
POSS (Vocals/Guitar)
STEVE WHITFIELD (Guitars/Vocals)
MIKE ADDY (Bass)
BRUNO DE ALMEIDA (Drums)