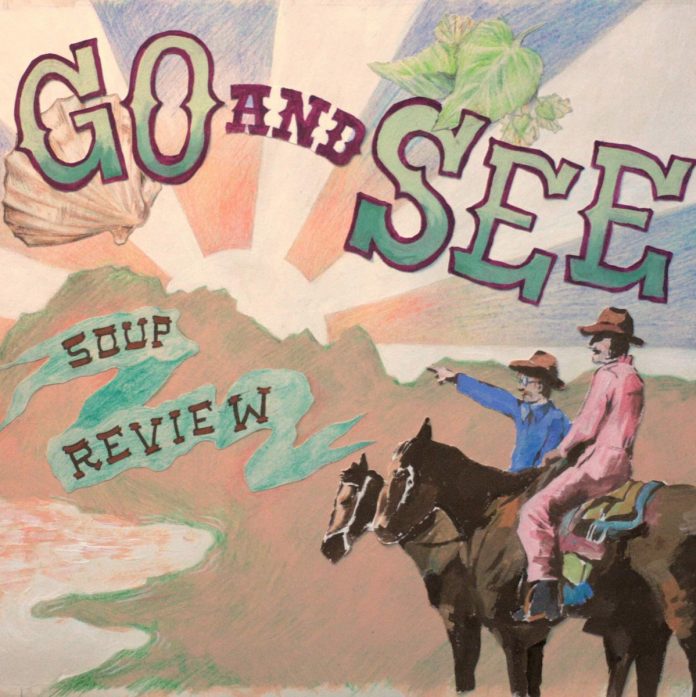 In 2020 – boy, does time fly, where does it go – I reviewed Soup Review's album 'Beneath the Big White Moon'. The question on whether I should review it came with something of a touch of indecision. Thankfully, no such question arose with their new album. Expect their usual folk/ant-folk/alt-folk sounding songs with sometimes a touch of laugh out loudness, that are sometimes wry, and sometimes set out to tell stories of everyday folk and life.
Album opener is a lovely, and horribly earwormy, tune called 'Too Long'. A simple song, but simple is difficult to do, with a beautifully sparse guitar and harmonica. While the words tell of a journey back to somebody that they've been apart from for too long. It's wonderfully touching.
And why not follow that with a song about mustangs – the wild horses – called appropriately 'Mustangs'. Or is it? Well it opens with a line about them, but I think not. Turning all Americana rock the duo sing of, well to be honest I have not the slightest idea. For this reason I am most puzzled by the line 'Sea monkeys were invented in The Philippines'. Anyway hours or possibly days of enjoyment is provided by trying to work out quite what the song is about while soaking up that delicious guitar and organ.
Update No 1: Chris from the duo has informed me that I misheard the line 'Sea monkeys were invented in The Philippines', it's actually 'sea monkeys were invented in the fifties'. Clearly a case of my misfunctioning ears there. Although that hasn't helped me to understand what the song is about any more clearly.
Update No 2: Oh wow the duo have actually recorded a podcast discussing 'Mustangs'. So take a listen to learn more.
We return to a traditional English musical form – something Sea Shanty like – for the song 'Chesil Beach. This is not a song about the beach as such but more about a visit there. This is frankly laugh-out loud silly.'
The folky '17 Days Of Wind' tells of, hey guess what, 17 days of wind in the South-West. I say folky but it's folky in a sort of Incredible String band way. It's fantastically charming. Now we have a Bowie fan in-joke 'Memory Of A Food Festival'. Over what I'm going to call a jaunty tune they sing of the hot sauce stall and cheese vendor.
'You Left After a Snow Storm' is one of those songs that on the face of it sounds a bit silly but it's actually strangely touching. It's basically about somebody following the tracks of a cat through the snow, and the other tracks they find on the way.
'I Want To See What It Looks Like' – a song that comes with a video – I think is a love song. It's expressed in a strange way. Anyway it's one of the duo's songs that is irresistibly catchy. 'Greet the Morning with Joy' is an alt-folk song about waking up with the one you love.'Wind Chimes' is a song about a set of home made wind chimes. And as mundane as it sounds, it has a strange beauty.
'Foxes' is a gentle song about being woken as a child by foxes. It's weird but by this point in the album I was so tuned into what Soup Review do that I found this intensely moving. 'Washing Up Liquid' is a song about washing up, And yes, it really is.
'Houses by the Sea' is a memory of houses by the sea. Now what I have in mind is beach huts; something that resonates with me because I used to visit my Grand-parent's beach hut regularly as a child. 'Hotel Film' is a charming short song that fits in with a theme I will ponder on soon.
Along with the title, there's songs that, or possibly all the songs. point towards a theme of past and present visits, trips and holidays. Getting that makes the vignettes in the songs become more emotional; even the ones that, and there are, make you smile, chuckle and laugh. Now what I have to address here is, and I hate to use this word but others will, the somewhat quirky nature of their songs. The thing is that Soup Review may have their own individual approach to song-writing but this shouldn't colour your opinion of them. As they say 'they write songs that masquerade as comic, but on closer listening reveal themselves to be a deep and poignant exploration of the human condition'.
For me this is a charming and compelling set of songs that I have become quite addicted to. Listen and be enchanted.
The info
Soup Review are what happens when South Yorkshire meets South Coast, when folk tradition meets anti-folk downbeat self- deprecation.
Chris Delamere is the son of a morris dancer. Mario D'Agostino arrived in Sheffield from Weymouth.
Together they write songs that masquerade as comic, but on closer listening reveal themselves to be a deep and poignant exploration of the human condition.