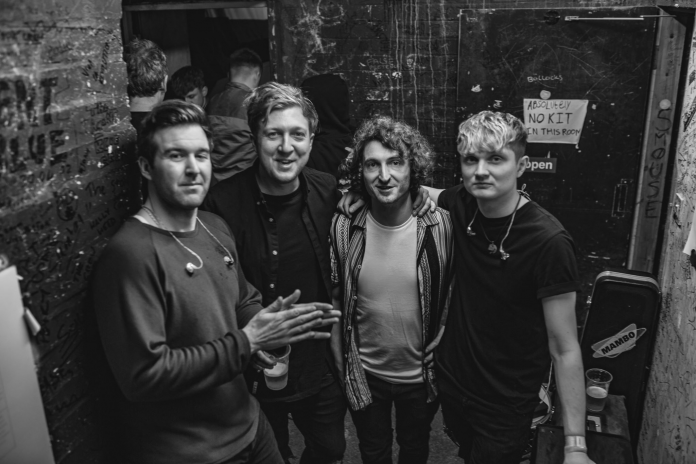 Unfortunately, it seems the repercussions of COVID are going to impact the music industry for some time to come. People and brands have had to try and adapt to keep working, keep engaging and to keep the lights on. What does Bear Grills say? "Adapt, improvise, survive." Camens are doing just that and are striding optimistically into the 'new normal'.
When a summer of festivals, an EP release tour and a number of hometown shows went out the window back in March, so did all the ticket sales, gig fees and merch sales that would've come with them.
Without this money, funding studio time, rehearsal rooms and everything else that comes with running a band and releasing music became very difficult. For four working-class lads from Stoke-on-Trent, this was never going to be sustainable.
It was at this point that the band began work on what would become the brand new subscription-based content platform 'AMBASSADORS OF CAMENS'.
The basic premise was that they use the time normally spent gigging and preparing for gigs to make exclusive content in exchange for a monthly contribution from subscribers and fans.
This idea continued to evolve over the summer and resulted in a carefully thought out subscription fan club with a choice of 5 different tiers of membership. Starting at just £1.99 a month, each tier gives access to an increasing amount of exclusive content along with many other perks and benefits. Everything from live-streamed gigs, to Q+As, money off merch, handwritten lyrics, new original music, and much more! The top tier (£99.99 per month) even includes members of the band coming around to cook your dinner and mow your lawns!
Sign up here: https://www.patreon.com/camens
Camens launched AOC on August 3rd 2020, making the announcement with a new 'lockdown cover' video of Ezra Furman's 'Love You So Bad' followed by a post-credits piece to camera talking everyone through the new endeavour.
Singer and Bassist Scott Powell said "Thankfully, the initial response has been fantastic. We've had so much love and support from fans home and abroad. Some even as far away as Los Angels, California and even Mexico! It's been genuinely humbling to see the support our fans have shown to help us through this difficult time so we can continue being a band and creating music and content."
Everybody who signs up gets an exclusive AOC welcome merch bundle. This includes a keyring bottle opener, badge, certificate, signed photo, personal thank you postcard and stickers! And who doesn't love stickers!?
"We began to post bundles out this week and seeing them land through letterboxes around the world has to be one of the most rewarding experiences we have had as a band so far. Every day we get tagged on Instagram or Facebook in pictures of our new Ambassadors proudly displaying their new merch!"
The band's plan now is to invest the contributions made by fans back into making brand new music and content for AOC and for general release.
Drummer Luke Brightmore said "We want this to grow and become a real community of Camens and music fans alike. New exclusive content has already been added to our subscribers-only feed and with a steady income stream we're able to plan ahead and move forwards as a band again and are already planning studio dates for the end of the summer."
Camens, who released their most recent single 'Leave Me In Pieces' in April 2020 along with a video created during the early days of lockdown, say they have so much more to come and are simply excited to kick on and grow – hopefully in a world where we hear a lot more new music and as little of the 'C' word as possible!