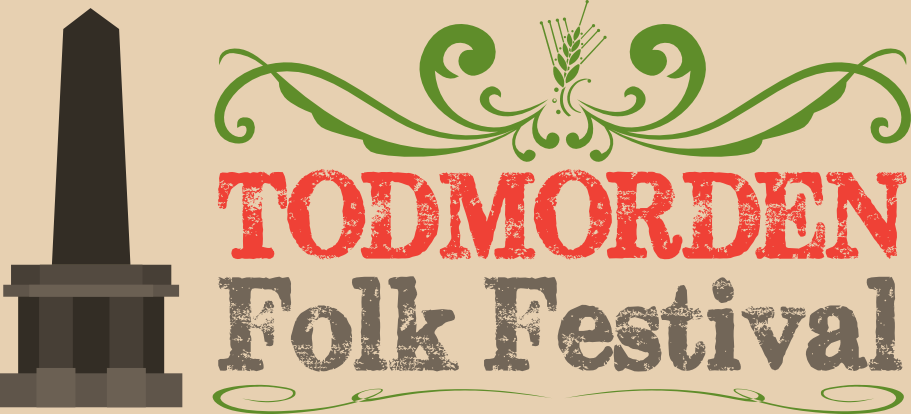 2015 will see the first Todmorden Folk Festival. They've got some great acts from the local area and further afield. Todmorden will be full of Morris Dancers and there will be music in many venues throughout the town.
Todmorden is on the trainline between Manchester and Leeds and all the festival venues are within 15 minutes walk of the train station. You can also check out the vibrant local market and go on the trail of the ground-breaking work of Incredible Edible Todmorden.
Events
The festival will kick off with a Ceilidh on Friday night featuring the Earthquakers. There will also be a performance spot by the incredible Ruth Bibby who is Lancashire and Cheshire clog champion. Children are welcome and there will be activities for them.  We might also have a couple of singing sopts to give you a taste of what's to come over the rest of the weekend.
Saturday morning sees a series of workshops. Four Corner will do an introduction to Rapper Sword Dancing and step clogging and there will be a right big sing to start the day!
Morris Dancing – Morris Dance teams throughout the town on Saturday from midday onwards. The teams will be dancing on Pollination Street, the market and on the wharf by the Golden Lion. The teams will be dancing North-West Morris, step clogging in both North-East and Lancashire styles, Border Morris and Rapper Sword Dancing.
Saturday afternoon concert with performances from Sue Cain and Tegwyn Roberts, Kate Locksley, Bo Weavil and others.
Saturday night will be a great event with great quality music, some to dance to, some to sing to and some really skilled and talented musicians. The Young'uns headline with performances from Red Hippo, Bella and others.
Artists performing
Wardle Academy Folk Group – Brilliant performers and award winning folk group
Mr Fox
Phil Reed – Combines traditional Irish music with a little modern wizardry. He has created a unique setup, building up layers of Irish bodhrán drum rhythms and low whistle harmonies into a loop pedal, then performing traditional Irish tunes on tin whistle over the top.
The Young'uns – An unlikely force of nature on stage, beguiling audiences with irrepressible humour, bold vocals, gripping storylines and innate musicality.
Gareth Scott – Gareth is a full time member of Internationally renowned Sea Shanty band Kimbers Men, and tours extensively throughout the UK and Europe with them. A songwriter and singer of traditional songs, Gareth has a debut solo EP due out in Summer 2015
Red Hippo – Folk/roots, jazz and steam hammer, bass-heavy brass delivered via a thumping, rhythmic sousaphone, (think New Orleans, The Dirty Dozen, Re-birth Brass Band for example).
Oakenhoof – Mixed age/gender omni clog dancing/singing and music group from Littleborough. Their elemental style and inclusive nature makes them a real joy to watch and be around…
Bella Gaffney – Folk and acoustic singer Bella Gaffney is from Bradford. She writes folk inspired songs which she performs along with her own original arrangements of traditional pieces. She started her acoustic music career several years ago at the Topic Folk Club, where her first song was John Martyn's 'May You Never'. Her songwriting is clearly influenced by lyrical songwriters as well as those with strong narratives; artists as diverse as Richard Thompson, Jez Lowe, Billy Bragg, Jack Savoretti, Roger Davies and Michelle Shocked.
The Britannia Coco-nut Dancers
Sue Cain and Tegi Roberts – Duo from Sheffield who sing traditional songs, often shanties. They're vibrant strong singers, their enthusiasm is totally infectious and their harmonies are beautiful.
Ruth Bibby – Ruth has been declared Lancashire and Cheshire Clog Champion for the last 3 years. Her energy and precision is a sight to behold and you will believe she has ankles made of elastic.
Kate Locksley – Kate makes up one quarter of the hugely successful group The Teacups and has written some new classic songs which will be part of her performance.
Cat's Cradle – Play original acoustic tunes and songs with tenor banjo, mandolin, bodhran, uilliann pipes, voice and sometimes fiddle. We work from a fragrant armpit of the South Pennines.
Thieving Magpie – Mixed border morris side from Marsden.
Bo Weavil – They hail from Manchester with their happy-sad, fast but slow, good time-bad time fiddle-driven boogie. They love their folk, blues , old timey and country, peppered with the occasional reggae rhythm and general cosmic vibes. The band play a mixture of traditional, contemporary and increasingly original material all performed in inevitable weavil style with no little aplomb
Rivington Morris – Women's team of North West Morris Dancers. These demure cultured women hail from near Bolton in Lancashire. Their clogs have been heard as far afield as Sidmouth, Germany, France, Holmfirth, Wigan, Accrington and Blackrod Carnival. Hundreds have looked on in awe and marvelled at their stunning stepping, precision, music and reinforced foundation garments.
Hadrian Clog – Hailing from the North-East, Hadrian Clog are a dance group performing traditional clog and hard shoe dances from the North East of England and beyond! They have made a name for themselves with their annual Dance the Wall event where they spend a weekend dancing the length of Hadrian's Wall along with other North-East dance sides.
Earthquakers – The Earthquakers has been playing in one form or another since the mid-1990s, squeezing tunes out of a variety of boxes and at events in many surprising places. They have a repertoire that includes dance tunes (mostly English – some their own compositions) for ceilidhs and songs and tunes that can be enjoyed just as well from a seated position… but expect to be up and dancing the night away!
Michael Burns – Prolific songwriter in the folk tradition based in Manchester. He draws from detailed research producing fascinating and moving songs also inspired by his heritage in the North-East, Scotland and Ireland. Michael is also a tune-writer and plays the mandolin.
Sowerby Bridge Morris Dancers – The Sowerby Bridge Morris Dancers came into existence in 1979, formed by local folk historian Garry Stringfellow. In 1977 Garry had played a major part in the revival of the town's Rushbearing ceremony to celebrate the silver jubilee year of Queen Elizabeth II. Indeed the rushbearing celebrations proved so popular the festival continues to this day.
Persephone – Processional Morris side in a very distinctive kit where black predominates adding yellow and green as noticeable contrasts.
More information and tickets can be obtained from the festival website http://todfolkfest.co.uk