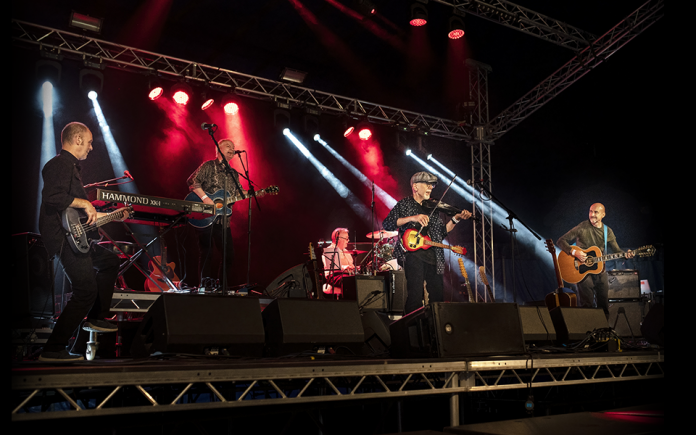 The band which first appeared in Halifax in September 1971 comprises a classic five-piece line up of long-time members fronted by original founder-member Rod Clements (vocals, mandolin, fiddle, slide guitar), Steve Daggett (vocals, guitars, keyboards), Paul Smith (drums), Ian Thomson (bass) and Alan Hull's son-in-law Dave Hull-Denholm (vocals, guitars, piano).
It was Lindisfarne's album 'Fog on The Tyne' that gave them their breakthrough in the UK. Topping the album charts early in 1972 for four weeks, the release remained on-chart for 56 weeks in total while "Meet Me on the Corner", one of two songs written by bassist Rod Clements, reached No. 5 as a single.
"Meet Me On The Corner", "Lady Eleanor", "Run For Home" and "Fog On The Tyne" are all songs that continue to resonate down the years and in the process have slipped into the very fabric of British culture.
In 2023, Lindisfarne continue entertaining crowds with an extensive repertoire of world-renowned songs delivered in the inimitably engaging way that has trademarked the band's stage act right back to 1970. That's when band writers the late Alan Hull and Rod Clements emerged from Tyneside to quickly carve out a unique place for themselves fronting one of British rock's most original bands.
Their pioneering sound, combining acoustic instruments like mandolin and fiddle with their electric blues roots, proved the perfect medium for their catchy, memorable songs.
Further acclaimed albums followed "Fog on The Tyne", buoyed up by powerful live performances. An accessible, unpretentious style bestowed them with an enviable reputation as festival favourites, while the Lindisfarne annual Christmas concerts held in their native Newcastle became the stuff of legend.
Tickets for Lindisfarne are available from £31.75. Purchase tickets online, www.victoriatheatre.co.uk, or by calling the Box Office on 01422 351158