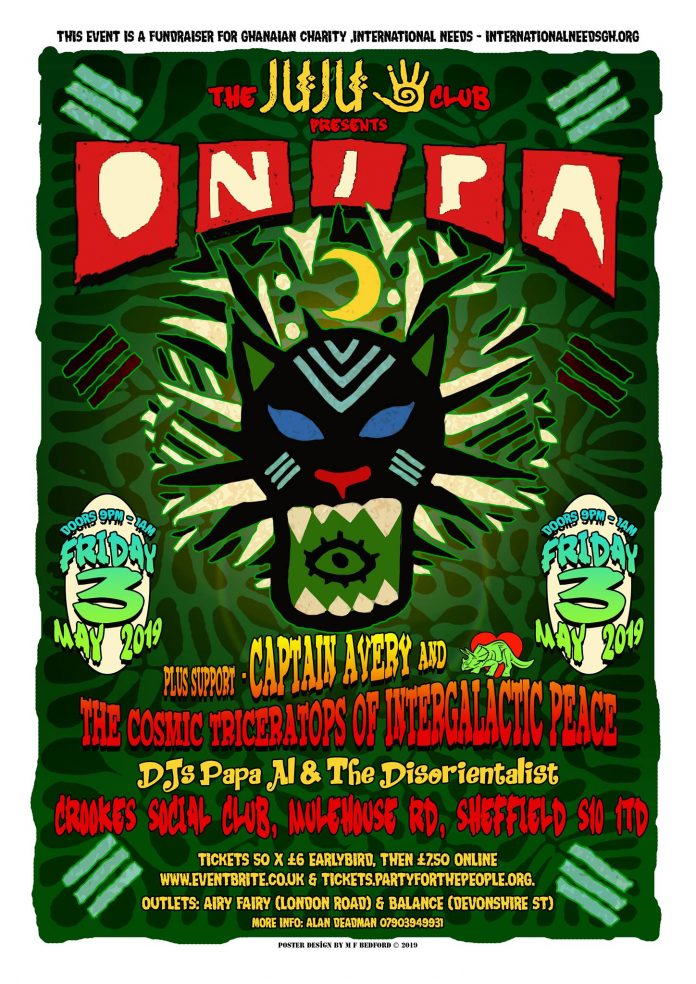 Over thirty years ago, before many readers were born, The JuJu Club of Sheffield, devoted to promoting live world music bands with the emphasis on high energy danceability, took over Crookes Social Club, reigning there for seven years. In the course of those seven years as well as putting on some amazing nights, it managed to get the Social Club to change its old-fashioned rules in order to give women equal rights to men (before this change, women were only allowed into the club as 'guests' of male members!)
Fast forward to 2018 and Papa Al from the JuJu Club saw two amazing bands play in Sheffield. One was Captain Avery and The Cosmic Triceratops of Intergalactic Peace: psychedelic space miscreants with a fantastic back story of stranded space travel, who were launching their first album 'Mutant Disco' in Cafe Deli. The other was Onipa, the latest creation of Kweku Sachey, universally know as KOG, and Tom Excell, the man behind the highly successful Leeds band Nubiyan Twist.
Onipa had just put out their first single 'Open My Eyes' (Released in September) and were playing their first gig in in Sheffield in the unlikely setting of Workstation Reception. The place went wild, as if an uncontrollable dancing fever had taken them over. Papa Al, one of the first infected, claimed that this was the most exciting band he had seen for years, and phoned their agent the next day to book them.
Now both bands will come together for a storming gig on Friday May 3rd, and Al has dusted off the JuJu Club banner, and booked Crookes Social Club, the old stomping ground with its huge danceflloor for the night. The event is also a fund raiser for a charity in Ghana, called International Needs.
Gig Details:
Date: Friday 3rd May
Venue: Crookes Social Club, Mulehouse Road, Sheffield S10 1TD
Tickets: £7.50 from Airy Fairy (London Rd), Balance (Division St), or online from Event Brite and Party For The People.
Doors: 9.00 pm to 1.00am.
Facebook Event Address: https://www.facebook.com/events/226765181534792/