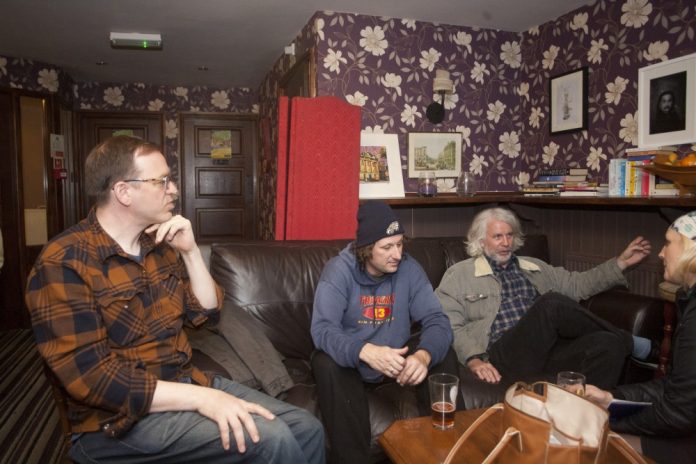 Carlton Melton are one of the biggest bands on the psych rock scene at the moment. I caught them for a natter on the Todmorden leg of their whistle-stop tour of their new album 'Out to Sea', organised via Was Ist Das? and White Rabbit Promotions. See our gig review
They're made up of Andy Duvall (drums, guitar), Rich Millman (synths, guitar) and Clint Golden (bass guitar, drums).
The band are known for their powerful use of improvisation and experimentation both in the recording studio and on stage. They frequently responded to my questions with answers that were as synergistic as their musical style.
You can't help but wonder how a trio of Northern Californian musicians feel about this part of the world. When asked, the band explains that they have a fondness for West Yorkshire "You'd be surprised how much this area reminds us of Northern California. The look of it, the landscape; hills and trees. San Francisco can be a very damp city that's foggy all the time. And if people are into our music, even just one person is really into it, playing just comes naturally. It's always a blast playing here,' they assure me.
I guess it makes sense that this band are drawn to our gloriously atmospheric, albeit drizzly region, as this band is all about spirit – feeling and working with the inspiration of the moment.
Aside from the new album, they normally use their friend's geodesic dome/home to record in. In fact, they describe their music as 'Dome Rock' on their Facebook page. They explained the set-up to me, "We go to visit our friend, he lives in the dome. We have some fun: drink beer, have a BBQ, cook a lot of food…it's more recreational than anything. We have a good time and hang out with everybody. If music comes out, it comes out. We never plan it. If it didn't work out, it would still be a great weekend; you have the Pacific Ocean and Giant Redwoods right next to you."
I'm curious to know more about how playing in a huge Bucky ball affects sound. "When people are talking to you, when people are face to face with you, you can't hear a word they're saying but you can hear sounds from around the corner. We mic it up with a surround-sound microphone at the sweet spot and play," they explain.
The technical aspect of the band's sound intrigues many listeners, but I want to know how Carlton Melton view themselves. Andy explains: "For me, the music speaks, it says it all. It's almost telepathic communication between us, good friends making noise. Rich and I have been playing together for 25 years. Clint was the one who suggested we should play actual gigs, in 2009. This our fifth time over here in five years. I love meeting people that are into what we do. It's a thrill – blows my mind."
I ask how the scenes vary across borders. Andy replies: "Big cities are big cities, no matter where you are, and small towns are small towns. We're definitely not everyone's cup of tea but people who like us seem to really like us! Scenes are pretty similar, although our audience in the UK tends to be older people who are our sort of age – 47, 48ish – like tonight. When I play San Francisco, I feel like a grandpa. I could be someone's grandpa!" he adds with a chuckle.
What is the feeling the band most associate with their music, I wanted to know. Is it an outpouring of their inner spirits or is it a reflection on the universe, of what's outside them?
"It's however you look at it, I guess," says Rich, explaining that 'Out To Sea' broke tradition and was recorded in a studio rather than inside the dome. "We had a photograph that worked with a song title and it just sort of came together… We recorded with Phil Manley in his studio. Whatever trickled out, came out. We're still working on it. Whatever trickles out is the outer. You plant the bomb when you're recording and develop it when you play live. We don't write, rehearse, work on the music and then go into the studio to record. We just roll tape and see what happens. We each bring ideas and then jam and improvise."
This is a band who is doing things in a different way. "We do the most improvisation when recording – this is when our sound is in its loosest form. We hone it during the tours. It's completely ass-backwards," Andy says, and gives me an example. "I remember these guys were recording, I was in the other room, and came running in and picked up the drums. That sound was left on the recording."
It would be a pretty difficult task, but who would be a dream band member replacement for Carlton Melton if someone happened to acquire a temporary injury?
Andy's answer is instant: "I want to see Mitch Mitchell play with these guys!" he tells me. Rich contemplates for a moment and answers thoughtfully: "I would have to choose someone who would know all the songs. Dave from White Manna – a really good band – he knows all our songs so he would be a great choice and he'd agree to do it!"
Whilst on their live circuit, Carlton Melton are proud to play alongside support bands from local areas. "We've played with a band from Manchester – we are playing with local bands that the locals don't know," says Clint. "We're introducing bands to our crowd from 10 miles away. Like vert:x, they're from Chester. We always wanted to play with vert:x, we became friends after swapping CDs with them years ago. We've tried to get tours with them ever since so we're stoked about tonight!"
And with that, the spacey, futuristic sounds of vert:x descend on us and it's show time. The gig begins.