I hadn't been that excited about seeing a band live for, oh I don't know, absolutely ages – so I barely felt the cold as I made my way to The Lending Room to see Purple Thread for the first time. As is usual the 360 Club had put together an excellent line-up for the night. Of the two other bands I was also looking forward to seeing Edited People having reviewed their first single and inFade I didn't know at all – I love seeing bands that are new to me.
Just so you're warned this review will contain gushing, unrestrained adoration and somewhat slightly unobjective opinions. These won't be until later though.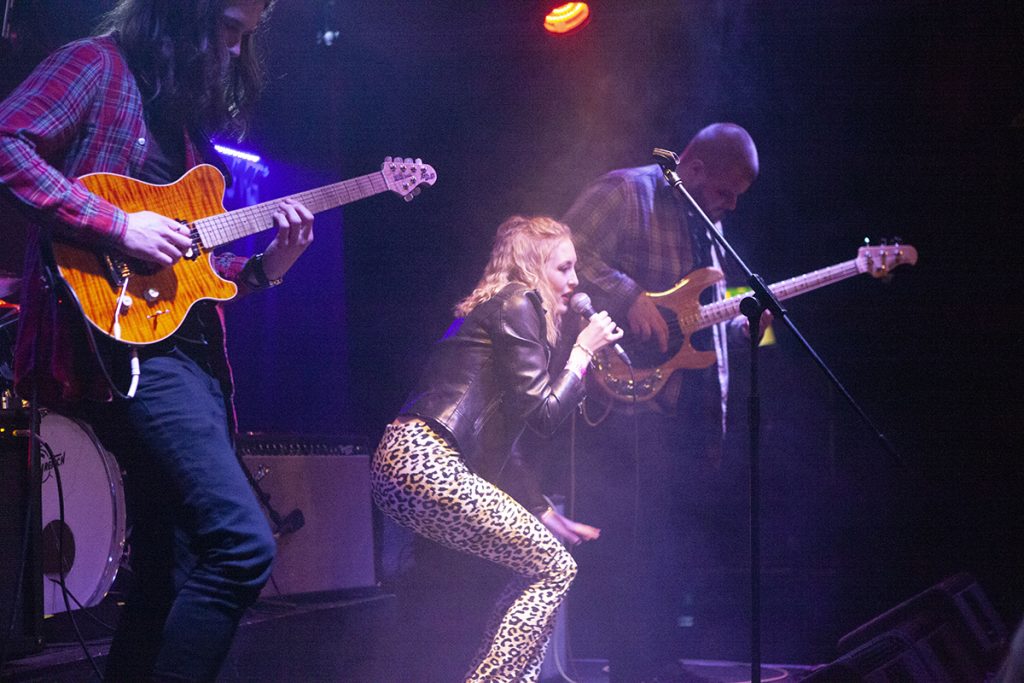 I'd been really impressed by Edited People's first single – 'Feel My Skin', the band's sound had intrigued me. So it was unfortunate that the first part of their set left me feeling somewhat disappointed. It's not that it was awful, badly played or sung but it was just that it struck me as rather more heavy rock or metal-ly in nature than the single. Having said that it was pretty obvious that the band could play really well – Josh is obviously a great guitarist, Thomas on bass is just providing a fab foundation and their drummer Laura (of which more later) was fantastic – and Alisha is a great great vocalist. It's just that what they were playing didn't grab me.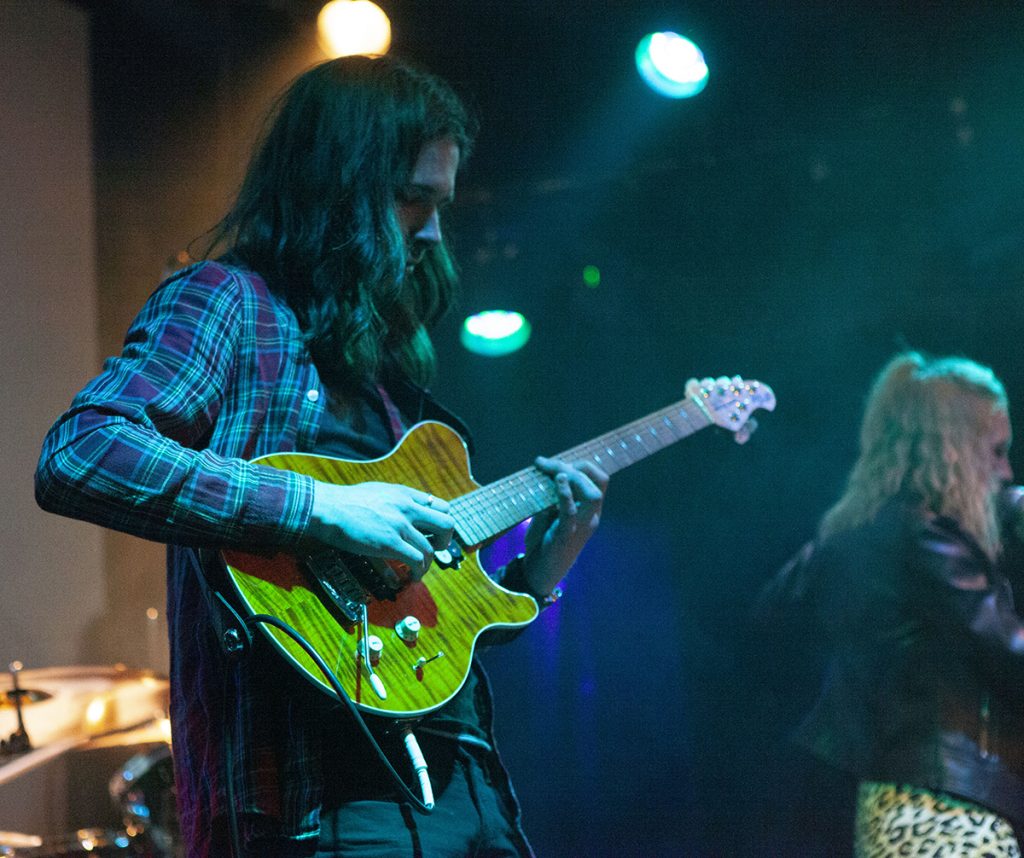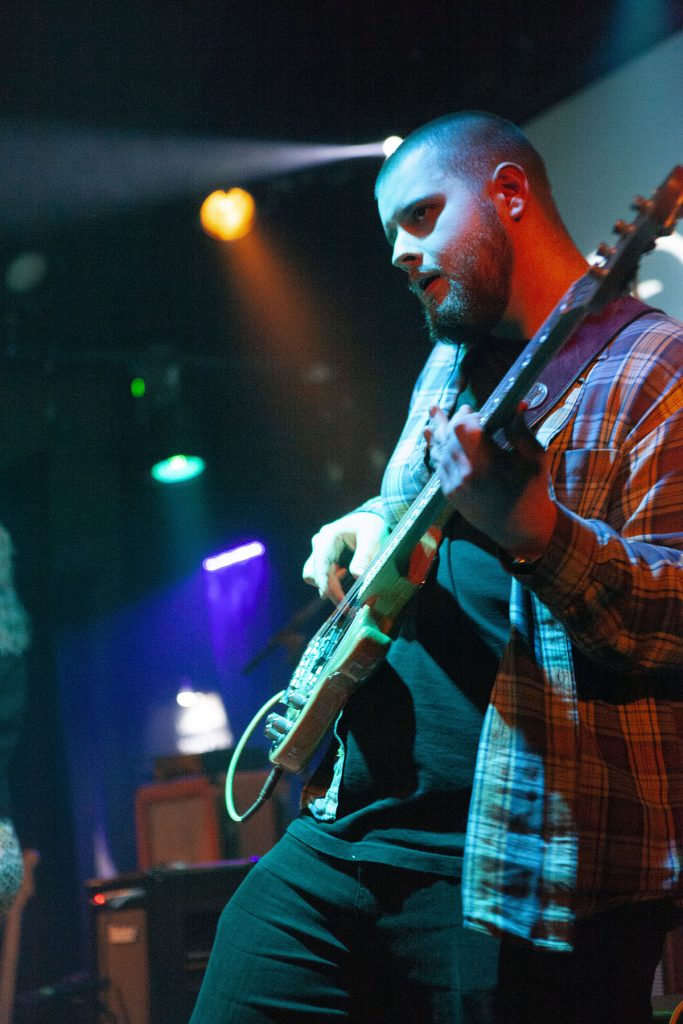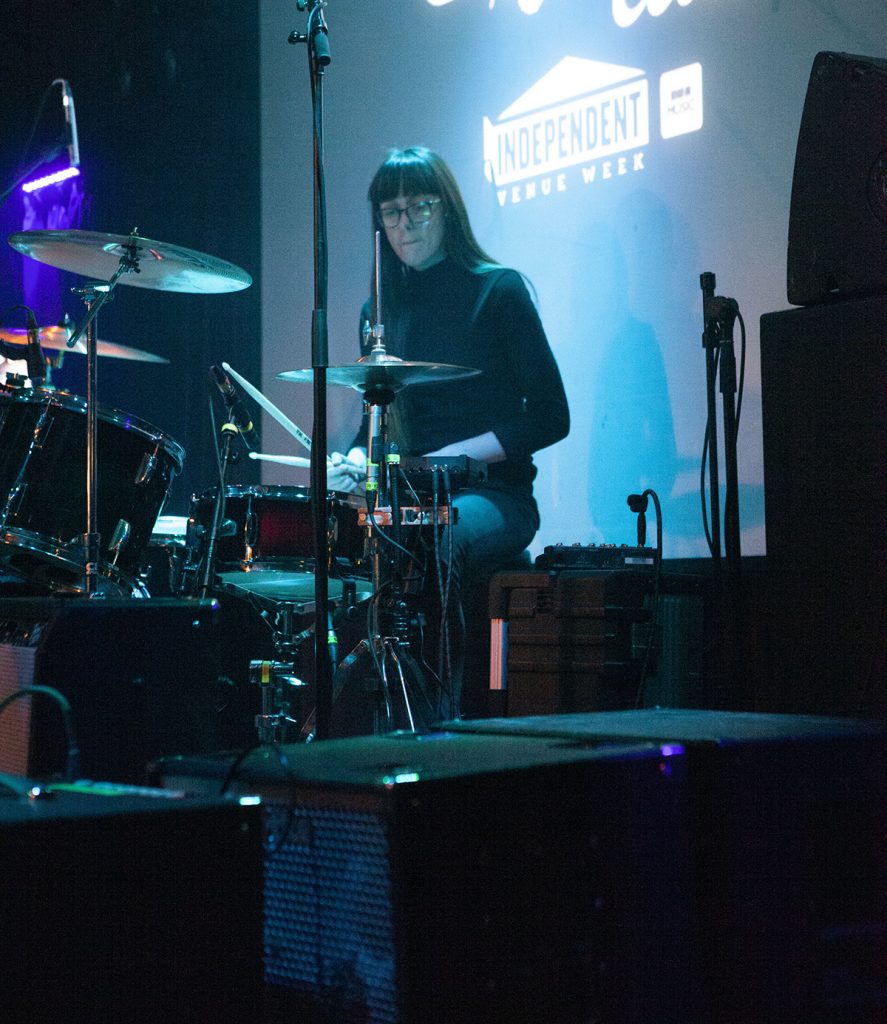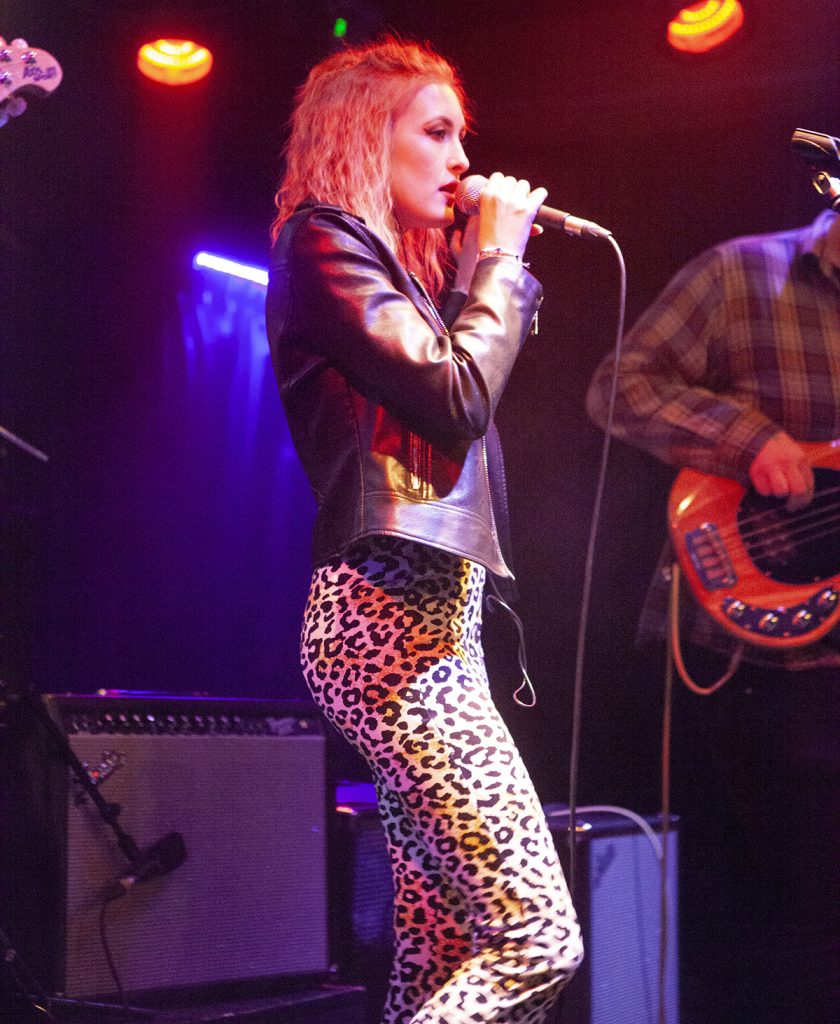 Their last single 'Midnight' was the first indication that the band had something 'up their sleeves' for this was rather less heavy rock and had something of an alternative edge to it. In fact from the point in their set where they played 'Feel My Skin' – and yep she did that yelp thing I so much liked when I reviewed it – things seemed to change. The guitar became cooler and more out there, the songs started to throw in stuff that you just didn't see coming, and – and this was something both I and somebody I spoke to after their set noticed – the drumming became way cool. In fact Laura's drumming was something of a standout thing for me. This isn't to say that there wasn't that heavy edge going on but it wasn't overwhelming. In fact I rather liked that there were things that sounded a bit System Of A Down if I'm honest.
If this sounds all a bit 'on the fence', all this does is reflect that for me their set was very much a 'game of two halves'. And it's not as though I was left feeling unimpressed because the second half of their set was actually fab. You, dear reader, may feel slightly differently, and I'd recommend catching them and forming your own opinion.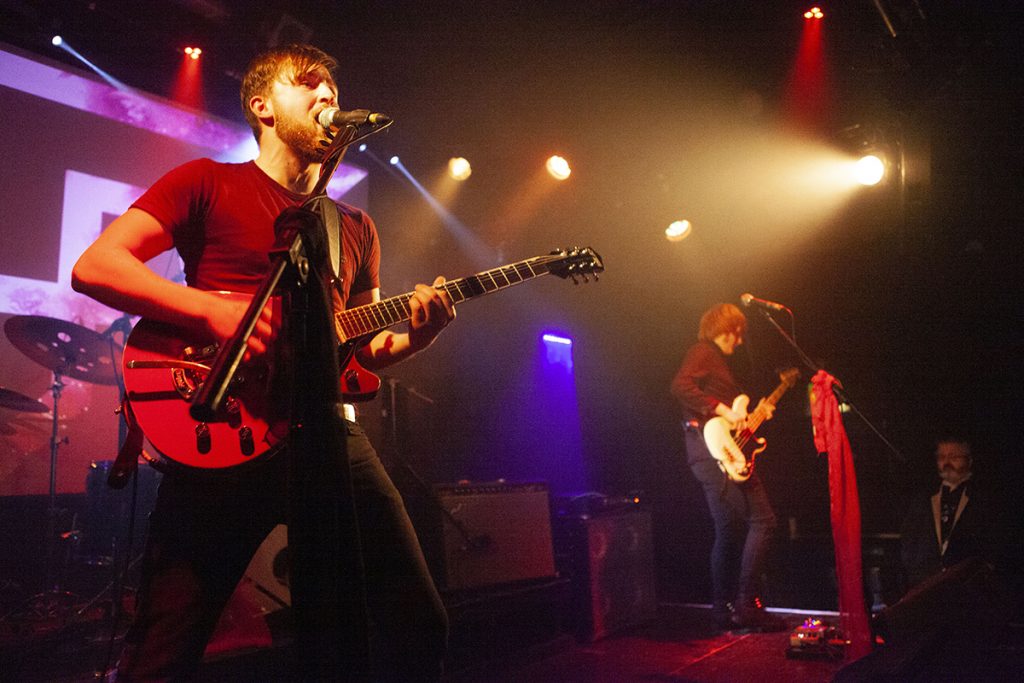 inFade start as they mean to go on. Their music is loud – no way way loud, heavy on the riff and thankfully free of any guitar heroics (I've kinda gone off guitar solos in heavy alternative music lately, I live for a riff!). They hover around that sort of heavy alternative rock, grunge-y riffing, almost metal thing BUT – and it's a big but – their stuff isn't same-y. At no point do I think 'well, this is just all sounding the same'.
Their third track is a slower number, a slow burner that has both a tune and groove. It was at this point that I really got into inFade. I also really took notice of the fact that this is band who really get into it, it's not a 'stage act' but it's visually exciting, they hardly ever stay in the one spot or just stand there, they're all over the stage.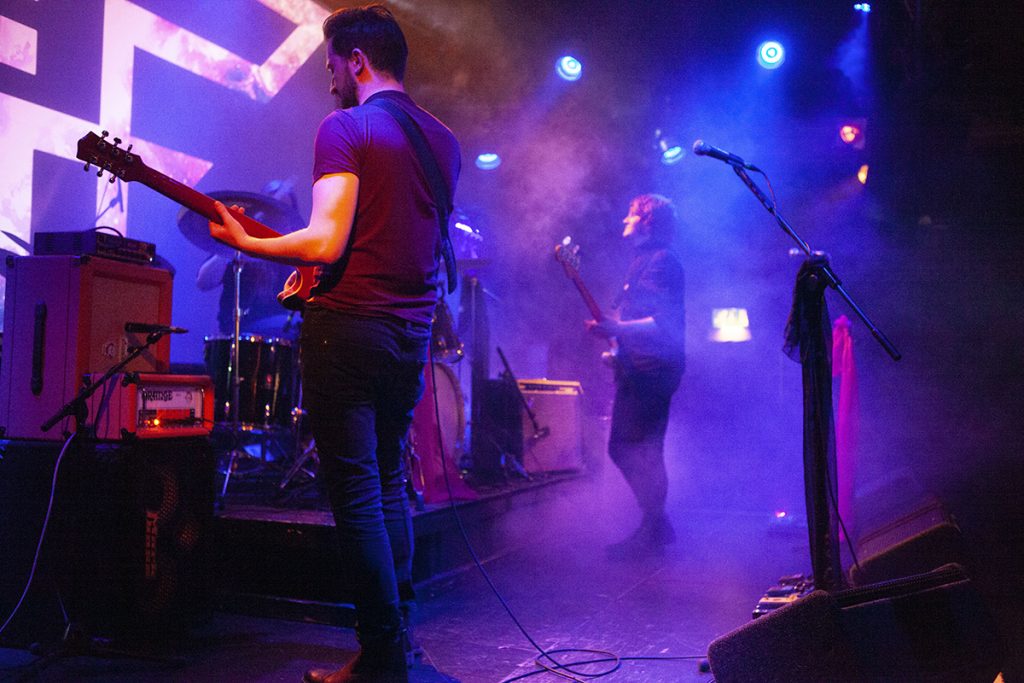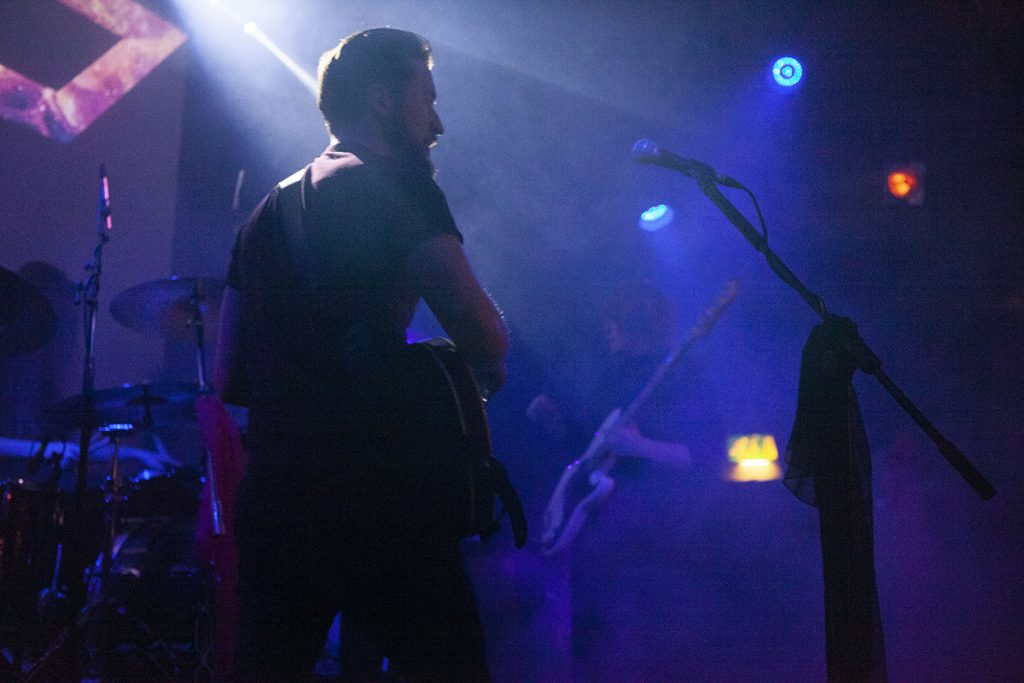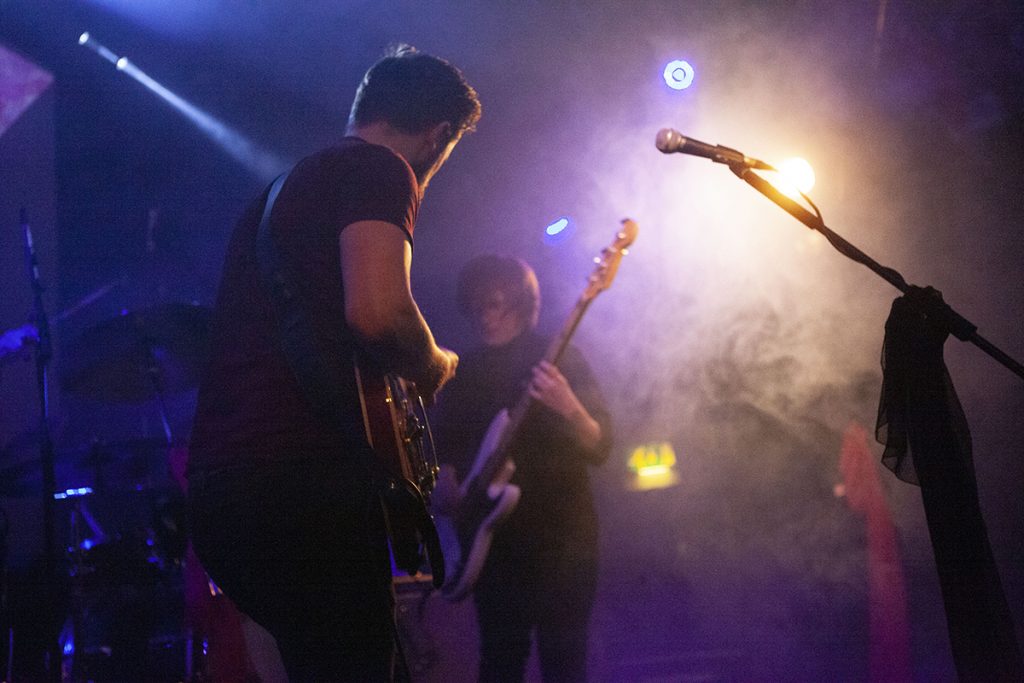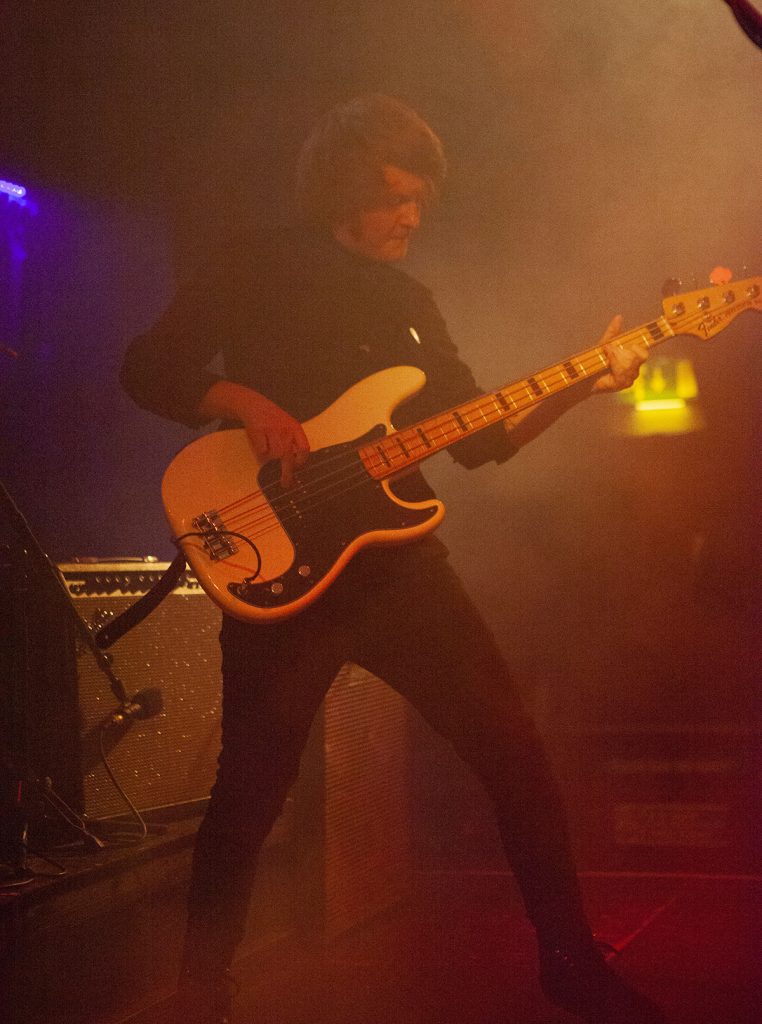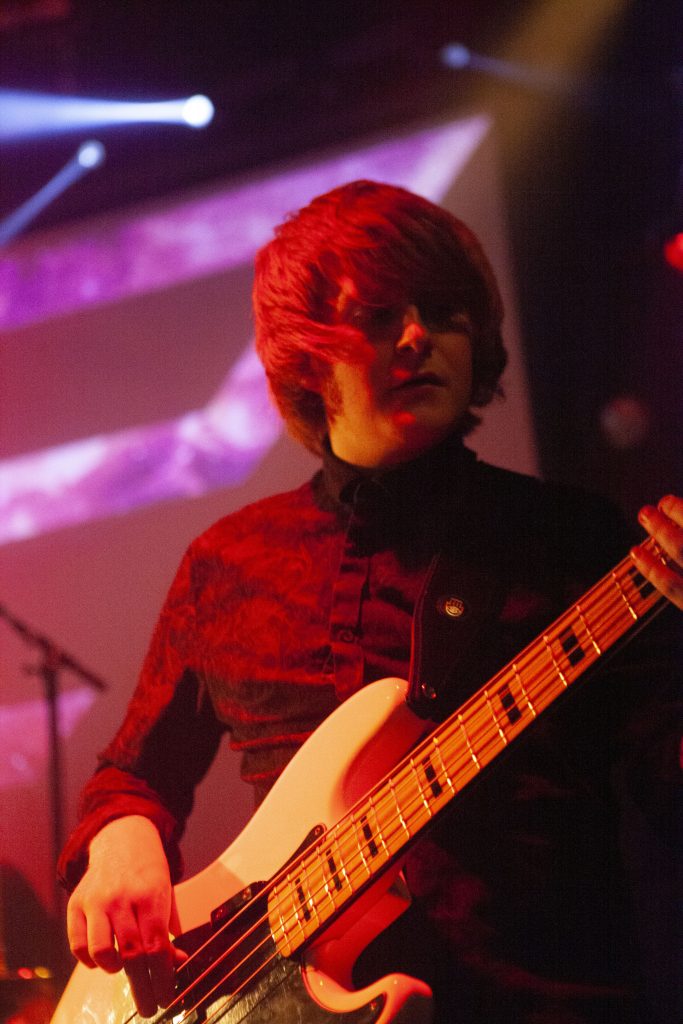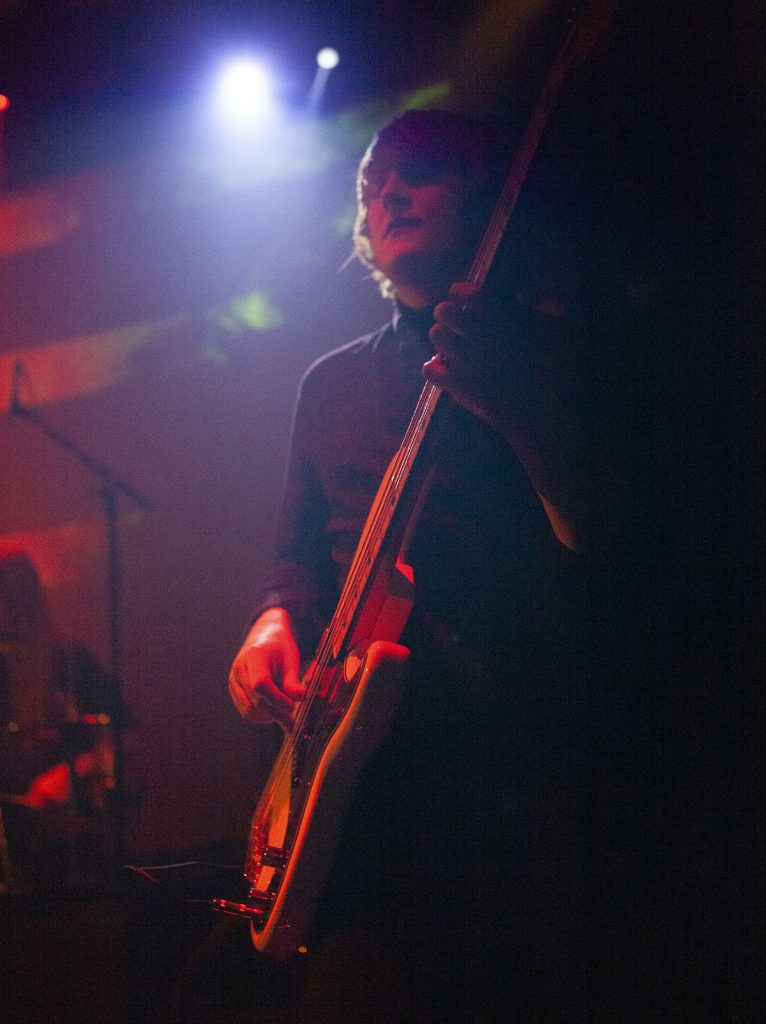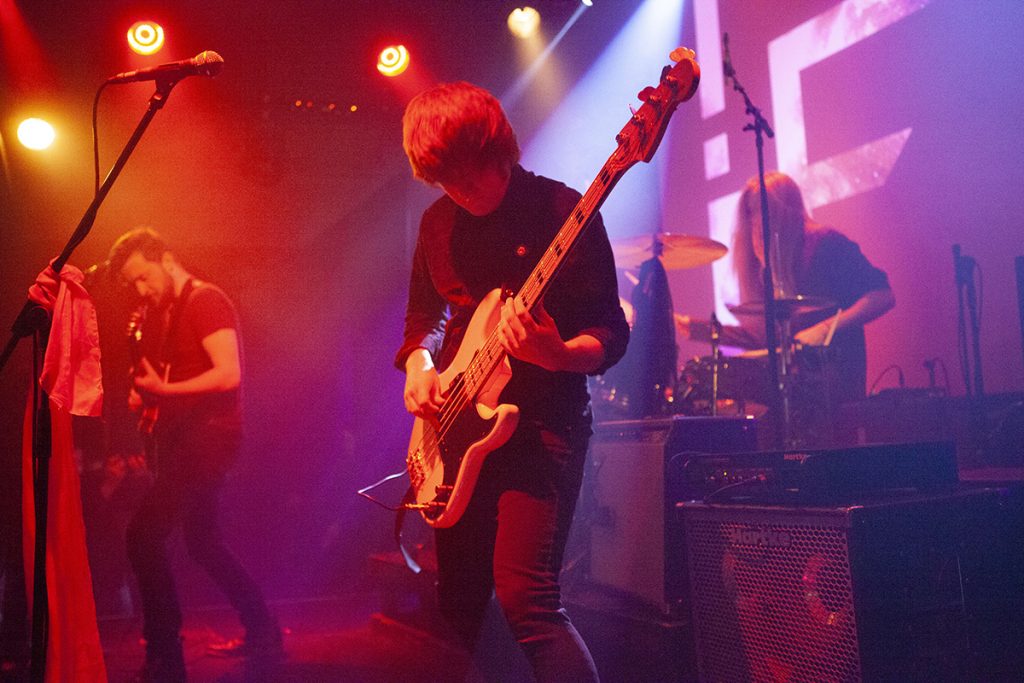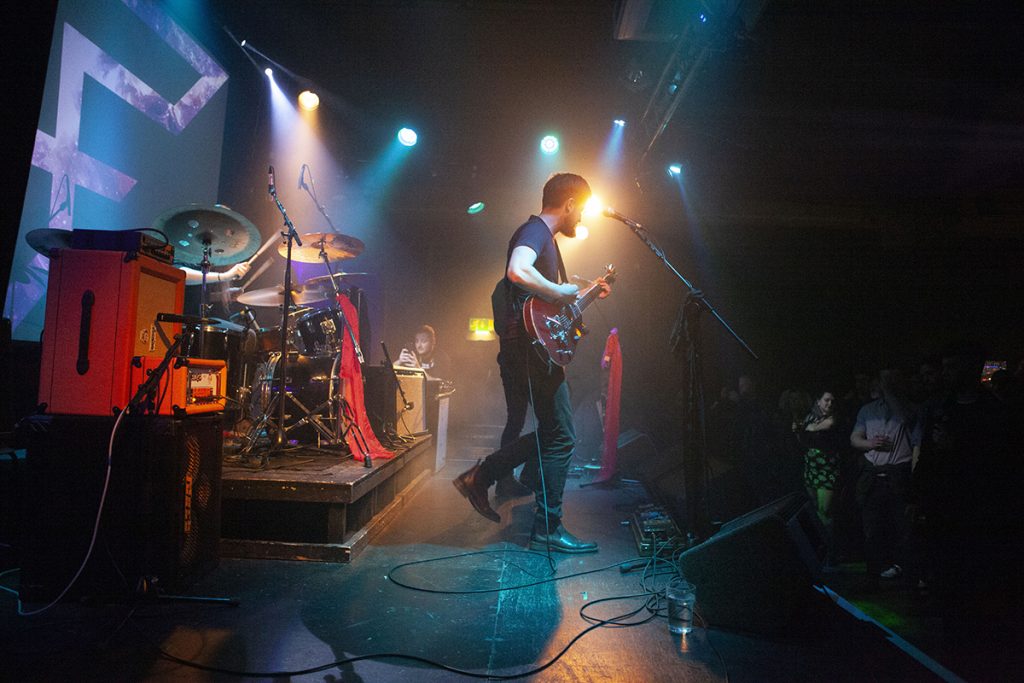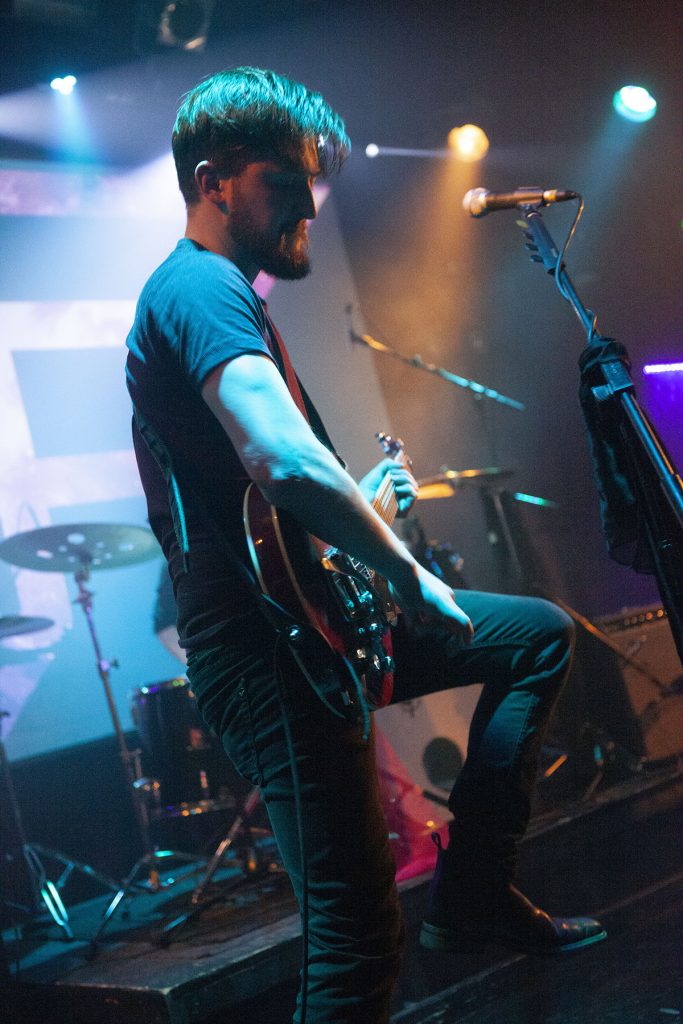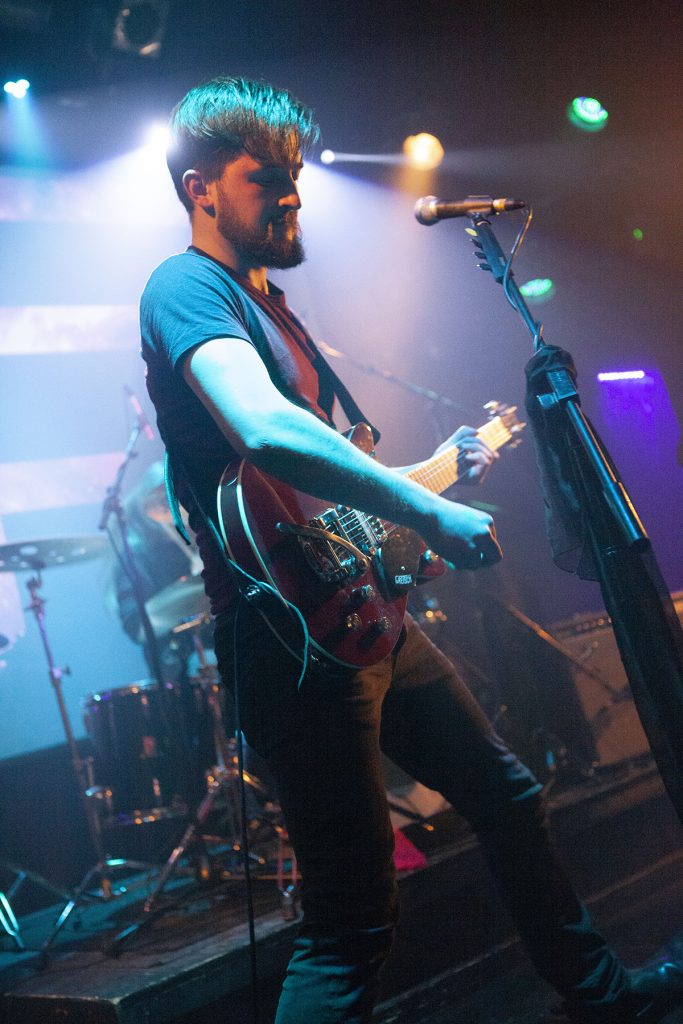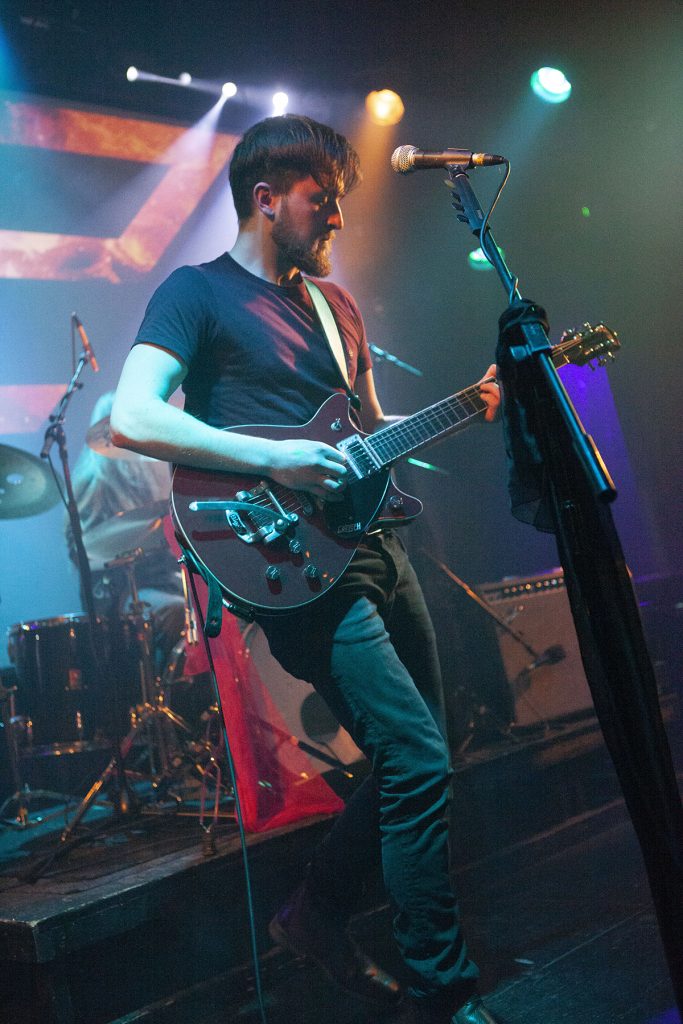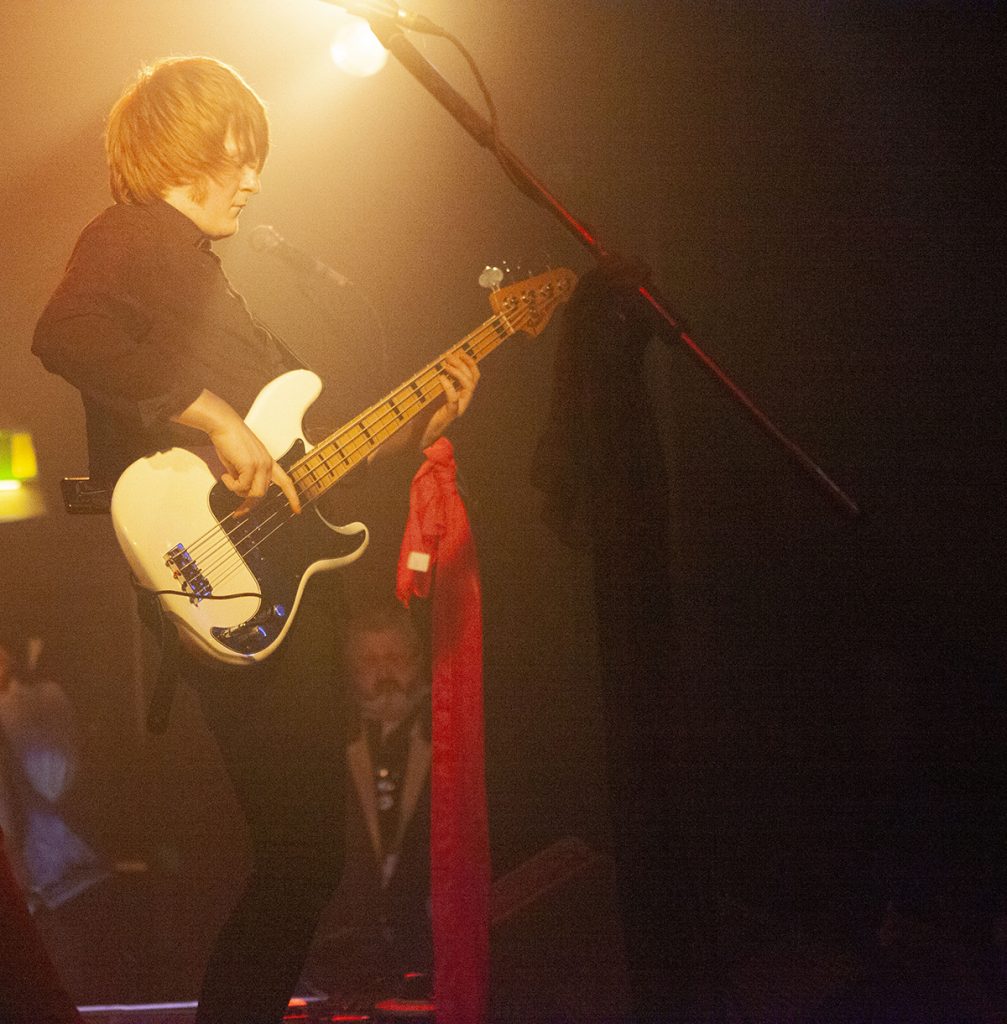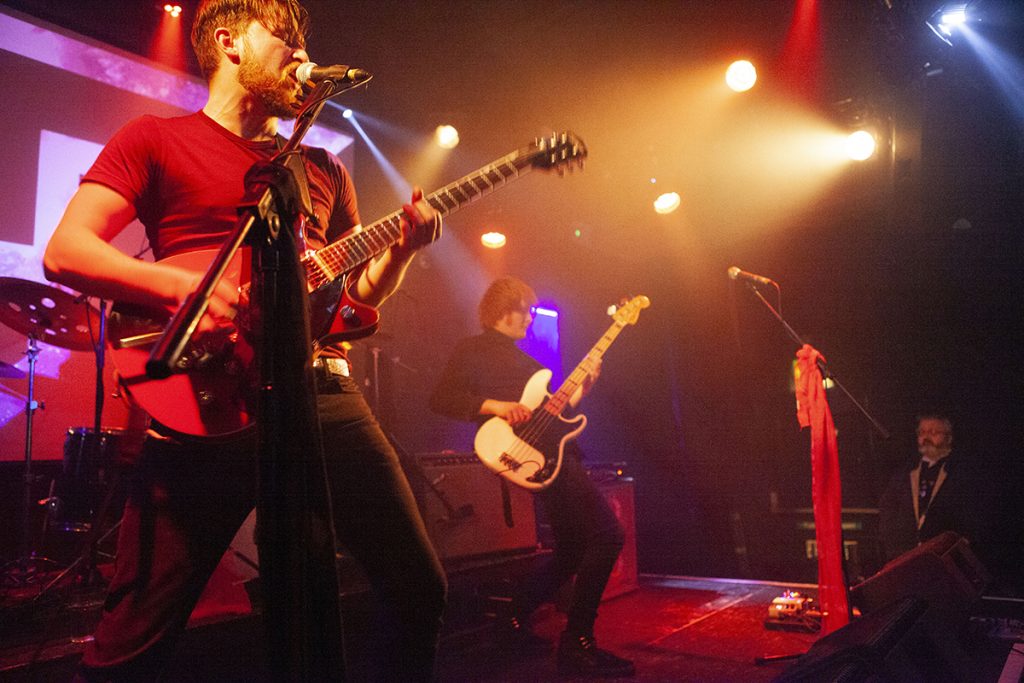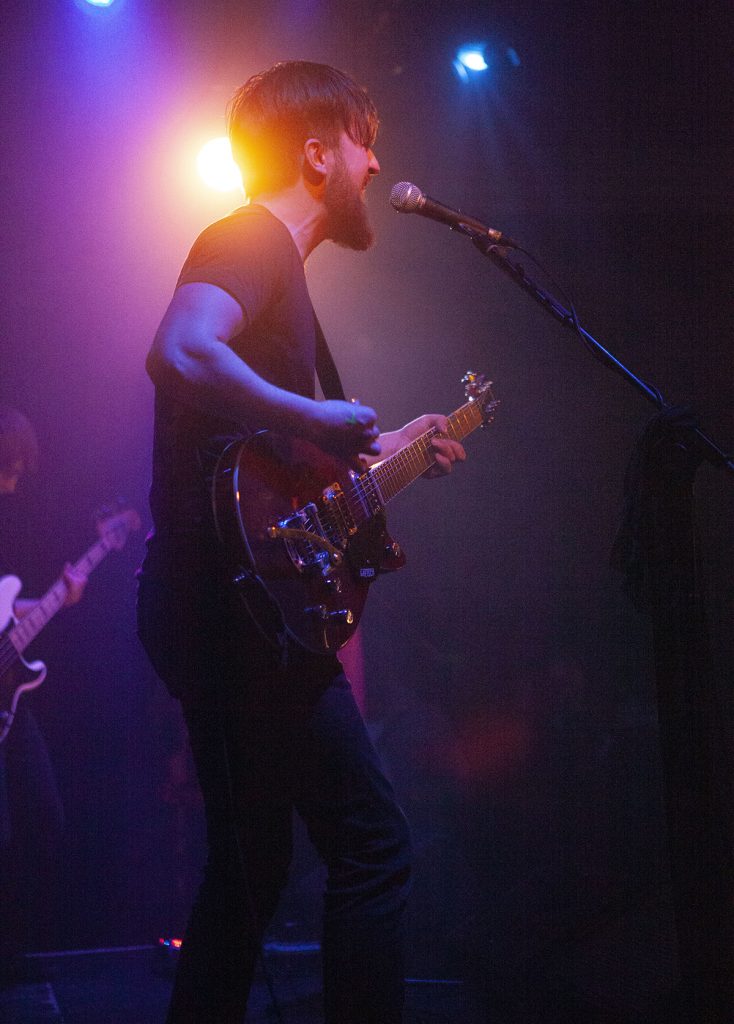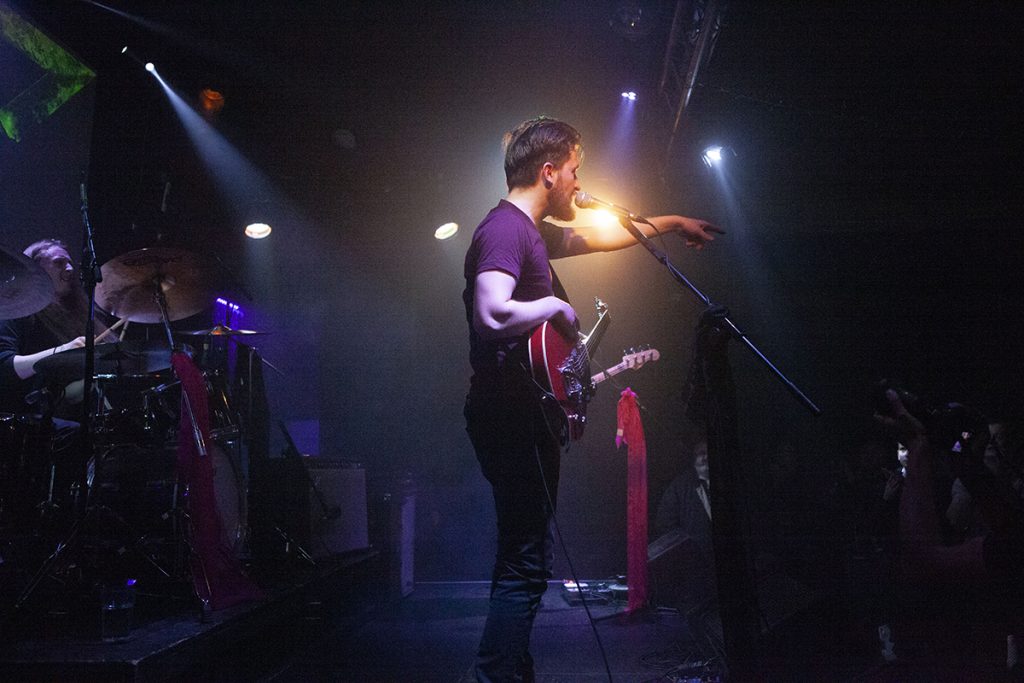 Stuff like this, that relies on three people locking into something, isn't going to work if they don't know what they're doing musically, and inFade can play, they play really brilliantly well.
The other standout song in their set was a new song that had a kinda almost blusey feel to it, a blues rock thing going on. This had of all things a guitar solo, it was short and at the very end of the song but it was a solo, but in the context of the song it worked for them to sneak one in.
inFade really impressed me, I'll be checking their upcoming dates so I can just go and see them rather than review them.
Warning: I said that this review would contain gushing, unrestrained adoration and somewhat slightly unobjective opinions, it's coming now.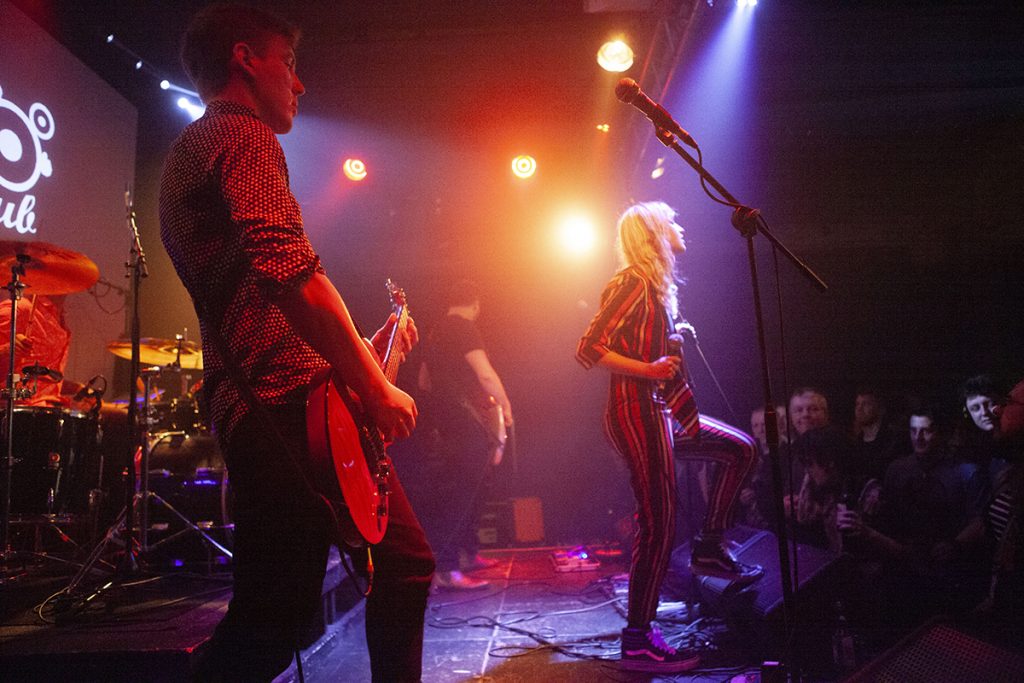 And suddenly I notice The Lending Room is fuller than it was before, there is a buzz of excited conversation for Purple Thread is on the way.
And then they are on stage, and they go from nothing to a what I can only describe as thrilling frenzy seemingly in no time flat. It's immediately fan-fucking-tastic, and that never, and I mean never, lets up.
Slight aside: This is the first time I have seen Purple Thread live. All I know of them is the recorded material and in particular the two singles I've reviewed. I already thought they were great and fabulous just from that. There are bands who I wait to release something just because I know I'm going to love the song or songs, Purple Thread are one of those bands.
Liz bounces all over the stage during the first song, and then suddenly about halfway through the song she starts playing guitar, it's a raucous sonic attack from the band. It's at this point I had to make a decision – attempt to keep on writing review notes and taking pictures or just enjoy it. What I decided, with a certain amount of regret, was that I had to carry on reviewing. This is hard people, what they do on stage is really hard to tear your eyes away from. Every time I had to look down to write something it meant I missed something. Every time I had to search for a good camera angle I missed something.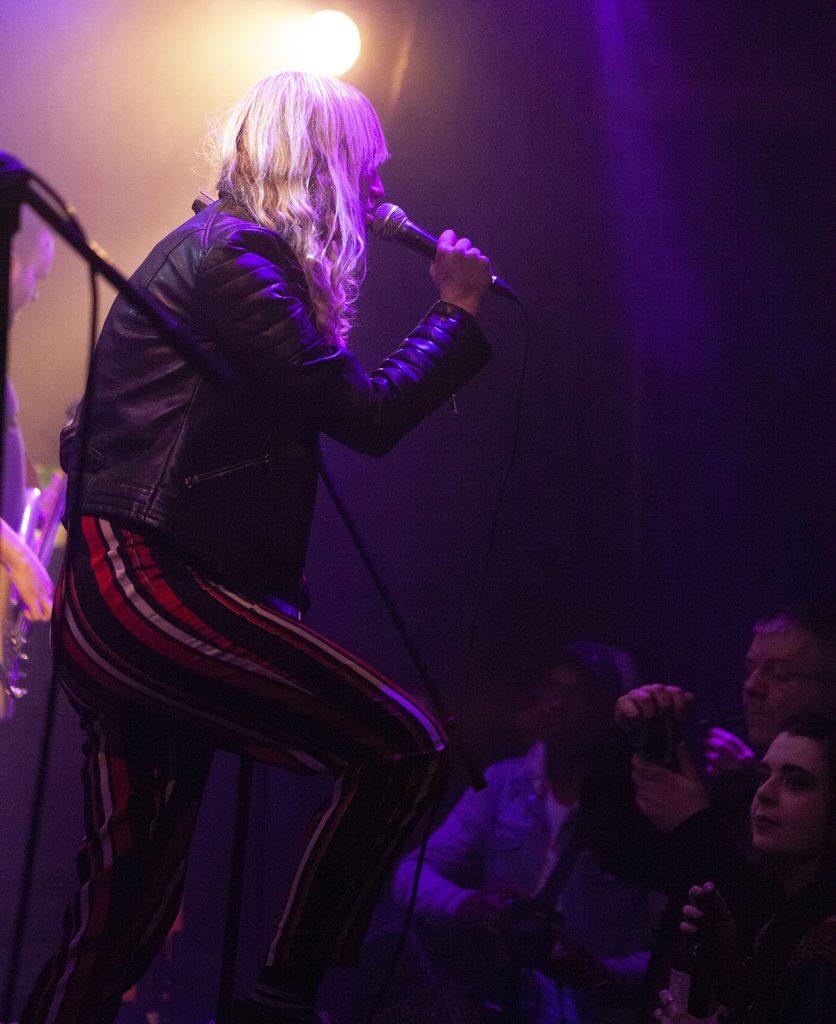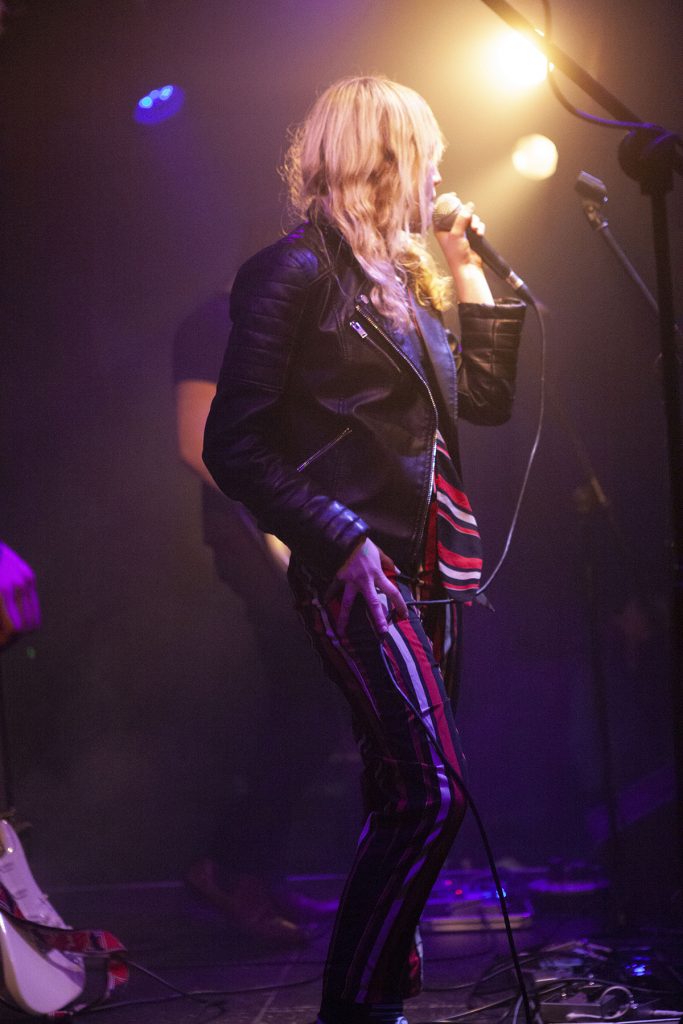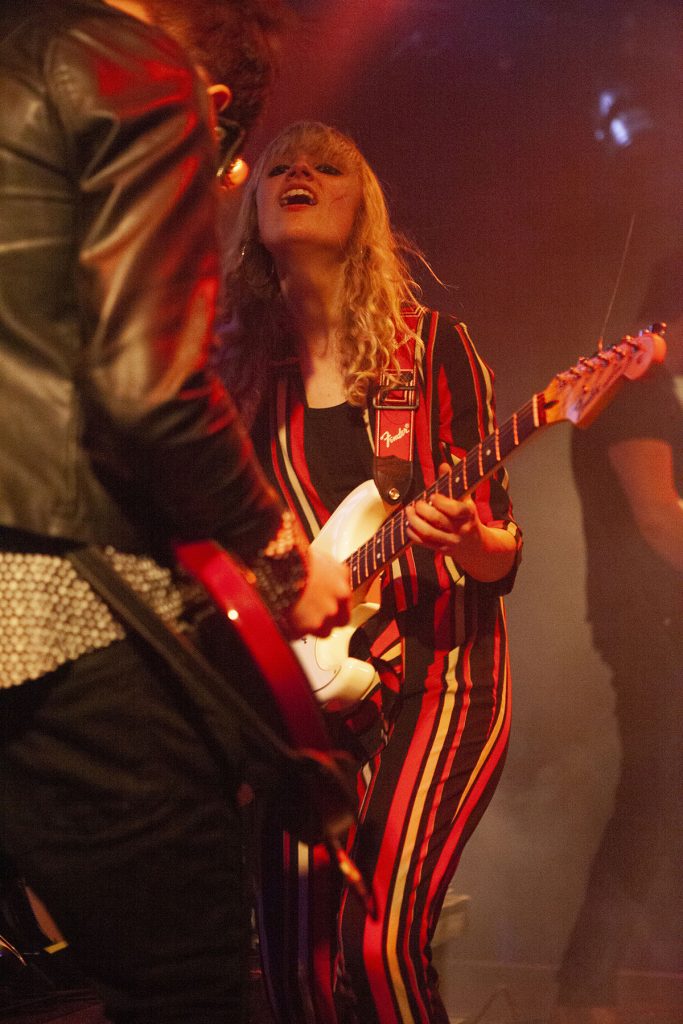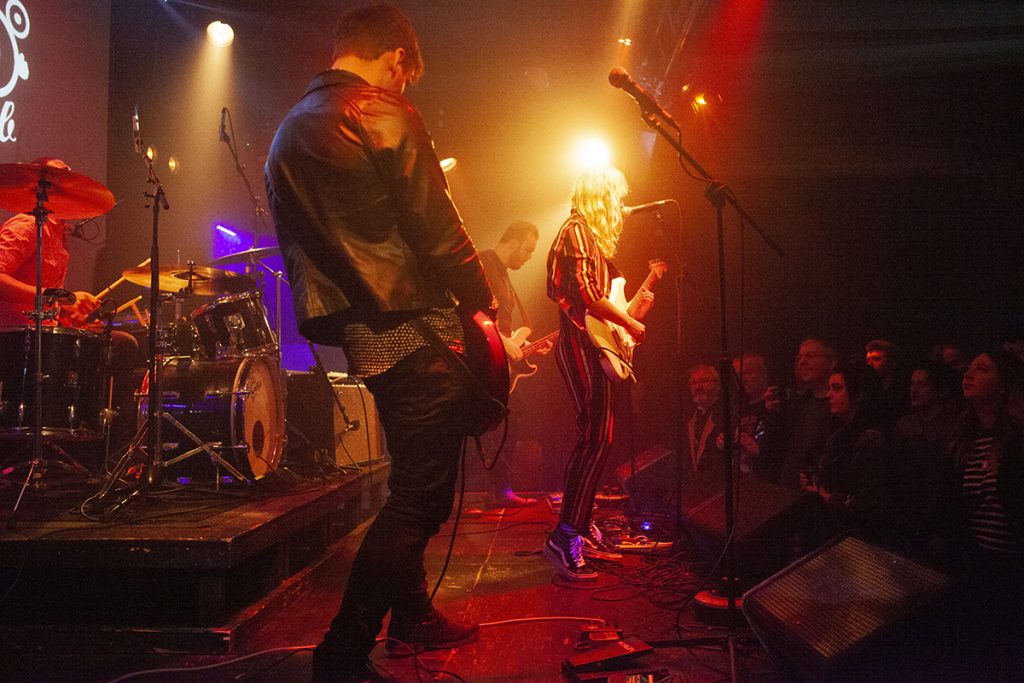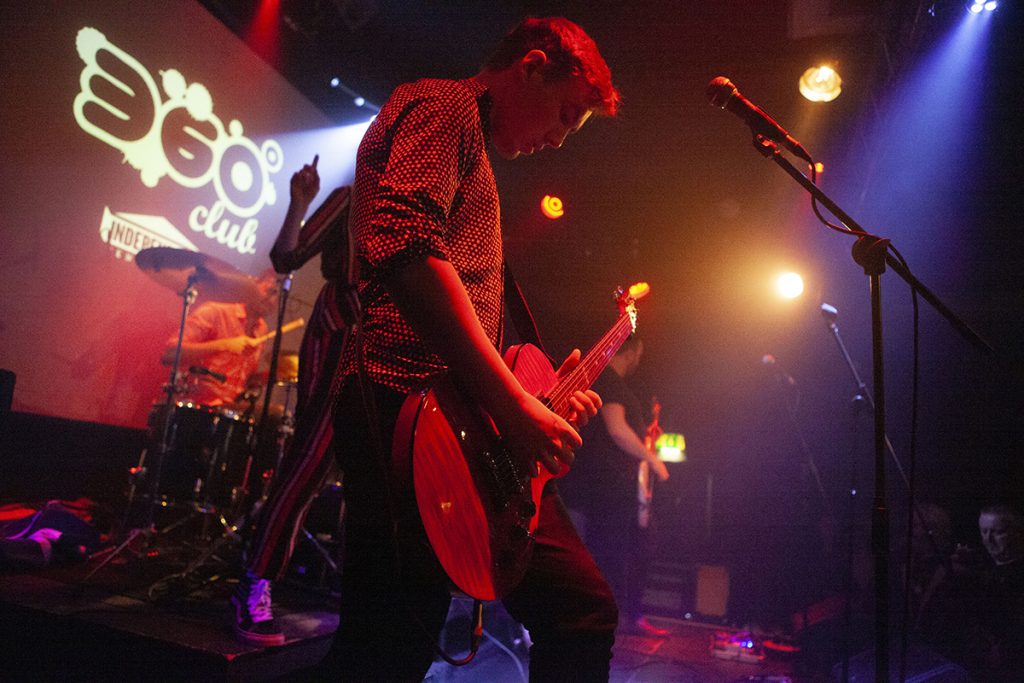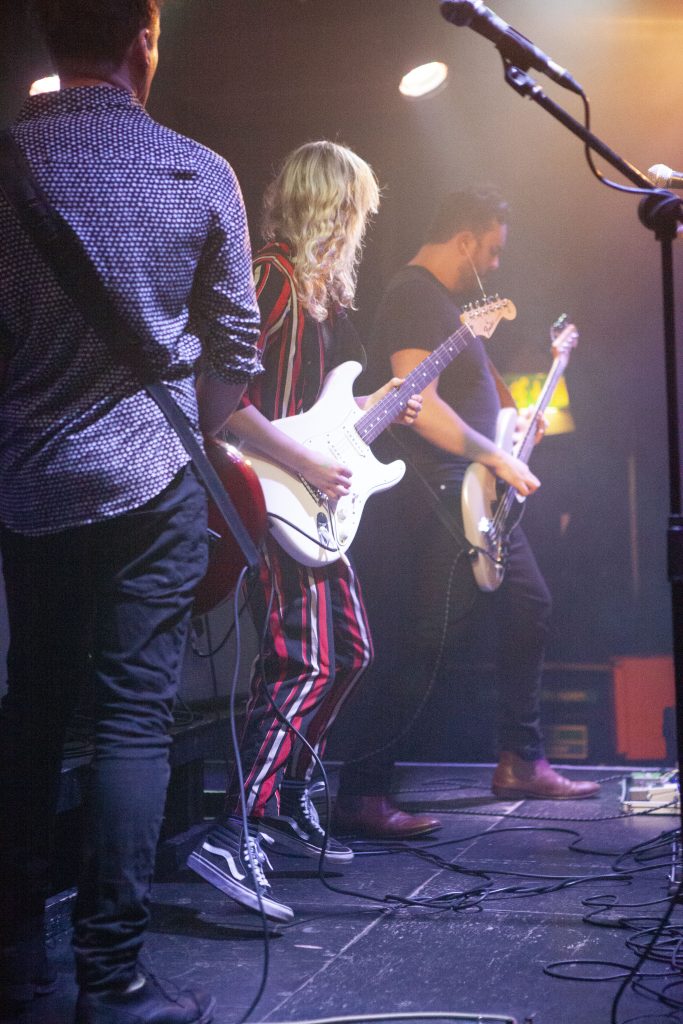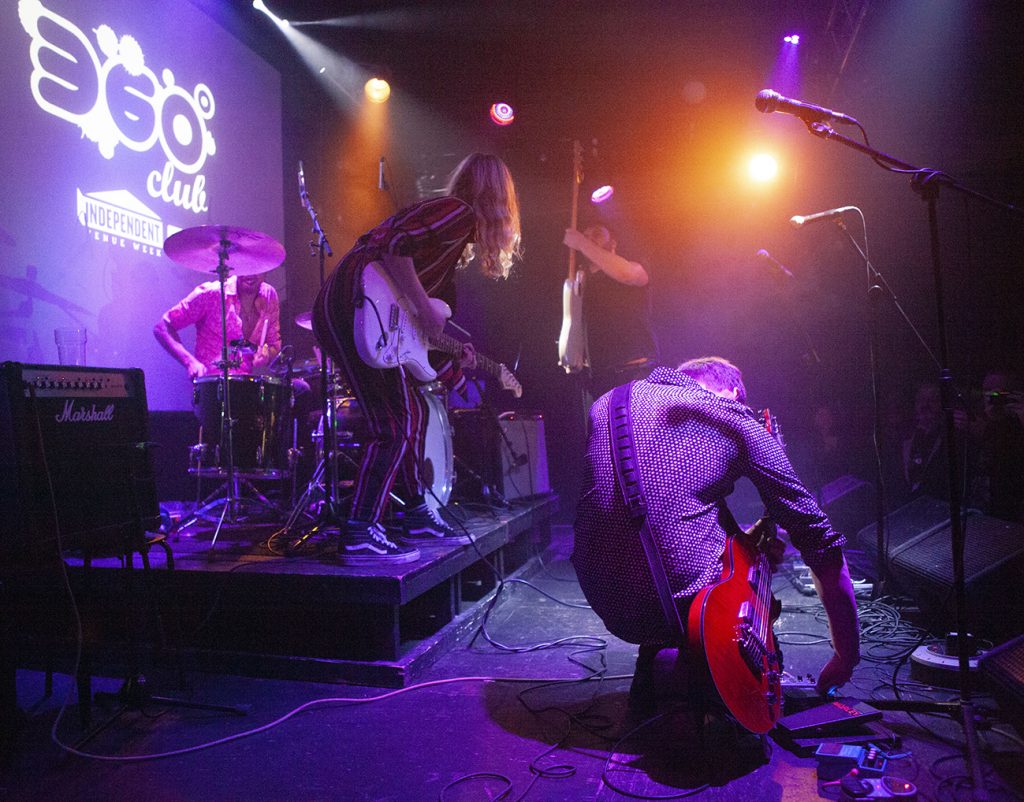 In an attempt to do 'the reviewer thing' I noted that Liz, even though she hardly ever stops bouncing and moving around the stage, is a great singer (I knew that already but sometimes the live experience of a great singer on recorded material can be disappointing), that Jack, James and Ryan really can play. Musically while it's raucous and all NYC punky the playing is fantastic.
The thing about their set is that there isn't one track that I felt was a filler, it's all good – no way way better than good. And the excitement level never lets up, it's frenzied and raucous all the way. Visually they're 'can't take your eyes off them', it's not an act, they're just doing what the music they're making leads them to do but they never just stand there and play. There may be certain things they do – standing on the drum riser in a row for example – that may be rehearsed or spontaneous but it felt organic to me.
As it's my first time seeing them, I only have the two things I've reviewed as touchstones – the upcoming single 'Something Good' (out on 4th February, watch out for our review) and 'Life's A Drag'. My notes – and what I actually wrote will show what a state of excitement I was in – say:
'And the new single is so so fucking good. It's kinda funkier kinda groovier (than the recorded version). And just way more raucous
'"Life's A Drag" positively rocks. It's a riot'
That's the two songs I know, the rest of their set I either missed the name of songs, when they were announced, or just don't know. This isn't very professional of me I know but sometimes this happens. What this does let me do is go for the overall impression. And that is that it was incredible. The songs don't all sound the same, they have their own individual identity, the feel is the same but they sound different.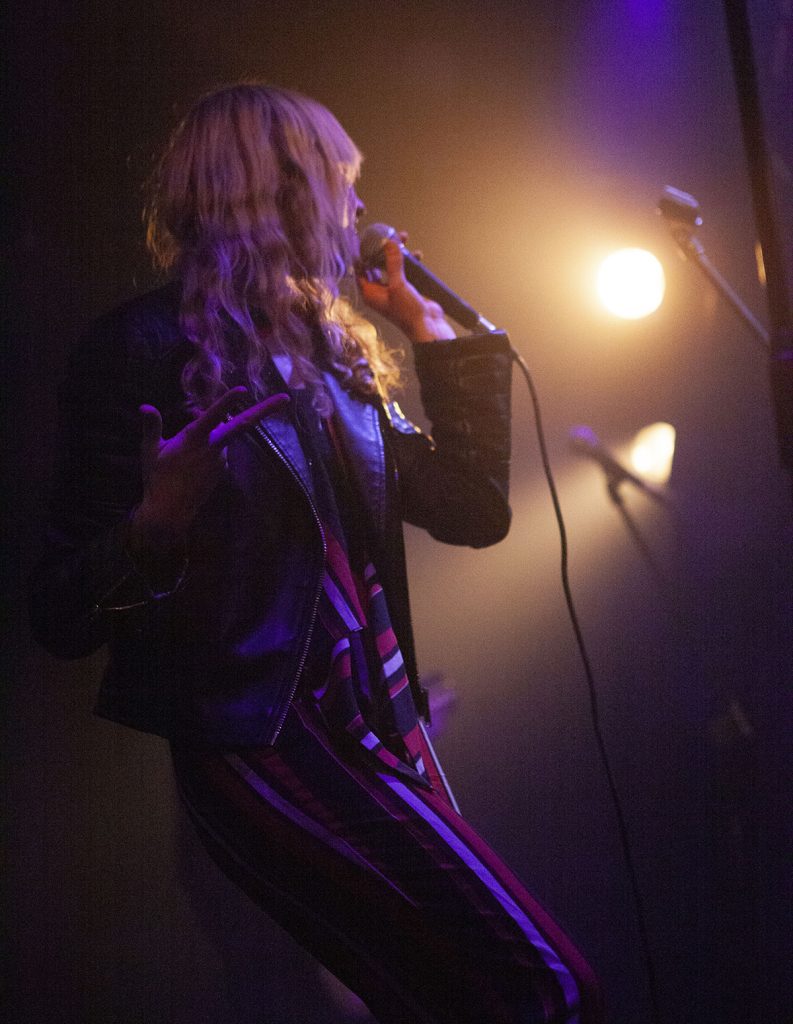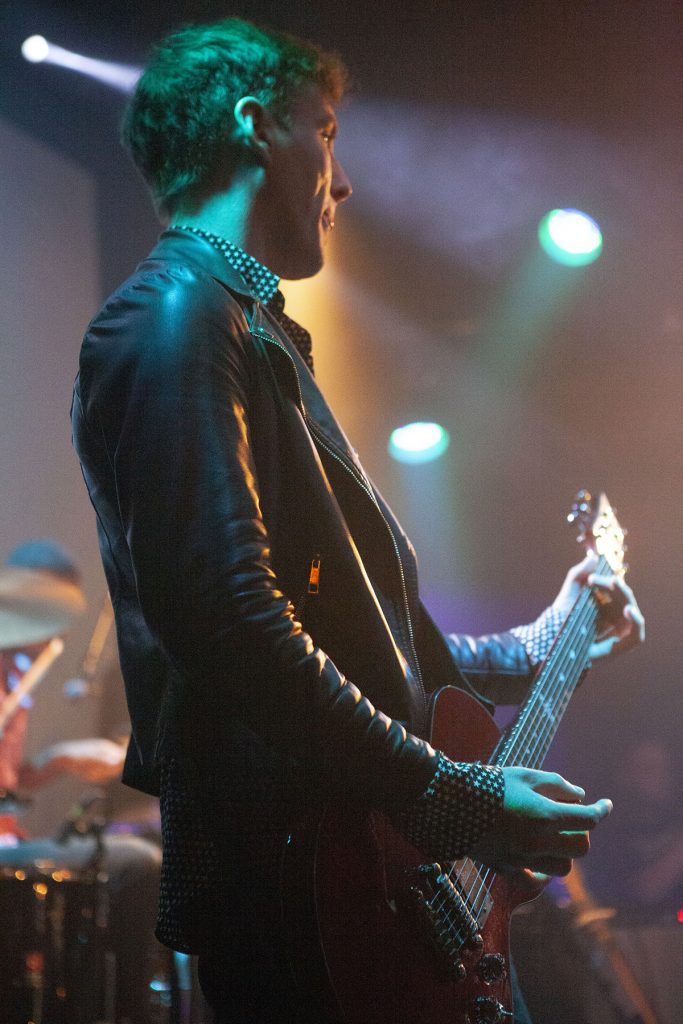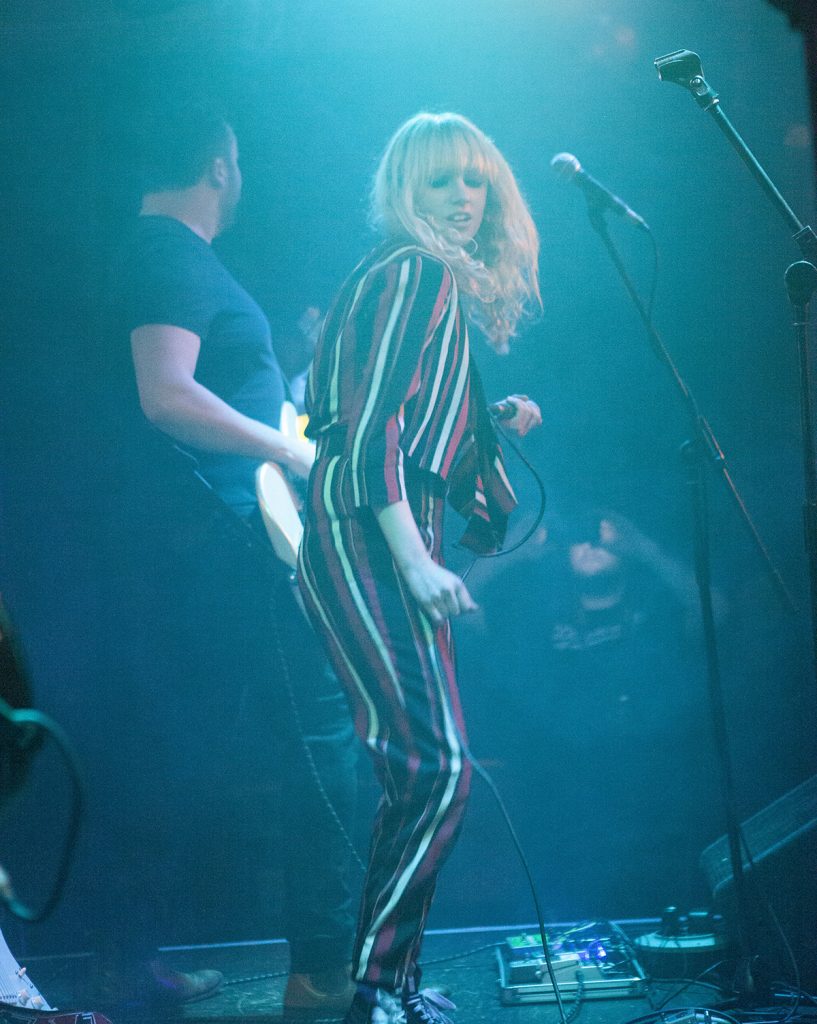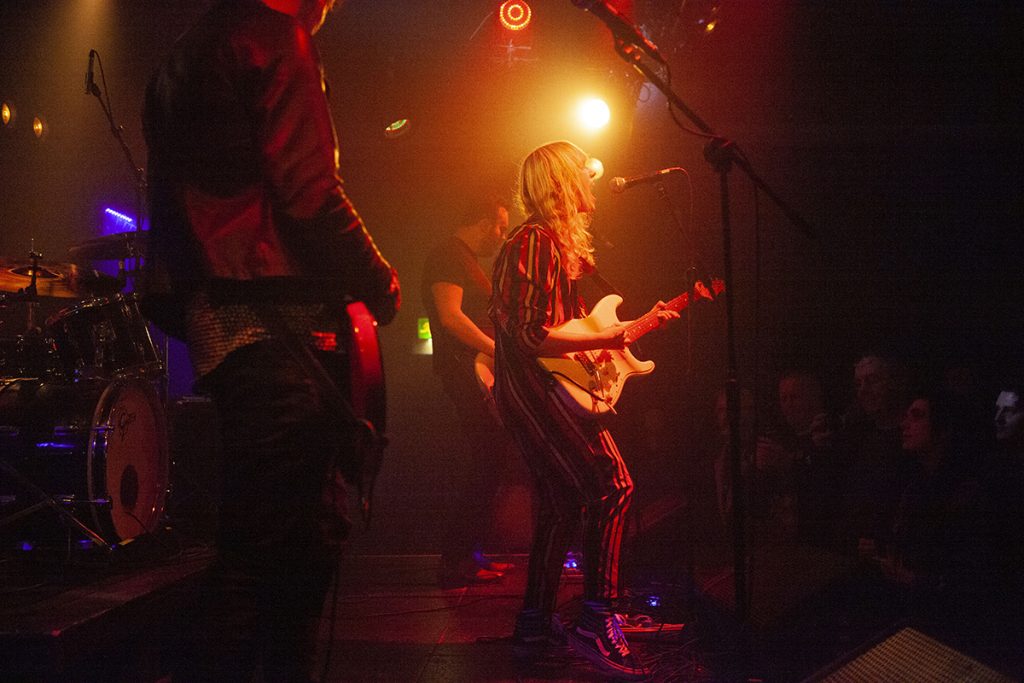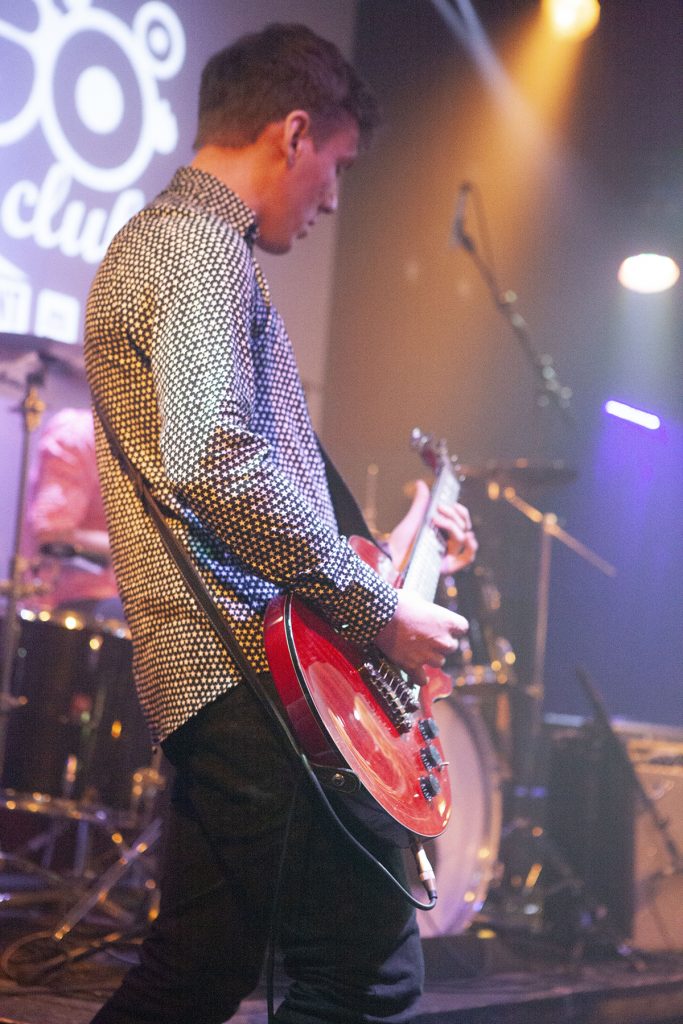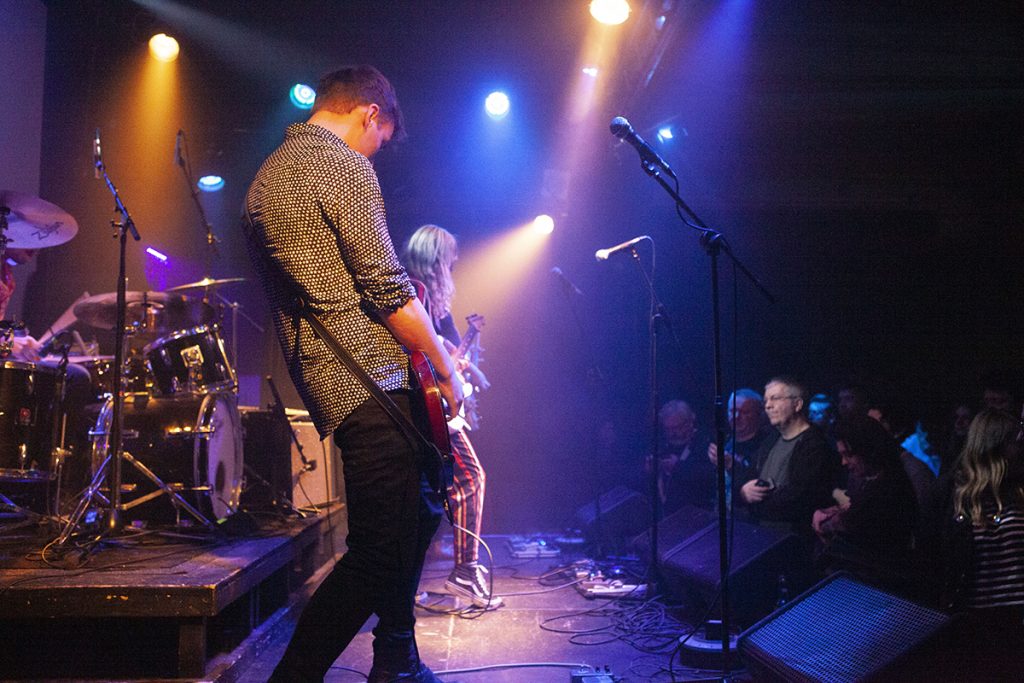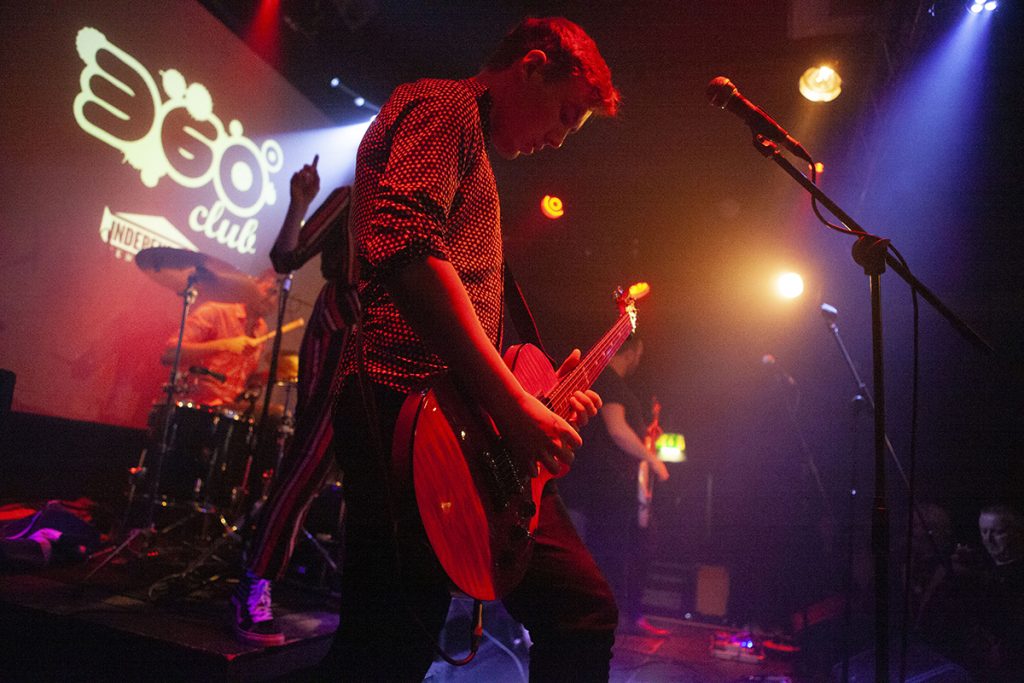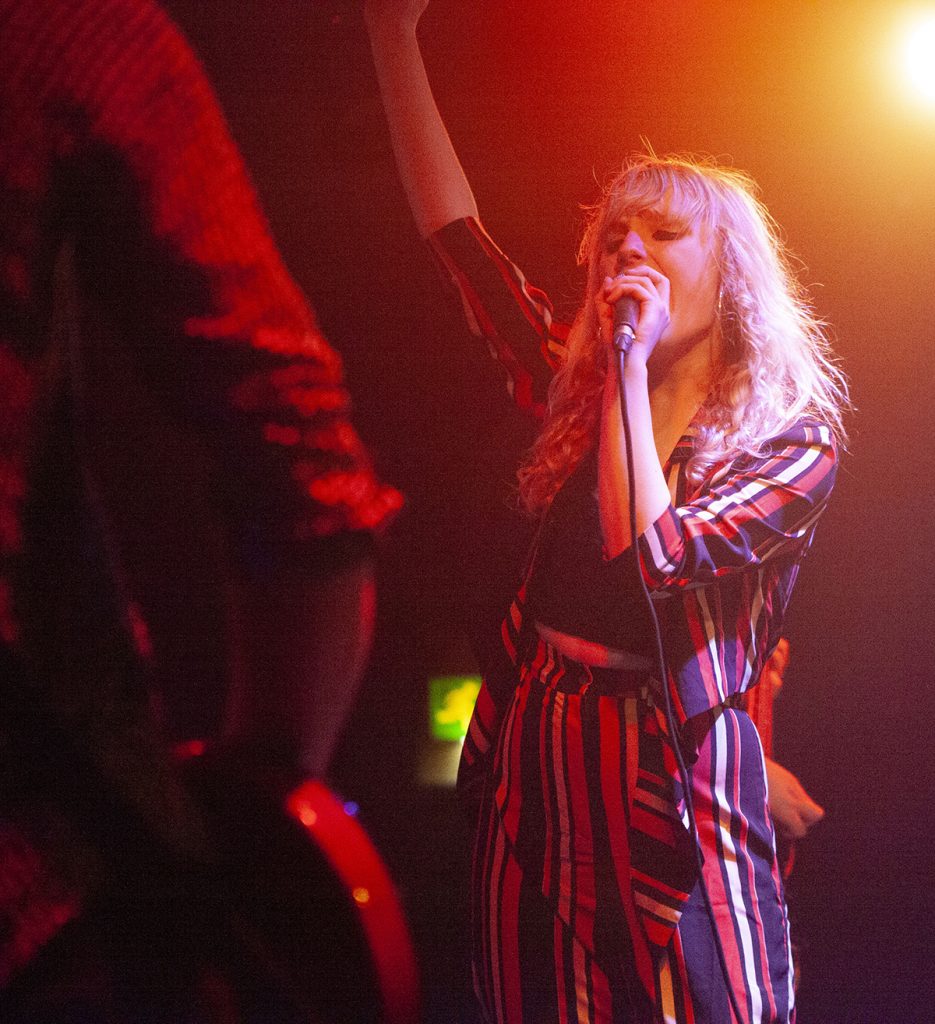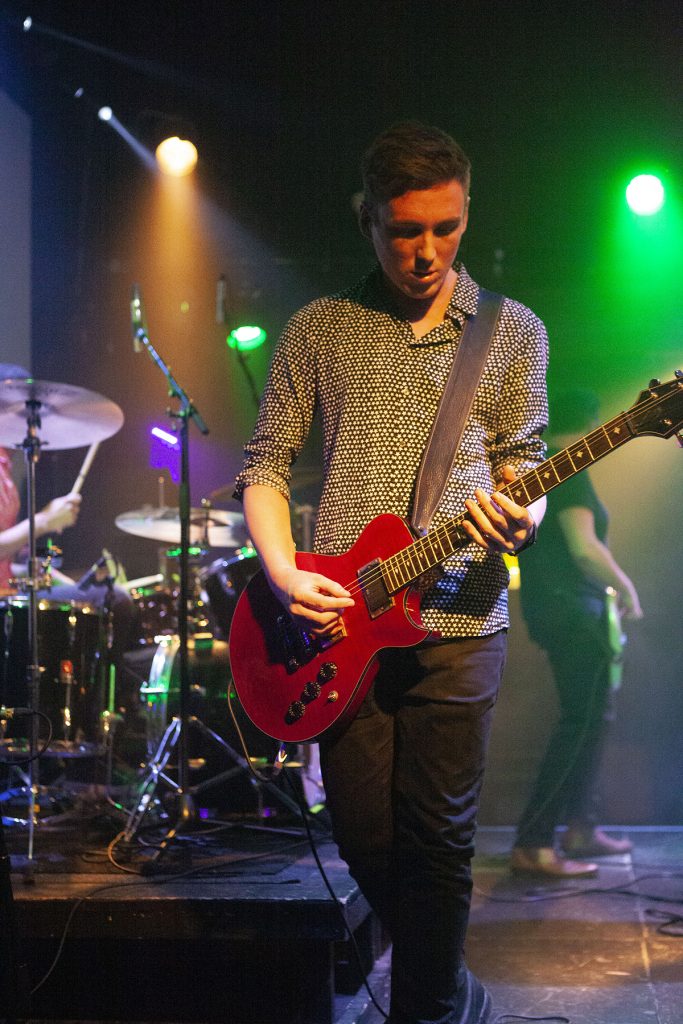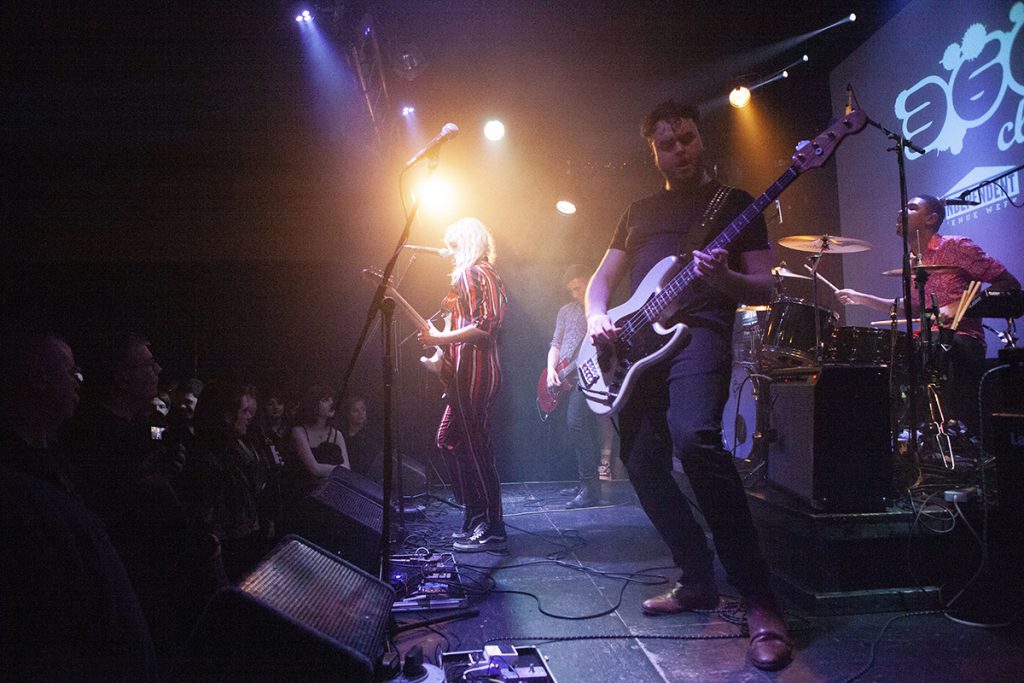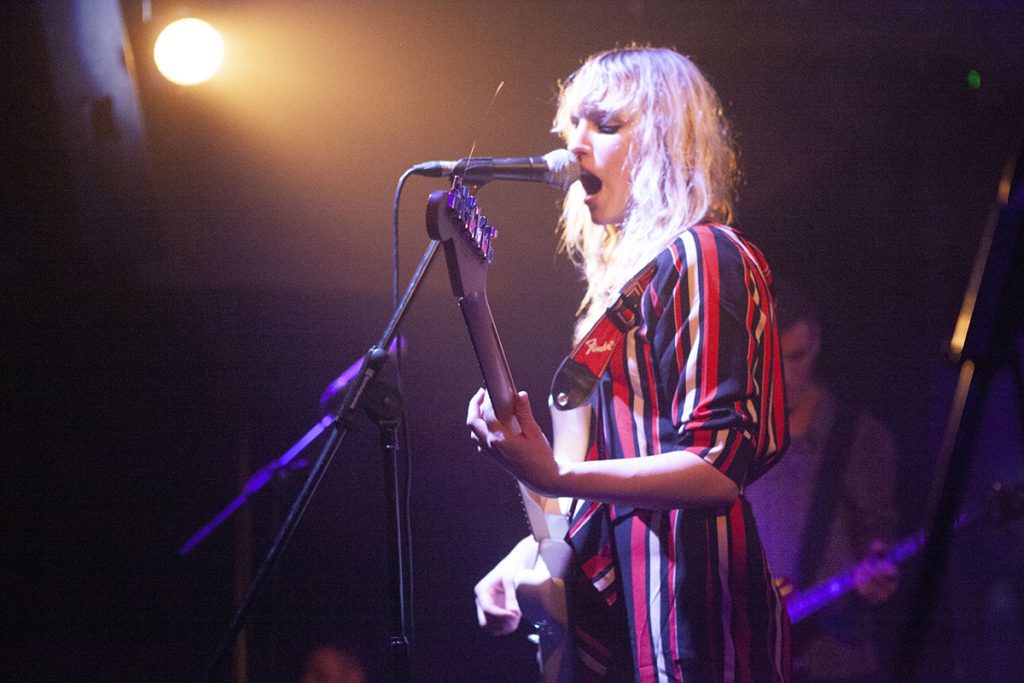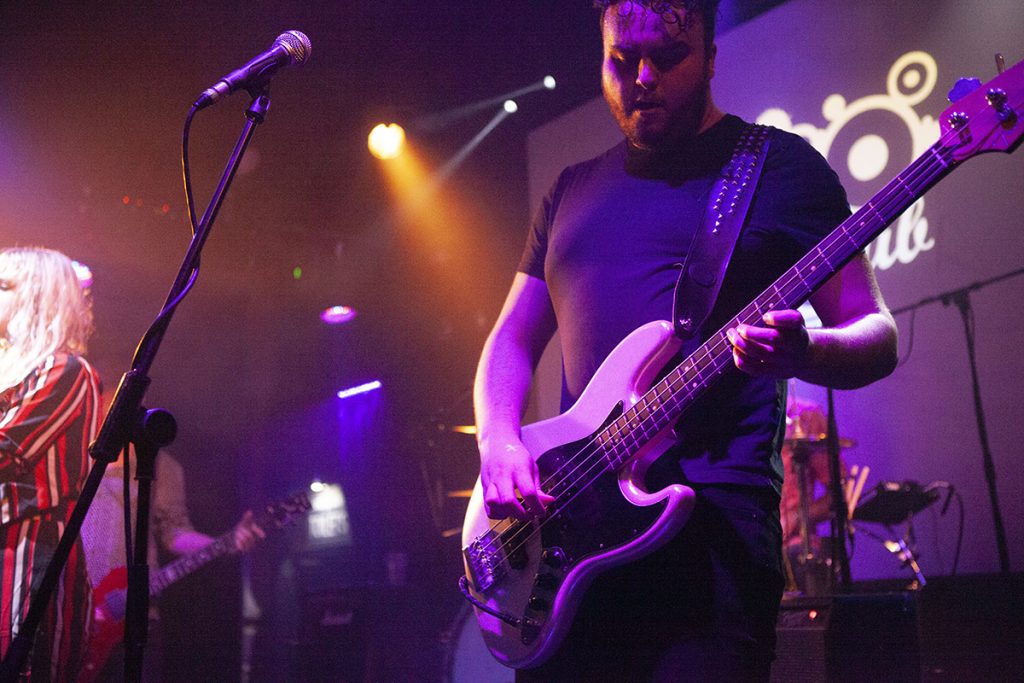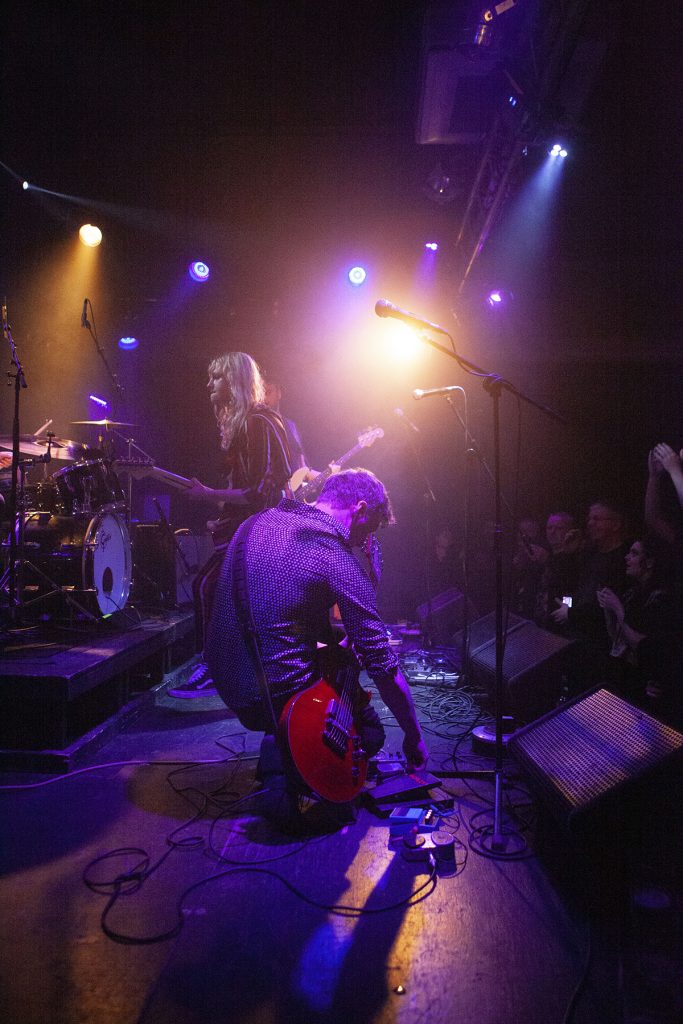 And they encore with a cover of Bowie's 'Moonage Daydream'. There is a certain note of disappointment from the crowd when it's announced, why I have no idea. Covering Bowie songs is a brave thing I guess. They bring to this something all of their own, it's so damn good. It leaves me at the end of their set overwhelmed, giddy and breathless.
When I said I regretted making the decision to actually review their set I meant it, it hardly ever happens that I look at a crowd really getting into something and feel jealous that they can do that, and I have to stand back and scribble notes or get in people's way to take photos. That happened with Purple Thread that night. What I wanted to do was dive into the crowd at the front, and shake my thang. What they do is absolutely thrilling and exciting and overwhelming good. This is the best live band I have seen in a long time, and I get to see a lot of live bands.
And as I left in a bit of a rush to get the last 'normal' train (the 'non-normal train' is first a bus service that takes forever and then a really late, or even early in the morning, train) home, I realised I was hooked totally, that experience is one I want again and again. That level of excitement and thrill is addictive. Purple Thread have joined my list of 'bands I love and adore' – a fairly long list admittedly, an almost too long a list – and I'm not sure I'll ever be able to be objective about them again.
All photos in this review © Frank Roper Photography