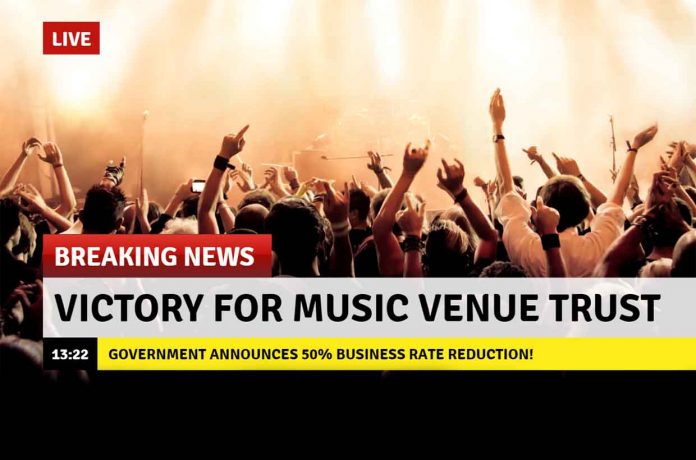 The live music circuit is celebrating today as the Government announced details of a 50% reduction in Business Rates for small and medium sized Grassroots Music Venues. The announcement releases over £1.7million back into the grassroots live music sector, which has endured a prolonged crisis illustrated by the closure of 35% of Grassroots Music Venues in the last decade.
Beverley Whitrick, Strategic Director, Music Venue Trust, said "This is a much needed and long overdue boost for Grassroots Music Venues. Music Venue Trust has been working hard with government on this issue for the last four years and it is a huge breakthrough for us and the members of the Music Venues Alliance. We'd like to thank our partners at UK Music and Musicians' Union for their support and help in getting this over the line."
The extension of the relief will see 230 Grassroots Music Venues across England and Wales benefit, with the average saving per venue equating to a reduction in overheads of £7,500 per annum. It follows other wins for the sector including a new ring-fenced fund announced by Arts Council England in May 2019, which released £1.5million of subsidy into the sector, and changes to planning guidance and the legal framework across the UK which have brought additional protections for music venues from developers and noise complaints through Agent of Change.
Mark Davyd, CEO and Founder, Music Venue Trust "This latest announcement from Government is another foundation stone in the support Music Venue Trust is building so that we can deliver a vibrant, sustainable, world class Grassroots Music Venue sector to artists and audiences. There's still a lot to be done on this specific issue, and we look forward to working with the governments in Scotland and Northern Ireland to make sure that GMVs across the UK have a level playing field when it comes to Business Rates and Public Subsidies. This issue can be tackled, and it needs a broad coalition of key stakeholders to do that. Government, the Cultural Sector and the live music industry have all acted in the last 12 months to address the crisis in this sector. It's now time for recording, streaming and publishing interests to play their part. Billions of pounds in revenue are being generated in the music industry from the music that is tested, developed, finds its audience and emerges from these vital spaces. PRS for Music, PPL, Universal, Warners, Sony, Spotify, Apple and Google now need to come to the table and tell us what they are going to do to make sure that continues to happen."
Nathan Clark, Brudenell Social Club, Leeds said "We are overjoyed to hear this much overdue news of support to Music Venues. Steps made by Music Venue Trust to help recognise the cultural importance of our places and impact on the community is invaluable. This reduction of business rates supports an ability to reinvest, helping new and emerging artists, create accessible events, and further support a vibrant, but financially strained environment for the wider community. A giant step in the right direction!"
Rebecca Walker, The Leadmill, Sheffield commented "Business Rates are one of our largest annual overheads. Thanks to the incredible work of all of the MVT team, this significant reduction will really help us to invest in not only music and the arts, but the staff and infrastructure needed to continue putting on great shows for the people of Sheffield."
What Happens Next?
Music Venue Trust will be writing to every member of the Music Venues Alliance to individually detail how this news impacts on you. They will provide details of the relief you are due and how to access it.
Music Venue Trust will be writing to all local authorities in the UK with a list of Music Venues Alliance members in their area, to ensure that Grassroots Music Venues access this relief.
Music Venue Trust will be contacting government in Scotland and Northern Ireland to ensure that a matching relief is offered to that available in England and Wales.
Music Venue Trust will continue to work with government on a solution to the Business Rates challenge for Grassroots Music Venues with a rateable value of over £51,000; and will be pressing local authorities to use their own powers to provide relief.
Music Venue Trust: http://musicvenuetrust.com