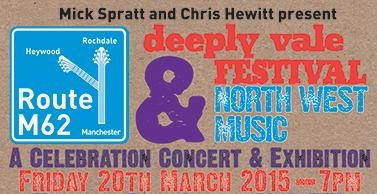 Concert celebration of Deeply Vale Festivals and The Anniversary of Wigwam 69. A celebration of the North West's hippy and punk music and culture scene and an exhibition of musical memories and artifacts from the Rochdale and Heywood and North West music scene.
The concert line includes may appearances from those who played at Deeply Vale and those connected with the North West's music scene.
Tickets: £15 in advance, £17 on the night
Booking: Tickets initially available by phone on 01565 734577
The concert line-up
Acts and appearances confirmed to date are:
Steve Hillage – playing a chilled out set that includes music from 1978's Green
Nik Turner
Notsensibles
Child's Play
Andy T
Wilful Damage
Movement Banned
George Borowski
Victor Brox
Physical Wrecks
Andy Sharrocks
Mike Sweeny
Brian Eastwood
Some history
Forty-six years ago Mick Spratt met the rocking Heywood vicar the Reverend Mike Huck at the Wigwam 69 concert at the Heywood Civic Hall, their band The Movement Banned would perform around the North West and they would develop the PA company Wigwam Acoustics now a world renowned company based in Heywood.
In 1972 Michael Spratt met Chris Hewitt at the Rochdale Festival and Wigwam would provide a PA for Tractor's first gig as a two piece at Heywood Civic Hall later in 1972.
By the second year of the Deeply Vale Festival 1977 The Movement Banned were playing there to a large crowd and by the third year 1978 Wigwam, Tractor Music and Mitrex had to pool their PAs as the festival had grown so big.
In the 1970s Rochdale resident and associate of John Peel (through his links with the band Tractor) Chris Hewitt was one of the main organisers of the event between 1976 to 1978 along with residents of a commune further up Oldham Road in Rochdale, Hewitt's inspiration for Deeply Vale Festivals was partly triggered working on Bickershaw Festival with Jeremy Beadle in 1972 and an event at Rivington Pike in August 1976.
Chris went on to produce many other festivals and concerts and start a record company Ozit/Dandelion Records. Starting with an audience of 300 camping for two days in 1976 watching space rockers Body and John Peel favourites Tractor, the festival grew to 3,000 in 1977 (bands including Andy McCluskey's Pegasus, a forerunner of OMD in 1977) and by 1978 and 1979 to 20,000 people watching bands and camping for six days. The Home Office-sponsored body that reported on many pop festivals from the mid-1970s – Festival Welfare Services – said in a report on the 1978 that the 20,000 people event at Deeply Vale Festival "was actually better organised than the large Bob Dylan concert at Blackbushe the same summer'.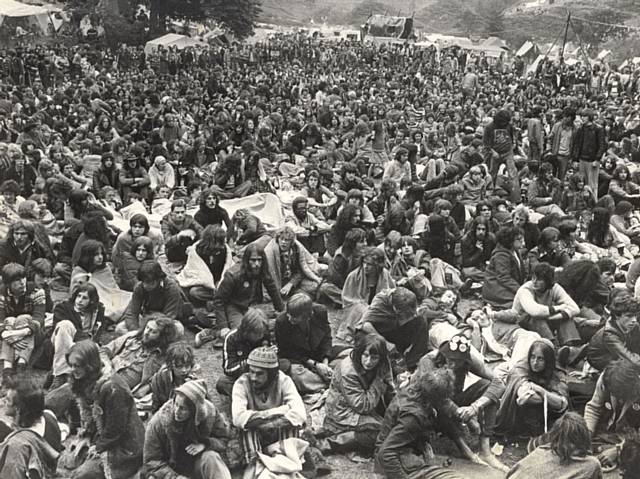 It was the biggest free festival in England ending its annual run in the actual valley of Deeply Vale after four years in 1979. The festival carried on on a smaller scale at Pickup Bank (Edgworth/Darwen)in 1980 and 1981.
As with the 1970s festivals, Deeply Vale hoped to bring together music of all styles, to create new styles and genres and maybe break a few. Deeply Vale has been credited as a catalyst for many current bands who have formed since the 1970s festivals.
Amongst people who claim to have been in the audience at Deeply Vale from the next generation of musicians and Deeply Vale inspired them to pursue a musical career are Andy Rourke of The Smiths, David Gedge from the Wedding Present, Dave Fielding, Mark Burgess and Reg Smithies from the Chameleons, Jimi Goodwin from the Doves, Steve Cowen from the Mock Turtles and Ian Brown from the Stone Roses.
The Deeply Vale Festivals were also the first of the hippy music festivals to mix punk bands on the bill in amongst festival stalwarts like Steve Hillage, Nik Turner, the Ruts, Misty In Roots, Tractor (who had already achieved some notoriety as a John Peel band), Here and Now and the Fall. The Fall were regulars at the festival at a young age, and Durutti Column played their fourth ever gig on the Deeply Vale Festival stage. Both these bands were introduced by a young Tony Wilson who had just started his own record company and offered to help his friend Chris Hewitt by compereing at Deeply Vale in 1978.
Deeply Vale website – You can purchase a box set here containing six CDs of bands who performed at or were connected with Deeply Vale, a 272 page A4 book, filled with reminiscences and images of the Deeply Vale Festivals 1976-1979, the Pickup Bank Festivals of 1980-1981, Rivington Pike 1976-1977 and Rock Against Racism 1978
Deeply Vale on UK Rock Festivals