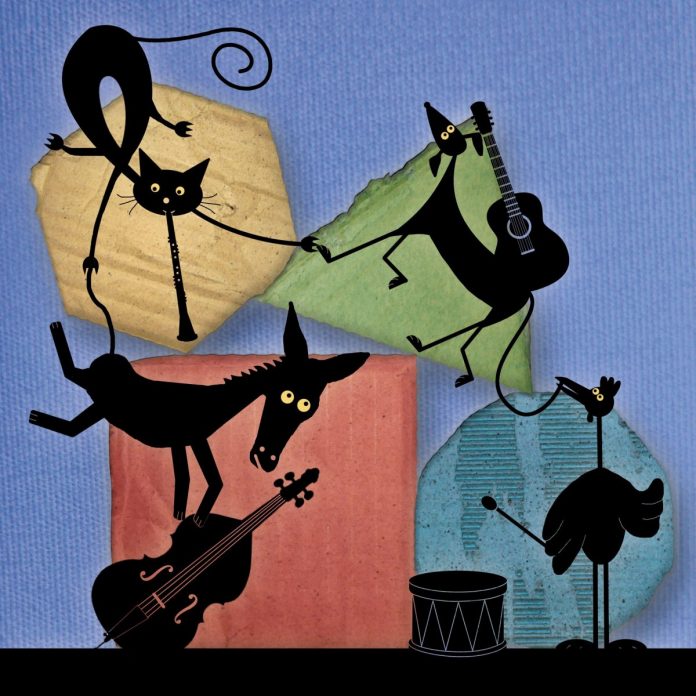 Compagnie Animotion are a French theatre company who have been commissioned to produce a new show – The Musicians of Bremen – for young children. This is a joint venture with the ARC, Stockton and The Civic, Barnsley.
As part of the national tour, The Musicians of Bremen comes to Square Chapel Arts Centre on Wednesday 1 November at 2.30pm.
The children's show, based on the classic Grimm's fairy tale, tells the story of four animals, a donkey, a cat, a cockerel and a dog, who become extraordinary friends.
'The Bremen town musicians' has a crème de la crème artistic team with musicians and circus artists onstage and offstage; movement direction from Yorkshire company Urban Angels Circus, puppets and direction by local artist Alison Duddle.
Audiences can look forward to Compagnie Animotion's interdisciplinary style with trapeze, tumbling and puppetry all wrapped up with live klezmer-inspired music.
Cie Animotion was founded in 2005 by artistic director and performer Hayli Clifton, then based in Yorkshire, with the aim of creating visual and international theatre and promoting sign language and Deaf culture.
After several years of developing projects and shows for with Deaf and hearing professional and non-professional performers, for example choreographing for the Biennale de la Danse in Lyon in 2006 and 2008, the company was invited to be company in residence in Livron, in France for six years. The company is currently residing in Aouste-Sur-Sye.
Animotion use experiences to bring audiences together, and focus on how theatre can be a life changing, political changing, and inspiring experience.
A little-known tale, Musicians of Bremen, touches on the subjects of old age and attitude in our society, addresses issues of prejudice and discrimination and celebrates the wisdom of our older generation. A perfect experience for grandparents to bring little ones to!
For more information and to book for The Musicians of Bremen on Wednesday 1 November at 2.30pm visit squarechapel.co.uk or call the box office on 01422 349422 and for more information about the theatre company Compagnie Animotion visit themusiciansofbremen.wordpress.com