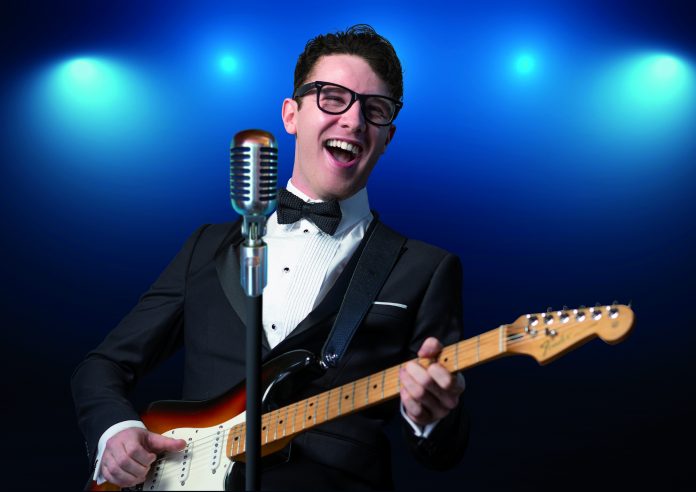 Sixty one years ago, Rock 'n' Roll – and the world – lost its brightest star. The unparalleled catalogue of music that Buddy Holly left behind has entertained, inspired and moved every subsequent generation to laughter, tears and an irrepressible desire to dance! Although he lived a short life, Buddy left a great musical legacy that lives on today.
To celebrate the joy that Buddy has brought to millions around the world, the UK's best loved Buddy Holly act commences it's spring tour in February coming to the Victoria Theatre, Halifax on Thursday 19th March 2020.
If you like Rock and Roll you'll definitely love this. Songs include all-time favourites such as; That'll Be The Day, Peggy Sue, Heartbeat, It Doesn't Matter Anymore, Raining In My Heart, Oh Boy! and much, much more.
Buddy Holly and The Cricketers is a dynamic show featuring authentic arrangements, driving rhythms, energetic performances and skilled musicianship that has audiences literally dancing in the aisles. It has been delighting audiences for 28 years and has performed in many locations around the world including Europe and a tour of the US. The show stars some of the finest actor-musicians in the UK including Jason Shaw as Buddy and was endorsed as Britain's most popular Buddy Holly act when the show appeared on BBC One's The One and Only, with Graham Norton notably commenting that they were "Buddy Brilliant!
The show has always presented Buddy in the style of show they feel he would perform today. Authentic arrangements, driving rhythms, energetic performances and wonderful musicianship, all delivered with charm and humour.
Tickets for this show are available from £19.75 Purchase tickets online, www.victoriatheatre.co.uk, or by calling the Box Office on 01422 351158.