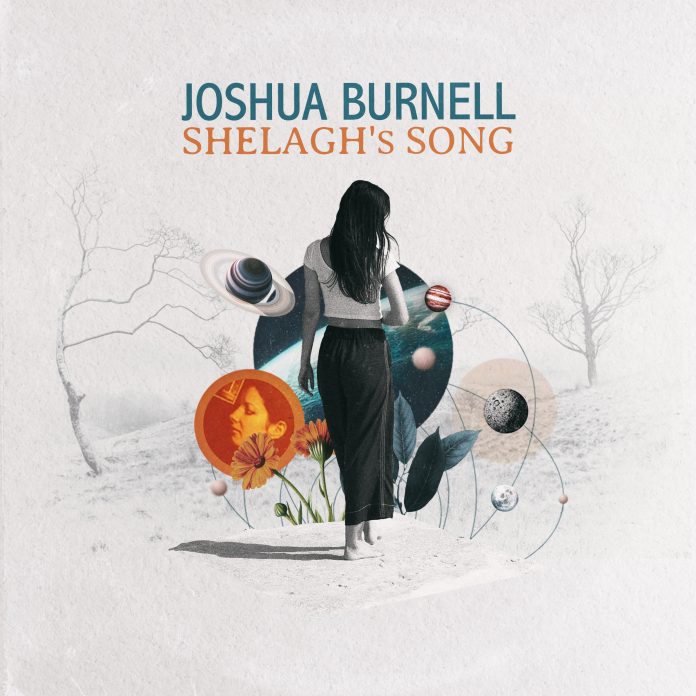 This release from York-based songwriter and multi-instrumentalist Joshua Burnell is a tribute to Scottish singer-songwriter Shelagh McDonald, and the mystery of the headline-hitting Seventies folk singer who went missing for 30 years.
For me there are two things about a song in tribute to, or inspired by, a person or event; one is that I learn from the song, and two I'm inspired to seek out more information. And while Shelagh's story wasn't new to me this song did make me do some digging (digging which to be honest rather stopped me from actually writing this review).
I have seen Joshua play once with a fairly large backing band where what we got was a wonderful set of folk-rock. This is different. It's a sparse folky Americana thing with some rather wonderful guitar, keyboards and drums. I can think of no other way of describing it but to say it's a jaunty thing with the most earwormy tune. It has caught that 70s' singer/songwriter vibe completely.
And the words; well the words tell Shelagh's story but don't do that in an earnest or overly complicated way. It's a masterclass in telling a story in song. And yes, while the song is about someone: you don't need to be interested in Shelagh's story to appreciate it, the story is compelling in itself.
To top the music and words off we have Joshua's voice. His voice goes from pure clear and simple folk style to throwing in a little bit of Dylan vocal styling. The vocals are a joy – simple as that.
This is a beautiful song that even with it's sparse feel has unexpected musical depth. A wonderful tune, fabulous words sung fantastically. A jewel.
Oh and by the way it comes in two different versions; a long version and a radio edit. The long version is the one to go for my friends; nearly 5 minutes of musical joy.
The info
The song forms part of an EP entitled 'Storm Cogs' which will be released on July 9 when Joshua Burnell Band plays Ely Folk Festival's main stage.
You can pre-order the EP here: https://joshuaburnell.bandcamp.com/albums/storm-cogs-ep
The story behind the song
Edinburgh-born Shelagh had rocketed to folk stardom in the early 70s but following a bad LSD trip had disappeared for three decades, during which it was thought she was dead. In reality she was living a low-profile, nomadic existence.
Joshua stumbled across Shelagh's music on a trip to the Bronte hotspot of Haworth and a visit to an old record shop where he made some folk album purchases and noted down the titles of a few others he couldn't afford.
One of these was McDonald's second album Stargazer (1971), priced at £80. Back at home Joshua scoured the internet for a copy of the album and found just one available at US$ 300!
"I listened to some of the tracks on YouTube and it was beautiful – I knew I had to go back to the shop and get the record.
For a brief and surreal moment I found myself standing outside the home of the Brontes, holding a rare relic of the legendary singer – it felt like I was on the trail of some kind of secret folky cult!"
Joshua listened to the recording whilst unwell. "Even without feverish dreams, it's a very trippy album so I felt like I had been transported back to the hazy days of the late 60s and early 70s. It's a deeply enchanting album – one of my favourites of all time."
Hear Rod's Song from Stargazer
Her rendition of the Scottish border ballad 'Dowie Dens of Yarrow' particularly caught his attention and he ended up recording it on his own 'Songs from the Seasons' album in 2018 as a tribute to Shelagh.
The mystery of McDonald's disappearance was explained when she finally re-emerged in 2013. In an interview in The Guardian she said: "It wasn't my intention to walk out of my own life and vanish, especially when things were going so well.
"I was an ambitious 24-year-old folk singer and had just started work on my third album. The second had been a critical success and had really started to get me noticed. But a bad trip was the catalyst for unexpected change. From my perspective, I was never really lost: I was just living a very different kind of life."
Leaving London and recuperating back in Scotland she had encountered a local bookshop owner and, as recession hit, they decided to 'jack it all in and live in a tent' .They ended up carrying everything they owned on their backs, setting up camp in woods, making money by selling drawings or academic essays. Said McDonald: "Some days it got so cold I genuinely thought we were going to die."
They moved between flats and homeless shelters and then one day they saw a newspaper article. Says Shelagh: "What I saw stunned me – a photo of myself in my 20s. The article talked about how I had disappeared and no-one knew if I was dead or alive. My records were being re-released; it felt like reading my own obit."
But 40 years after making her second album, Shelagh went on to make her third and started to rekindle her career with some tentative performing.
Out of the blue, in 2017, Joshua discovered that Shelagh was performing at Dumfries' Theatre Royal. "I watched in awe as this small, humble lady proceeded to blow us away with remarkable finger-picking and a voice just as strong and hauntingly beautiful as the one which had cut the grooves of my dusty vinyl record from 1971."
At a second concert she gave in 2018 Joshua was able to meet her and hand her a copy of 'Songs from the Seasons'. "She may be a legend but she's also a very down-to-earth person."
And so, after his chance discovery of her music and of Shelagh herself, Joshua was inspired to write a song in her name. "After all the music and inspiration Shelagh has given us I thought she deserved a song of her own.
"I've written Shelagh's Song in the same style as some of her own songs on Stargazer which were about the lives of musicians she knew who had taken off on their own travels – Rod's Song, Liz's Song."
The catchy, evocative, retro-sounding single encapsulates her life in savvy lyrics and an upbeat, optimistic tune. Cows moo-ing at the end underline its quirkiness! Says Joshua: "The cows are there on purpose. When Shelagh picked up a guitar after 30 years she played to fields of cows as a tester audience. If they stayed, she figured it was a good song – if they wandered off she did some more practice. She might have been on to something we are all missing!"
He was able to track her down recently and send her the single and was delighted when she wrote to say she thought it was 'sheer perfection'.
Her letter concluded: "No artist could ask for a better tribute from a fellow artist such as this gem of a song".