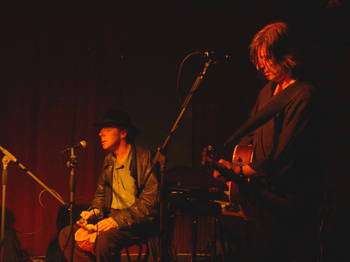 Tír na nÓg are an Irish folk band formed in Dublin, Ireland, in 1969 by Leo O'Kelly and Sonny Condell. They are often considered as one of the first progressive folk bands with other artists like Nick Drake or groups like Pentangle. Their music mainly consists of their own compositions, based on strong Celtic roots and typically featuring intricate acoustic guitar playing and close harmony singing.
http://youtu.be/p2jg9fSIBqc
Tír na nÓg broke up in 1974 and they both returned to Ireland to pursue solo careers. Condell recorded a solo album called Camouflage in 1977 and went on to form the band Scullion with Philip King, Greg Boland and Jimmy O'Brien Moran. O'Kelly pursued a career as a producer and has also released solo albums.
Tír na nÓg reformed in 1985, releasing the single "Love Is Like a Violin", and have toured sporadically since then. Three more albums have been produced: Hibernian in 2000, a 1995 live performance in Birmingham, and Spotlight in 2001, from the original John Peel BBC radio sessions in 1972/1973.
In 2010, they launched a new live album, Live at Sirius, recorded at the Sirius Arts Centre in Cobh, Co. Cork.
In 2014, they released a 4-track, 7″ vinyl EP on Fruits De Mer. Alongside three originals, the lead track is a cover of The Silver Apples' "I Have Known Love".