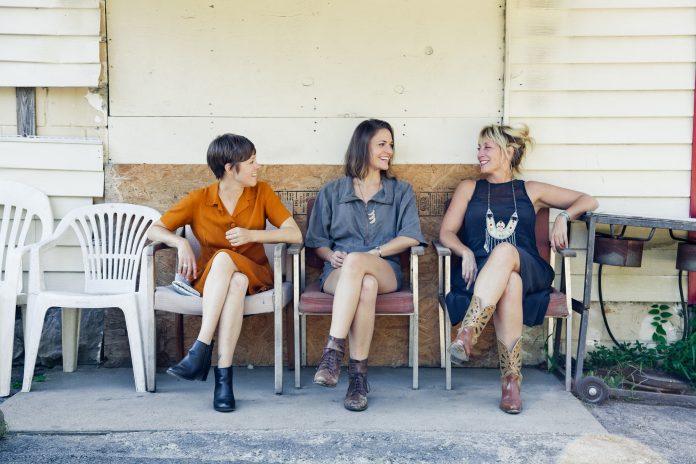 Two years ago, during the 2014 Americana Music Festival, three songwriters met for the first time at a café in East Nashville. What followed on from that meeting became one of the most warmly received albums of 2016 when it was released by vinyl specialists Gearbox Records. Next month, Applewood Road return to the UK to round off a triumphant year which has included performances at Glastonbury and Cambridge Folk Festival, an appearance on the Andrew Marr Show, and a UK tour with Mary Chapin Carpenter.
"Their no-frills debut album, recorded in Nashville, has rightly won them no end of admirers and the close harmonies, augmented with spartan guitar and banjo, were every bit as exquisite in this performance. Original numbers were inspirational; so too was a soaring cover of REM's Losing My Religion." — The Times (review of Barbican show, July 2016)
It was a serendipitous first meeting. Emily Barker was in Nashville for AmericanaFest and had been introduced to Amy Speace by a mutual friend. The pair arranged to meet over coffee, and Amy invited her friend Amber Rubarth to join them. By the follow- ing afternoon the three had written a song, 'Applewood Road', and the following week they recorded it live to tape at Welcome To 1979 studios around one microphone, accompanied only by Telisha Williams on double bass.
The three women, each with successful solo careers of their own, assumed that would be the end of the story. But the tape made its way back to the UK and into the hands of Gearbox Records, who signed the three basic strangers to a record deal on the strength of that one song. A few months later a window appeared in their very busy schedules and Barker,Rubarth and Speace reconvened in Nash- ville for one week to write, arrange, rehearse and record a full album. The songs were again performed live around a single microphone at Welcome to 1979 and recorded to two-track tape.
"There's a moreish magic to the harmonies of this country-folk trio that recalls the vintage appeal of the Everlys and the Andrews"
***** Daily Telegraph (Best Of 2016 Releases)
Applewood Roadwas released in February 2016 to across-the-board critical ac- claim. 4 and 5 star reviews came in from The Sunday Times, Daily Telegraph, Daily Mirror, R2, Q Magazine and others. They appeared on BBC2's Dermot O'Leary show, singing their arrangement of REM's 'Losing My Religion', which was subsequently included on Dermot's latest Saturday Sessions CD (Sony). In the summer, an appearance on the Andrew Marr Show was followed by a session on Sky Arts at Cambridge Folk Festival.
Dates
Mon 14 Nov The Sage | GATESHEAD
Tue 15 Nov Ruby Lounge | MANCHESTER
Wed 16 Nov O2 Academy | LIVERPOOL
Thu 17 Nov Classic Grand | GLASGOW
Fri 18 Nov The Band Room | FARNDALE
Sat 19 Nov High & Lonesome Festival | LEEDS
Sun 20 Nov St Laurence Church | STROUD
Mon 21 Nov Union Chapel | LONDON