Update: As I was publishing this the band launched their new video. You'll be able to watch and listen to it on this page.
Air Drawn Dagger are a Sheffield based band who are are currently coming to the end of their tour promoting their EP 'Ours for the Taking … Theirs for the Breaking'.
The band were not entirely unknown to me before they got in contact with LSF as I'd seen some wild video of live shows and heard tales of their gigs. So I was intrigued to know more about them. I exchanged a Q&A with Lewis the bassist. Now read on …
Frank: How long have the band been together? How did you get together as a band?
Lewis: Myself and Maisie started writing songs in the back of the cake shop she runs in Sheffield in 2014. That first year was spent writing, playing our first shows under the name and finding the right people to create the line-up we had in mind. By 2015 we had released our debut EP, started gigging all over the UK and started writing the follow up EP. This year we signed a publishing deal, recorded and released our second EP, been on our first full tours and had a blast doing all of it.
F: Had band members been in other bands together before?
L: No, we all met through this band actually. Sam, Ross and Maisie have all been in other bands before when they were younger, but we all came together through Air Drawn Dagger.
F: What are the band's musical influences?
L: It's a cliché to say "everything" so I will just spout a huge list instead:
My Chemical Romance, Foo Fighters, Gallows, Iron Maiden, Prodigy, Blondie, Misfits, The Smiths, Dolly Parton, The Beatles, The White Stripes, Blink 182, RHCP, Eminem, Trivium, Kanye West, Enter Shikari and so, so much more..
F: How would describe your sound, and I'm intrigued to know what you mean by sasscore?
L: Describing ourselves is something that we genuinely struggle with and it seems to be a gift and a curse. On the surface we are a female fronted four piece that plays melodic rock songs. But when you watch us, our set is a 30 minute monstrosity that includes electronics, usually a Dolly Parton cover and ends with most of the members in the mosh pit and Maisie normally stood on top of the bar or something…
That's not always easy to get across, so we started using the term "SASSCORE" to describe ourselves as a joke that's sort of caught on. It means hardcore and sassy. Take that how you will, but that loose umbrella term seems to be the most appropriate term for us so far.
F: Do you see your sound as coming from being based in Sheffield, is there a distinctive 'Sheffield' alternative rock sound that you fit in some way into?
L: I wouldn't say so. I am actually from Manchester and started the band while at uni here. Maisie has lived all over the world whilst growing up and Sam and Ross both live just outside the city, so I don't feel like we have ever had that sense of identity bred into the band. I would say we have a wider sense of self, like a UK band or possibly a Northern band, but apart from that we have never felt like we fit anywhere. We have always been the wired, uncool band that shows up, plays like are lives depended on it, got a bit drunk and left.
As for the Sheffield scene, the beauty of the rock scene in Sheffield at the moment is that there is no set sound. There are a bunch of incredible, unique bands all making massive waves and breaking out of the city. When we first started it felt like there were either Indie bands, or Metalcore bands. Now it feels like you have your Pop Punk crowds, Alt Rock crowds, Hip Hop, Metal etc … and most importantly they are all melting together. Everyone is becoming a fan of each other, it's not cliquey and it's not restricted to genres. Genres are dead and Sheffield is leading the way into the new era. Its an era without restriction and its incredibly exciting.
F: What's unique about the sound of the band?
L: Our own sound mixes anything and everything we enjoy as music fans. We blend Punk with Electronics, Metal, Hip Hop, Grunge, Funk, Grime, folk and anything else we want to. Our new EP is 3 fast passed rock songs, however each one is different from the last and hopefully you can hear the different genres that we have been influenced by within the songs.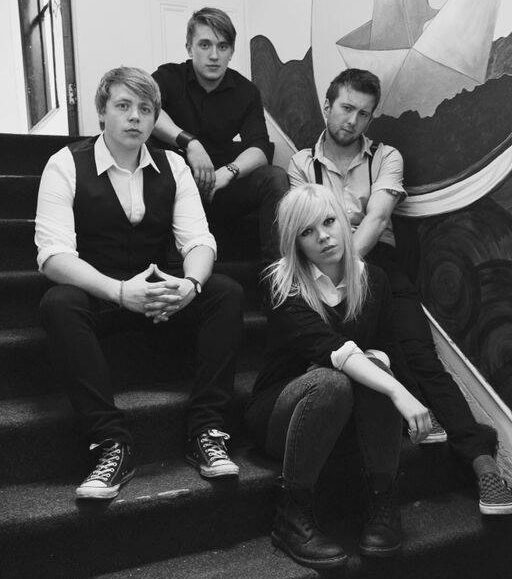 F: How do you get your songs together? Is there one person responsible for most of the words or music?
L: My favourite thing about this band is that we write in a thousand different ways. Myself and Maisie will sit down and collaborate on lyrics and the skeleton of a song that will come to life once the boys start writing. Sometimes our drummer Ross comes in with amazing riffs and song ideas, Sam our guitarist is a writing machine that is always thinking outside of the box. So basically, whether somebody has a rough idea they want to try or we just jam, our songs appear in different ways all of the time.
F: Do you have a message that you trying to get across in your songs? Or do the songs reflect what is going on for person who wrote the song?
L: Both. I would say that if Air Drawn Dagger stands for something, it's that it's not only OK not to belong, but it's something that should be celebrated. As a band and as individuals, we dislike pigeon holing and it's something that we struggle with. Not fitting in, owning your individuality and basking in the mess that you are is paramount. Our individual struggles come out through our songs in different ways, because this is our therapy. If people can connect to that and relate, that's amazing.
F: Band highlight so far – the one thing or even two or three things that really stand out?
L: Our last EP release show was at Corporation in Sheffield. Our first ever headliner and it was basically sold out. We had balloons, cupcakes, crowd surfing and the first ever "Wall of Sass" it was a huge night for us and we finally felt like we really made an impact that night.
Getting played and support form BBC introducing Sheffield was another nice moment, things like that really do help young artists so it's always gratifying to get recognition form things like that.
Generally, just getting to play all over the UK and letting music take you to places you may never have seen otherwise is one of the best parts of all of this. It's regarded the "toilet circuit" but we love driving and playing in tiny places, meeting the local heroes who still champion local live music, it's brilliant.
F: What's going on for the band at the moment?
L: We are just finishing up the first tour on this new EP 'Ours for the Taking … Theirs for the Breaking' at the moment. The shows have been class, each night has been either a new city or a new venue, so its been special.
F: Plans for the future?
L: We have already started writing a batch of new songs that are nearly done and sounding huge. We are booking the next tour and dates for next year whilst having new music videos out before that. We also have more online content on the way and a few very special surprises that will be cropping up, so stay tuned for those!
The info
Air Drawn Dagger are:
Maisie Manterfield – Vocals, Electronics
Sam Wagner – Lead Guitar, Backing Vocals
Lewis Budden – Bass Guitar, Backing Vocals
Ross Dore – Drums, Percussion
Links
'Ours for the Taking … Theirs for the Breaking' http://hyperurl.co/airdrawndaggerEP
Facebook Page: https://www.facebook.com/airdrawndaggerband/
Twitter: https://twitter.com/AirDrawnDagger1
Soundcloud: https://soundcloud.com/airdrawndaggerband
Youtube: https://www.youtube.com/channel/UCFv8tIxQt-wKoMYwMMiCQ7Q
Bandcamp: https://airdrawndagger.bandcamp.com